Sales at fast-food joints such as Starbucks, McDonald's, and Dunkin' Donuts — forced to close because of superstorm Sandy — should rebound swiftly, if they can also open quickly. With bridges and tunnels closed, and many of the arterial supply pathways jammed up along the East Coast, that could be a big "if."
"This is pretty damaging for the chains that have been forced to close, depending on how long they stay closed. Not only is that lost sales — Starbucks, for example, did $1.14 million per unit last year, so that's about $22,000 per week per unit — but it also disrupts the supply chain," Same Oches, editor of QSR magazine, a quick serve industry trade publication, told NBC News.
On Wednesday morning, a steady drip of customers made their pilgrimage to a Starbucks at 42 Hillel Place in the Flatbush area of Brooklyn. Outside, a whir of distant chainsaws filled the air around Flatbush Avenue and Nostrand. Inside, patrons recharged themselves with coffee, powered up their cellphones with working outlets, and tried to make use of the free wi-fi.
The store's three employees served up medium roasts, but the bagel baskets were bare as the usual delivery truck didn't arrive that morning, barista Jo-Ann Gonzalez, 24, told NBCNEWS. The store started the morning by throwing away food spoiled when the store was closed on Monday and Tuesday. Gonzalez shook her head at how shellshocked New Yorkers were after the storm. "I'm from Florida. Hurricanes come, and then they go. People are freaking out," she said.
A FedEx driver from Canarsie, 3 miles away, nursed a tall blonde coffee at the counter. The storm flooded his basement, ruining a $2,500 boiler he had just installed, and his car was still underwater. He stayed at his brother's house around the corner to make use of the running hot water and electricity. "I'm just catching a little time out, a breath from the stress," the man, who asked not to be named, told NBC News.
Other stores that aren't able to open as fast, that stay closed for a week, could have a real impact on quarterly numbers, Ronald Ruggless, Southwest Bureau Chief for Nation's Restaurant News, told NBC News.
A Starbucks spokesperson would not comment on how Sandy is affecting their financials, as the chain is focused on dealing with store closures. "The safety of our partners, our employees, is our number one priority,"  a spokesperson told NBC News. On Monday, Starbucks closed 1,000 locations from Virginia to Maine. By noon Tuesday, 250 stores remained closed, primarily in areas without power or experiencing heavy traffic issues.
Dunkin' Brands, the franchisor of Dunkin' Donuts and Baskin Robbins, said that a "significant" number of Dunkin' Donuts and Baskin-Robbins were still shuttered in the Mid-Atlantic regions. The closures are concentrated in New York, New Jersey and Pennsylvania, mainly in areas with evacuations or power outages. A few suffered "serious" damage. However, a spokesman told NBC News, "The majority of our restaurants are open, and the storm has not had a materially financial impact on the company. 
Without power, food in refrigerators can begin to spoil, and traffic snarls and supply chain hiccups could make it hard to restock. That shouldn't affect snack places and coffee sellers much, except in the case of perishables like milk. That puts a crimp in the morning coffee for latte lovers. People will "just have to drink it black," Ruggles said.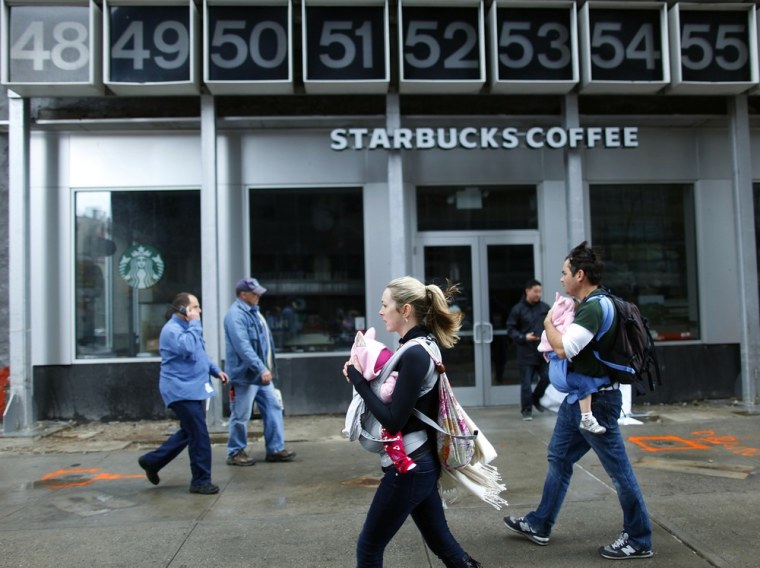 Fast service stores that can reopen quickly can actually experience a bump in sales as other options are closed and the storm-weary don't feel like making food or patronizing places that cost more in terms of time and money, said Ruggless. There's also little in the way of long-term sales damage by breaking customers out of their daily coffee, doughnut, or burger habit.
"These places are so much a part of people's routine that everything else in the world could be upset and they would pick it back up," he said.
Like a kickboard held underwater, however much sales get pushed down by Sandy, the resulting pent-up demand should make up for the losses, said Stephen Anderson, Senior Analyst at Miller Tabak + Co.
In a note to investors published Friday before the storm, Anderson said that Sandy would turn numbers for restaurants it covers, like Dunkin' Brands, Cheesecake Factory, Chipotle, Darden Restaurants and Panera Bread from "fractionally positive" to "fractionally negative." That then would push November to 1 percent positive, or better.
Reached after the storm passed, Anderson told NBC News: "With the storm arriving earlier and of much earlier duration, the negative effect on October comps will be that much more pronounced, but I think the jump in comps starting Oct. 31 could be more accentuated."
More business news: