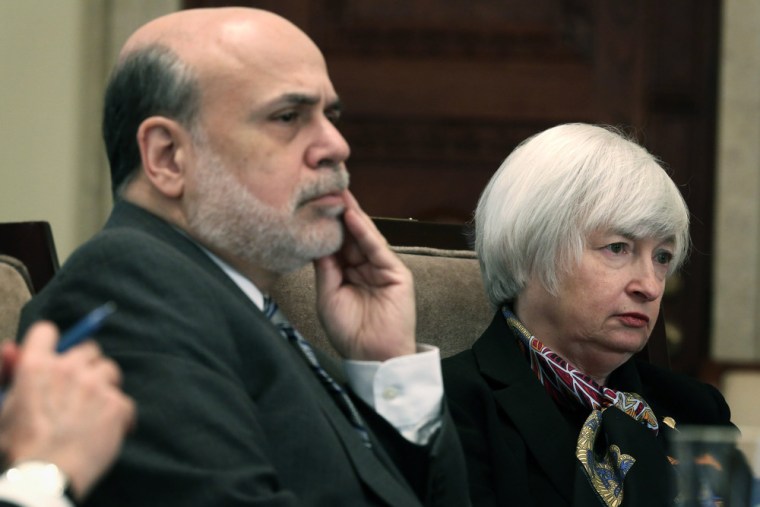 The U.S. economy is healthy enough to begin weaning it off the steady flow of stimulus the Federal Reserve has been supplying since the Great Recession, the central bank said Wednesday.
In a move that few expected, the Fed said it would be cutting its historic $85 billion a month program to boost the economy by about $10 billion per month beginning in January.
"Information received since the Federal Open Market Committee met in October indicates that economic activity is expanding at a moderate pace," the Fed said in a statement released at the end of a two-day meeting to set policy.

The Fed also said the labor market has improved further, household spending and business investment advanced and inflation expectations are stable.
The upbeat tone of the statement boosted stocks. The Dow Jones industrial average jumped 150 points shortly after the news.
"They finally pulled a Band-aid off that they've been tugging at for a long time. The initial reaction is that tightening will be bad for stocks, but upon further reflection investors realize that to some extent tightening represents a view that the economy is stronger and can survive higher rates," Rick Meckler, president of hedge fund Libertyview Capital Management told Reuters.
To cushion the impact on financial markets, the Fed strengthened its commitment to record-low short-term rates. It says it plans to hold its key short-term rate near zero "well past" the time when unemployment falls below 6.5 percent.
In his last new conference as Fed chief, Bernanke said the Fed would trim the stimulus program more at future meetings, depending on economic conditions. Vice chair Janet Yellen is the presumed successor when Bernanke steps down in January.
Bernanke warned, however, that the economy remains in need of the Fed's aid. 
"Today's policy actions reflect the committee's assessment that the economy is continuing to make progress but that it also has much farther to travel before conditions can be judged normal," he said. "Notably despite significant fiscal headwinds, the economy has been expanding at a moderate pace and we expect that growth will pick up somewhat in the coming quarters helped by highly accommodative monetary policy and waning fiscal drag."
The Fed's action comes after encouraging reports that show the economy is accelerating.
Hiring has been robust for four straight months. Unemployment is at a five-year low of 7 percent. Factory output is up. Consumers are spending more at retailers. Auto sales haven't been better since the recession ended 4½ years ago.
What's more, the stock market is near all-time highs. Inflation remains below the Fed's target rate. And the House has passed a budget plan that seems likely to avert another government shutdown next year. The Senate is expected to follow suit.
One factor of concern for some members is inflation, which remains historically low. The Fed's optimal rate is 2 percent. For the 12 months ending in October, consumer inflation as measured by the Fed's preferred index is just 0.7 percent, well below its target.
But the Fed sees inflation slowly moving toward its target, according to its most recent economic projections that were released Wednesday. The Fed projects inflation would range between 1.4 percent and 1.6 percent next year and could reach the Fed's target in 2015 at the earliest.
Fed officials still project economic growth of roughly 3 percent next year. But they are slightly more optimistic about unemployment, predicting it could fall as low as 6.3 percent in 2014, down from a low of 6.4 percent forecasted in September. 
Nine of the voting members of the FOMC supported the decision to start tapering. Only Boston Fed President Eric Rosengren dissented, noting the elevated unemployment rate and inflation below the 2-percent target.  
After nearly eight years, Ben Bernanke is stepping down as Fed chairman early next year. His designated successor, Vice Chair Janet Yellen, faces Senate confirmation this week. Yellen is known to lean dovish in her stance—favoring easy policy like Bernanke—which would likely bode well with markets. 
The Associated Press and CNBC's JeeYeon Park contributed to this report.