Following several recent fiery train crashes, the government warned on Thursday that crude oil being transported from the Bakken region of North Dakota and Montana may be more flammable than traditional heavy crude.
The Pipeline and Hazardous Materials Safety Administration said it issued a safety alert to notify the public, emergency responders, shippers and carriers as a result of its preliminary inspections after derailments and resulting fires in North Dakota, Alabama and Quebec.
The most serious of these derailments was in Lac-Megantic, Quebec, where a runaway train sped for seven miles into the town and crashed into a nightclub, killing dozens of people last July. The pipeline agency, part of the Department of Transportation, said it is reinforcing the requirement that hazardous materials be properly tested, characterized, classified and where necessary, have gases removed from liquids.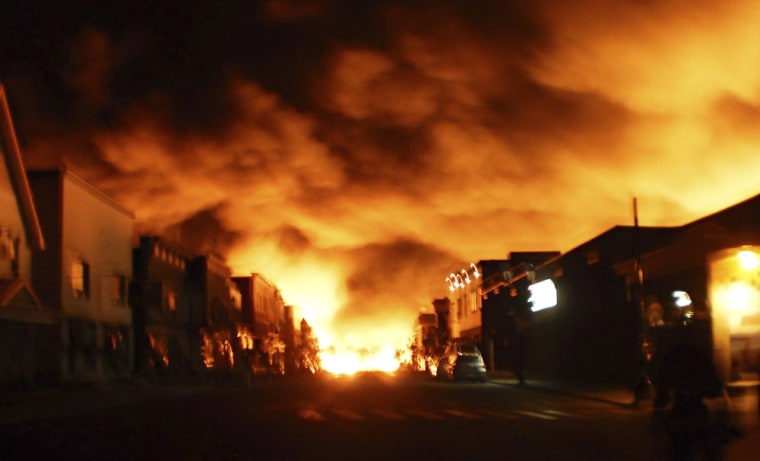 About 700,000 barrels per day of Bakken crude is carried by rail, a fast-growing, flexible alternative to pipelines for transporting the landlocked oil to the Gulf Coast and East and West Coast refineries. A total 900,000 barrels a day of crude moved by rail in North America during the third quarter, according to IHS.

The hazards of rail shipping are expected to give more weight to the argument for pipelines, including the controversial Keystone XL pipeline, under review by the State Department. That pipeline would carry crude from the Canadian oil sands of Alberta, to a southern extension that would bring it into the Gulf Coast refining region.
The pipeline agency, along with the Federal Railroad Administration, said as part of its investigation of the accidents it has begun a compliance initiative involving unannounced inspections and testing of crude shipments to verify that it has been properly classified.
The most recent incident occurred when a BNSF train carrying soy beans derailed Monday, and a portion fell onto a neighboring track in front of the approaching oil train. Eighteen of the 106 cars on the oil train derailed and several burned, causing a massive plume and explosions. The 2,400 residents of nearby Casselton, N.D., were temporarily evacuated.
The National Transportation Safety Board had said the BNSF train was carrying materials classified as a flammable liquid. An NTSB official explained that the crude was rated packing group No. 1, which has the lowest flash point of three groups.
The official, Robert Sumwalt, a board member leading the NTSB's investigation, also said the rail cars involved in the crash were older types that do not meet the latest industry safety standards. The Transportation Department has proposed requiring rail carriers to upgrade cars.