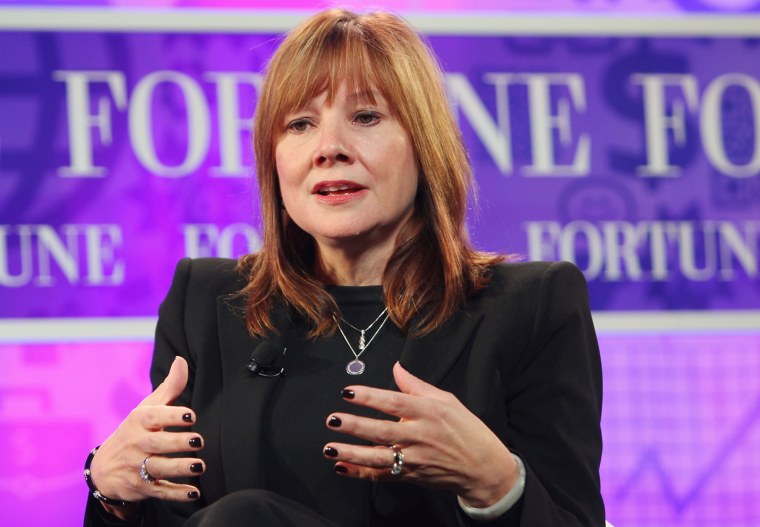 General Motors has turned to one of its own veteran executives, Mary Barra, to become the automaker's first female CEO as it remakes itself after a government bailout saved it from bankruptcy.
A day after the U.S. Treasury sold its last ownership stake in the company, GM named Barra on Tuesday to succeed current chairman and CEO, Dan Akerson next month.
Barra, 51, is currently executive vice president of global product development and has worked at GM for three decades. She will be not only the automaker's first female CEO but the first woman to serve as the chief executive officer of any major auto company in the world.
She will succeed Akerson on Jan. 15, when he leaves the company to spend time with his wife, who is suffering from advanced stage cancer, according to GM.

The well-respected Barra was GM's first-ever woman "car czar," responsible for the design, engineering, program management – and, critically, quality improvement efforts – for GM's 11 worldwide brands. In a stinging rejoinder to her staff, Barra was once quoted as telling workers to improve the quality of GM's fleet. "No more crappy cars," she said at the time.
(New GM CEO Mary Barra Already Named World's Most Powerful Woman in Auto Industry by Fortune)
Her new second-in-command will be Dan Ammann, a New Zealander who signed on as GM's chief financial officer after assisting the maker through its 2009 bankruptcy.

"I will leave with great satisfaction in what we have accomplished, great optimism over what is ahead and great pride that we are restoring General Motors as America's standard bearer in the global auto industry," Akerson said in a message to the maker's 85,500 employees.
Akerson himself joined GM following its run through Chapter 11, a process it exited only with the help of a $49.5 billion federal bailout. The U.S. Treasury has been selling down its stake since GM's November 2011 IPO, the last of the government's shares going on the block yesterday. Akerson took on both chairman and CEO duties in 2010 following the departure of Ed Whitacre. Both men had backgrounds in the telecomm industry.
And that raised concerns for many observers who worried that GM needed to have a top executive who actually understood the automotive industry.
"The big news to me is that they've handed the CEO position back to someone who knows the business," said David Cole, chairman-emeritus of the Center for Automotive Research, in Ann Arbor, Michigan. "That's really important. It's not that Akerson did a bad job, but he never really understood the complexity of the business."
(US Treasury Sells Off Final Stake in GM, Ending $49.5b Bailout Effort)
Barra has been a GM and auto industry lifer, working her way up through a string of positions, over 33 years, that most recently positioned her as the overseer of GM's product portfolio.

GM products have been generating strong praise in recent years. Consumer Reports recently named the Chevrolet Impala the best sedan it ever tested. The Cadillac ATS was named North American Car of the Year in January 2013, and five of GM's new 2014 products made the "short list" for the 2014 North American Car and Truck of the Year.
Significantly, GM's product quality has also been on the rise, according to various third-party surveys that include the latest J.D. Power Initial Quality Survey.

"With an amazing portfolio of cars and trucks and the strongest financial performance in our recent history, this is an exciting time at today's GM," said Barra. "I'm honored to lead the best team in the business and to keep our momentum at full speed."
Barra was recently named Most Powerful Woman among automotive executives by Fortune magazine. She has won praise not only for her knowledge of the business but also for her management style, which reflects that of the widely praised Ford CEO Alan Mulally.
She will have a strong team to lead, including the 41-year-old Ammann, who led the development of the maker's critical 2011 IPO. He will serve in the dual role as president and CFO until "at least" next April, according to GM, though a search for a replacement is now underway.

(GM Aims to Turn Frustrated Owners into Loyal Buyers)
That process could become a bit easier as one of the strictures of government ownership was that pay for GM's top executives had to be approved by a federal overseer – something CEO Akerson contended made it difficult to recruit many potential top managers.

Akerson was expected to depart sometime in the next year or so, but revealed his retirement came earlier than initially planned following his wife's diagnosis.
His role as chairman will be filled by the 66-year-old Theodore "Tim" Solso, the 66-year-old former chairman and CEO of automotive supplier Cummins, Inc., and a GM Board member since June 2012.
GM also announced that Vice Chairman Steve Girsky, a long-time Wall Street investment analyst who recently crafted the maker's European turnaround plan, will leave the company next April but remain an adviser and board member.
Two other critical moves include the promotion of Mark Reuss, a veteran engineer and currently president of North American operations. He will replace Barra as global product development chief.
"The driver's seat of designing and engineering the strongest product line up in GM's history is the best seat to have," said the 50-year-old Reuss. "We're going to keep the pedal down on GM's product resurgence and keep winning new customers."
Meanwhile, Chevrolet's global marketing chief Alan Batey, also 50, will replace Reuss at the helm of GM's core North American operations.