After years lagging the imports, General Motors has surged to the top of the charts in the 2013 J.D. Power Initial Quality Survey, the most influential measure of vehicle quality during the first months off the showroom lot.
The new study also reveals that, on the whole, the quality of this year's cars, trucks and crossovers actually declined a bit from 2012 – a decline largely the result of design-related problems that, for the most part, can't be resolved at the dealership. Issued related to the latest infotainment systems and other high-tech devices are the single largest source of these buyer headaches, according to J.D. Power.
On the positive side, "Manufacturers are doing a lot better when it comes to engines and chasses and other mechanical systems," explained Dave Sargent, the head of automotive research for California-based J.D. Power and Associates. "Most of the problems people are now reporting involve the latest technology."
(More from The Detroit Bureau: Hands-free Systems Not Nearly as Safe as Automakers Say)
Two out of every three problems reported by the 83,000 owners and lessees who participated in the latest study were tech-based. While that includes such electro-mechanical devices as electronic suspensions and cruise-control systems, the bulk of the complaints involved systems like Ford's much maligned MyFordTouch system, explained Sargent, noting that owners were particularly frustrated by:
User interfaces that made it difficult to do even the simplest tasks, such as changing temperature or tuning the radio;

Voice control systems that couldn't understand commands or executed them incorrectly;

Systems that would not pair with a motorist's smartphone.

Such issues are particularly problematic for both owners and automakers as "few can be fixed," Sargent noted, without major upgrades from the factory.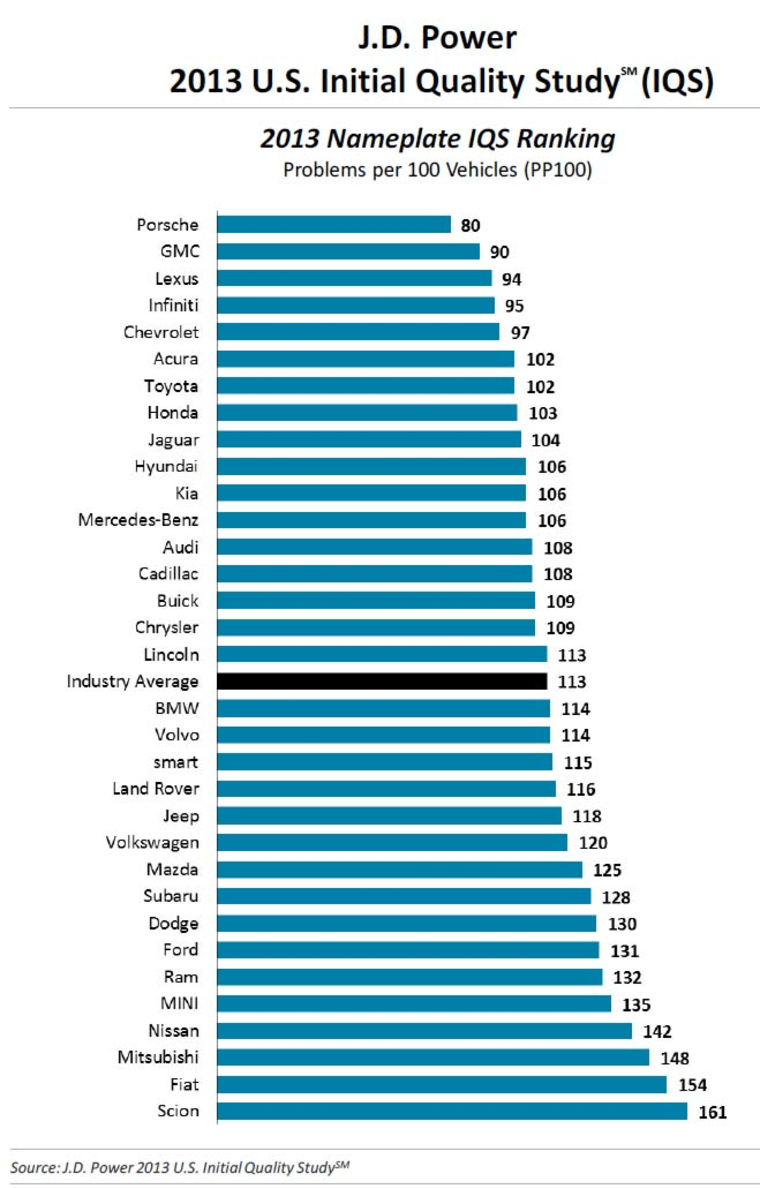 Problems with electronic systems have been rapidly increasing in recent years, overtaking excess wind and road noise as the single-biggest complaint on the IQS study. Power completely revised its survey form for 2013 to account for this shift – and to allow consumers to provide more information that, ultimately, might help manufacturers deal with these problems.
The research firm took steps to make it possible to compare the 2013 IQS results with those from past years, and according to Sargent, the rate of complaints – counted as problems per 100 vehicles – surved by more than 10%. The industry average in 2012 was 102 PP100. This time that rose to an adjusted 113 problems per 100.
Among individual nameplates, German sports car maker Porsche topped the survey, averaging 80 PP100. In a significant surprise, General Motors' truck brand GMC came in second, at 90 problems per 100, nudging past perennially chart-topped Lexus, which had a score of 94 PP100. Infiniti ranked fourth, at 95 PP100, followed by Chevrolet, at 97 problems.
(More from The Detroit Bureau: Ford Will Cut Factory CO2 Emissions 30%)
The top five have routinely been led by luxury brands, and it has been rare for any domestic maker to crack that elite club. GM, in particular, has never come close to doing that well. And when comparing automotive manufacturers, rather than individual brands, the Detroit maker was the overall leader in the 2013 IQS, a finding analyst Sargent described as "phenomenal."
In fact, GM was the only maker to average less than 100 PP100, landing well ahead of Japanese rivals like Toyota and Honda, manufacturers that have traditional been viewed as quality benchmarks.
"GM (also) gets more individual model awards than anyone else by a wide margin," noted Sargent, "eight out 26 when no one else gets more than three."
These included the Buick Encore, a small crossover, as well as the big Chevrolet Avalanche and GMC Sierra pickups – which tied. The Chevrolet division alone topped five separate vehicle categories, also including the Camaro muscle car and the full-size Impala sedan.
(More from The Detroit Bureau: 10 Best Base-Model Cars)
Other winners include Honda, Kia, Mazda and Porsche, each getting two awards. Acura, Hyundai, Chrysler, Ford, Nissan, Infiniti Mercedes-Benz and Toyota also won individual model awards.
Toyota's high-line Lexus not only topped the premium luxury segment with its big LS, but the sedan scored a record-low 59 problems per 100.
But the ongoing trouble with electronic technology cast a dark shadow over the 2013 Initial Quality Survey, suggesting that the industry has some serious challenges ahead.
(More from The Detroit Bureau: Toyota Named World's Best Global Green Brand, Ford #2)
"Owners desire, and in some cases are demanding, more content in their new vehicles, especially technology-related features, and automakers are trying to provide it," said Sargent. While he said ""The majority of owners don't experience problems, those who do are frustrated."
While it's true consumers may experience similar headaches with balky smartphones or tablet computers, they're likely to replace them in relatively short order, said Sargent. But most American motorists keep a new vehicle for at least five years and if there's a problem, "You're pretty much stuck with it for the life of the vehicle."