Their teeth are chattering and their budgets are bursting like frozen pipes. 

In nippy Dixie, some are dialing down the thermostats, then dressing in layers — inside their homes — and inviting pets into their beds to share the warmth, cursing their power bills as "hate mail." 
In the arctic northeast, some are canceling vacations, shelving clothes shopping, and even — horror of horrors — buying cheap wine, while fully admitting these are "first world problems." But from north to south, scores of Americans are finding innovative ways to slash spending as they shovel more bucks into utility costs amid the nasty cross winds of soaring home-heating prices and blistering cold snaps. 
"Dinners out? What IS that?!" asks Susie Quick, a resident of Midway, Ky., who is purposely injecting a chill into her home and her spending due to a monthly power bill that's leaped from $90 to $300. Several southern states recently have shivered through the lowest temperatures in years.  
"I walk around my house like a lumberjack in layers of silk underwear, plaid flannel shirt, down vest, scarf, hat, sweater leggings and furry faux UGGs. I only wish I could grow a beard for added warmth," said Quick, who lives on a horse and cow farm, and who works as a medical editor at the University of Kentucky. Her house is electrically heated. 

On recent nights, she's been allowing her 45-pound coonhound and two cats to sleep with her — "if there was room for my horse, I'd bring him in, too." As for food, she's a "non-elective vegan" but said she can't afford "pricey" fake meat like tofu hot dogs and tempeh burgers. Instead, she dines on rice and beans, and greens. Going to a hair salon is too expensive so she's become "my own amateur hair stylist and colorist and I'm really afraid it shows." 
"I have three rooms shut off with towels down at the door bottoms to prevent drafts. My furniture is also lumberjack-chic and covered in blankets and throws. I refuse to succumb to a Snuggie, though a Thuggie has appeal. So House Beautiful this is not," said Quick, who refers to her heating bills as "hate mail." 
She's not alone in that hatred. Natural gas futures prices are up 31 percent in January — on pace for the largest monthly gain since September 2009, when they increased by 62.6 percent.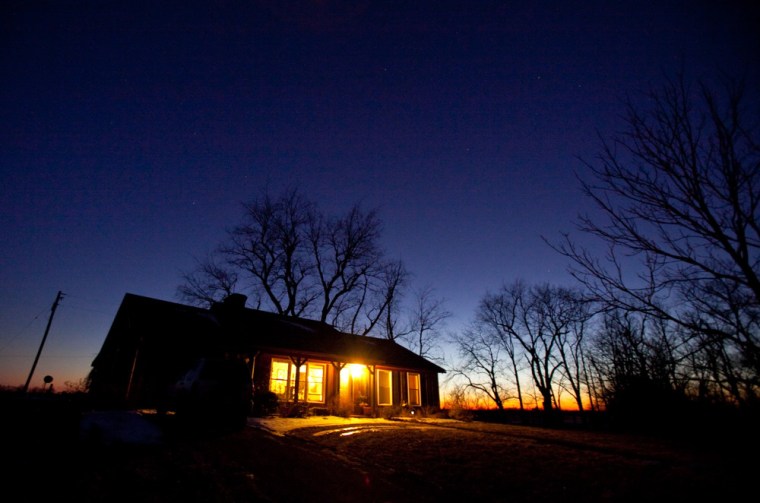 With bone-biting temperatures stretching well into the southern states, some 60 million households are impacted, said Evan Gold, of Planalytics, a business weather intelligence consultant. According to his estimates, it costs $150 per month to heat the average household and the recent deep freeze will add 50 percent to that cost, or about $4.5 billion total in January alone. 

"That means that when the bills are due in February, they will have to cut back on going to a restaurant or the movies," Gold said. "All that discretionary spending will be cut."
Those concessions already are being made and felt in the Boston home owned by Laura Cannon. She buys oil to heat her 800-square-foot condo, which is the first floor of a three-story Victorian built in 1892. Her monthly oil bills have run about $400 since November. But after a jarring January, she's bracing for as much as $600 per month in February and March. 
She would like to save more money to modernize the heating system but, for now, she can't afford that. 
"Instead of suffering through these Boston winters, it would be cheaper for me to become a snowbird and buy a beach condo near my Florida hometown," said Cannon, a software architect. "Why should I keep surviving winter, when I can just start living it elsewhere?
"I do think I'm going to be more careful with frivolous expenses in February," Cannon said, citing the          cancellation of weekend getaways, a temporary stop on buying new clothes such as winter dresses, and no purchases of any wine that costs more than $20 per bottle. 
"First world problems," she said. 
"I also keep my home cooler than I would like, 65 degrees," Cannon said. "But I have cheap wine to keep me warm." 
NBC News' Steve James contributed to this story.