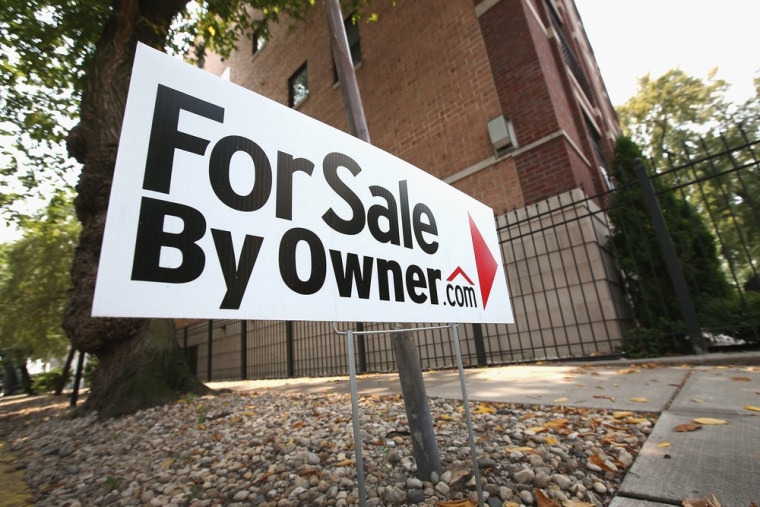 U.S. home sales in August rose to their highest level in six years, even higher than during the recent home buyer tax credit. This news came on the heels of the Federal Reserve's announcement that it would continue to fuel the mortgage market, keeping rates from rising dramatically. Still, Realtors were uncharacteristically pessimistic in their predictions for sales this fall.
(Read more: Better lock in your mortgage rate. Now!)
"We are getting early signals from lock boxes that show a significant change in direction in August," said Lawrence Yun, chief economist for the National Association of Realtors, referring to the small key boxes that hang on the doors of for-sale homes. The number of times they were opened in August dropped dramatically, signaling a big drop in potential buyer traffic.
Yun claimed the jump in August sales was based on fear of rising rates. August numbers are based on closings for contracts that were likely signed in June. June saw the biggest spike in mortgage interest rates.
"That hurried people into making a decision," said Yun. "It was the last hurrah for the next 12 to 18 months."
Realtors say home buying today is less about the interest rate and more about the ability to get the mortgage. Sales are also hampered by a severe lack of listings, down 6 percent from a year ago. Inventory shortages are nationwide with some markets seeing less than a month's supply of homes for sale.
(Read more: Map: Tracking the recovery)
While sales may fall, it appears home prices will continue to gain, if at a slower pace than recent months. Fewer foreclosures and, again, the lack of inventory, will prevent prices from falling. Borrowers are falling behind less and actually changing their behavior when it comes to paying their mortgages.
"For the first time since the housing bubble, consumers with constrained liquidity are making their mortgage payments about as much as their credit card payments," said Steve Chaouki, co-author of a new study from TransUnion.
During the past five years, as home values plummeted, and borrowers found that they owed more on their mortgages than their homes were worth, they turned their attention, and their payments, to their credit cards. It was a switch from historical norms, when mortgages were somehow more sacred and home ownership was considered more of an achievement than an investment.
(Read more: Druckenmiller: Fed just lost chance for a 'freebie' )
"This occurred in an economic environment marked by the build-up and bursting of the housing bubble. In fact, it is broadly believed that the shift in payment preferences was largely derived from the struggles of the housing market," Chaouki said.
Now that home values are climbing again, the trend is reverting to historical norms, and Chaouki said it's probable that by the end of 2013, the majority of consumers will pay their mortgages ahead of their credit cards.
"I think if you own your home, you have to put your mortgage first ahead of any other debt that you have because it's the basis for all of your family's financial plan," said Peter Winch, a Washington, D.C.-area homeowner.
As mortgage delinquencies fall and distress moves out of the housing market, sales will depend far more on traditional supply and demand. As of now, there isn't much of either. The first-time home buyer market has "collapsed," according to the Realtors, due to tight credit and weak employment, and millions of potential move-up buyers are still plagued by negative and near-negative equity.
It will likely take a few more years and a lot more jobs for those dynamics to improve.
—By CNBC's Diana Olick. Follow her on Twitter @Diana_Olick.