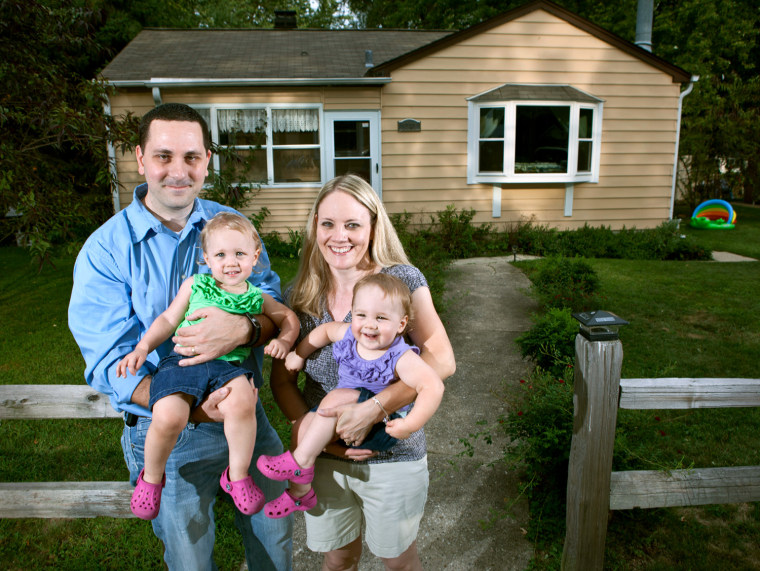 Updated Sept. 7: More than three years into the recovery, the jobless rate remains persistently high at more than 8 percent, and the economy is creating new jobs at an anemic pace. 
Yet even as the August employment figures show another month of modest job growth, there are jobs out there for those who know where -- and how -- to look.
Take Tom Fenwick, for example. After serving in Iraq, the former Marine finished college and went for his MBA at night school. He labored days at a trucking company. On weekends, he searched the Internet for a better job, juggling his sleep-deprived life as a father of newborn twin girls.
Ambitious and tenacious, Fenwick applied online for more than 100 jobs over two years. He came up empty, but instead of giving up, he changed tactics. This summer Fenwick turned to his network on Twitter, where he heard about a local job fair sponsored by the Iraq and Afghanistan Veterans of America that brought employers and vets together.
Fenwick came away from the fair with two job offers he loved. He recently started in senior management at a technology sales company, just 15 minutes from his Chicago home.
"You can submit online resumes or job profiles until your fingers bleed," says Fenwick, who completed his MBA in June. "You can dial the phone until your voice goes hoarse. Neither method will be as effective as meeting people in person, letting them see who you are."
The 36-year-old vet's experience is a case study in how to navigate career change in a still-rocky employment market, where an updated skill set, a focus on growing industries, and personal networking offer the best odds of landing that job you seek.
What follows is a list of some of the 10 hottest industries for jobs over the next decade, as determined by NBC News based on government and private data. The hottest opportunities remain in the health care industry, where demand is fueled by new technology, new treatments, our increased longevity and the reality that bedside care is one commodity that just can't be outsourced.
Technology, business, retail and service industries rank among the other fast-growing careers in the rapidly and profoundly changing American workplace, according to employment experts and the Bureau of Labor Statistics.
"The major trends are automation and offshoring. This has led to the 'hollowing-out' of the workforce, meaning that middle-skill jobs are in decline, because they can be done either by computers or by cheaper offshore workers... (But) low-skill jobs, especially service jobs, and high-skill jobs are expanding," says Laurence Shatkin, a workplace researcher and author of numerous career books, including "Best Jobs for the 21st Century."
"One of the most important skills is the ability to learn, because in 10 years, many people will be using workplace technologies and business practices that barely exist now," he says. "And in 20 years, many will be working in jobs that don't exist now."
If you're considering a career change, these are some of the hottest and most promising areas for your hunt:
Software developers
Software developers, the creative minds behind the latest apps, games and digital tools, are among the most sought-after workers in a growing global tech industry. The unemployment rate among information technology workers is about half the national average at 4.4 percent, according to a Mashable report. Also in demand are many related tech occupations, such as Java developers, mobile developers, programmers, database administrators, information technology managers and computer systems analysts.  
Software developers usually need a bachelor's degree in computer science, software engineering or a related field, and strong computer-programming skills. The 2010 median pay was $90,530 a year. Demand for software developers is projected to grow 30 percent by 2020, according to the Bureau of Labor Statistics' 2012 Occupational Outlook Handbook. Employers in some cities grapple with shortages of developers to fill them. Forbes magazine named Seattle as the top metropolitan area for tech jobs in 2012.
Health care
From unskilled medical aides to highly trained physicians, health care jobs remain recession-proof. A stunning statistic: The health care industry is expected to create 28 percent of all new jobs in the U.S. economy in coming years. "It's the biggest industry we have and the fastest-growing," Shatkin says.
Registered nurses remain among the hottest careers nationwide, with the median annual wage hitting $64,690 in 2010. Job openings for nurses are expected to soar 26 percent between 2010 and 2020, according to the BLS handbook. Close behind is demand for pharmacists, a field expected to grow 25 percent during the same period. This year pharmacist also ranked as the top-paying profession for women, approximately $99,000 a year, according to a Forbes report. Bonus: It's also a career that pays well right out of college.
Squeamish about blood and germs? No problem. Shatkin notes that opportunities abound in health care sales, office management, bookkeeping, and billing and appointment making. The burgeoning area of electronic medical records is a great choice for those with some computer skills. Transferable skills can be as good as health-care training: Shatkin cites the example of a laid-off publishing industry copy editor who highlighted her wordsmith skills to land a job editing brochures that pharmaceutical companies send to physicians. "The industry is just so big it creates a lot of peripheral jobs," he says. "It affects the whole economy."
Meeting planners
Jobs for corporate meeting planners are taking off. These detail-oriented wizards make travel arrangements, find and book venues, create menus and orchestrate every last beat of themed events for company meetings and annual conventions that draw hundreds, even thousands.
Potential employers include corporations, trade associations, colleges, museums and nonprofit groups. Employment of meeting planners is expected to grow 44 percent by 2020, according to Labor Department researchers, who cite a global business marketplace as a driving force.
In 2010, event planners earned a median annual wage of $45,260. To land a job, it's helpful to have a bachelor's degree and a background in hospitality. Colleges such as George Washington University, University of North Carolina at Charlotte and the University of Massachusetts offer meeting planning certifications that help you learn about negotiating contracts, managing vendors, designing eco-friendly confabs and other essentials. Want more info? Visit the Professional Convention Management Association website. Just for fun: Check out BizBash.com, a daily glimpse of trendy event planning at the high end of the creative (and budget) scale.
Financial adviser
At a Genworth Financial Wealth Management conference in Laguna Beach, Calif., in February, industry leaders faced a paradox. Demand for their services has never been higher, thanks to aging baby boomers nearing retirement. But their own workforce is also nearing retirement in droves -- the average age for a financial adviser in the U.S. is 57. Bottom line: The profession needs fresh blood. The Labor Department estimates that employment of personal financial advisers will grow 32 percent from 2010 to 2020. To work as a financial adviser, you typically need a bachelor's degree. A master's degree and certification can improve chances for advancement. (Read about how to become a financial adviser.)  
Author Shatkin says the field is an excellent choice for career changers with a background in accounting, money management or more general business experience. The key to success is word-of-mouth referrals. "It's a good place for people to go later in life," Shakin says. "The gray hair actually helps you in that area. It gets you credibility."
Online creative jobs
The conventional wisdom holds that tech heads rule the Web. But the tide may be starting to turn toward more creative types. Elance, a major jobs website that matches employers with contract workers, reported a dramatic increase in the number of online creative jobs in 2012. "For the first time ever the 'Creative Economy' is outpacing demand for technical talent," Elance reports. "These findings show that companies are now looking for new ways to attract and engage customers."
In its Global Online Employment Report in July, Elance notes, "More than 80,000 of the new jobs posted in Q2 were in the Creative category, up 60 percent over a year ago. Demand for creative skills such as web design (+574%), voice acting (+295%) and content writing (+256%) were each up significantly over a year ago." 
Donna Farrugia, executive director of The Creative Group in Los Angeles, says she sees these same hiring trends at her staffing firm, noting that 11 percent of the employers she works with say they are hiring during the third quarter of 2012. Web design is one of the most often-requested skill set among clients, she says. "As business picks up and creative teams and agencies take on more projects and clients, employers recognize a need to bring in extra support," Farrugia says, "They are filling full-time positions that were eliminated during the downturn and hiring freelancers to access specialized skills and help with heavy workloads."
Social media marketing
Workplace researchers forecast strong demand for public relations specialists (23 percent growth) and marketing pros (14 percent) in the decade ahead. Demand has exploded for social media marketers who can help companies tap Twitter, Facebook, Pinterest and whatever comes next to tell their stories and connect with consumers.
Jobs boards are full of postings for social media managers and related positions in many industries. Salaries and job descriptions vary. But social media jobs generally require strong communication, customer service and organizational skills, plus the ability to implement social media strategies across various platforms and then measure their success, says Farrugia of the Creative Group.
"We see continued demand for creative professionals with extensive digital skills, and finding these individuals can be hard," she says. "In fact, more than half (51 percent) of executives surveyed for our Hiring Index said it's challenging to find skilled professionals today, up 10 points from last quarter."
Dan Schawbel, author of "Me 2.0," says social media marketing is a field where your resume is less important than "what the Internet says about you." Job candidates need a professional online presence that demonstrates an understanding of social networks, online content and search engine optimization. "If you can't do it for yourself, in a business sense, then you can't do it for someone else." says Schawbel, managing partner at Millennial Branding, a Gen-Y research and management consulting firm in Boston.
Personal trainers
This health-related career is a good choice for sports and fitness buffs. There's a double benefit: you'll boost your daily exercise and also work in a fast-growing field with opportunities for full-time work or flexible part-time positions.
Employment of fitness trainers and instructors is expected to grow by 24 percent by 2020 as more businesses and insurance companies recognize the benefits of fitness programs, according to Labor Department researchers,  The median annual wage of fitness trainers and instructors was $31,090 in 2010. Salaries vary depending on employer, location, industry and experience levels;  in-demand trainers command far higher salaries and hourly rates in many cities.
In a June 2012 report, the International Health, Racquet & Sportsclub Association noted a growing demand for personal trainers, as well as increased employment for yoga, Pilates and group exercise instructors. No degree is required for personal trainers, though many gyms and spas require certifications. You can find information about training and certification from the National Academy of Sports Medicine and the American Council on Exercise.
Post-secondary teaching
We're not talking Harvard or Stanford, but there is a growing need for adjunct professors and other instructors who can teach career-related courses at community colleges, adult-education programs and for-profit universities. More American workers are seeking new skills, either by choice or by necessity after a job loss, and community-based classes are filling the void with practical, high-demand courses on subjects such as computer programming, web design and food-service management.
Instructors are needed for degree or certification programs, and for creative offerings teaching digital photography or crafts. Employment of postsecondary teachers is expected to increase by 17 percent by 2020, according to the Labor Department. Academic positions typically require at least a master's degree, though some vocational programs accept work experience as a substitute. "A lot of people from many different backgrounds can do this," Shatkin says.
Construction 2.0
Battered during the recession, the construction industry is rebounding as housing starts have reached their highest levels since 2008. Employment in construction-related work is projected to rise 33 percent by 2020, adding about 1.8 million jobs, according to the Labor Department.
Consider adding new skills to stand out from the competition. For example, workers can head back to the classroom or online to train as a green-building specialist, a certification offered through the Leadership in Energy and Environmental Design (LEED) organization.  "States, counties and cities are offering incentives for green building projects," notes author Kerry Hannon in her upcoming book, "Great Jobs for Everyone 50+." Another option is create a niche as an aging-in-place specialist who remodels homes to make spaces comfortable and accessible for people as they age. The National Association of Home Builders offers certification courses in green construction and aging-in-place remodeling and other specialties.
Nonprofit jobs
Here's good news for job hunters who want to change the world: For the second year in a row, an industry survey by Idealist.org reveals a healthy employment picture at U.S. nonprofit organizations. The 2012 survey shows nearly half of nonprofits plan to make new hires this year, and 54 percent say they will offer salary increases (up from 47 percent in 2011).  Nearly one-third of nonprofit applicants are over 50, and a quarter of them have more than a decade of experience in the nonprofit world. Idealist Editor Allison Jones blogs about the findings, offering this advice for job seekers:  "Given your experience and needs, it's even more important that you are searching for organizations that are a good fit."
That's how Jason Hansman, who served in the U.S. Army from 2000 to 2009, found a new career in New York. After being unemployed for four months, then underemployed as a security guard for nine months, Hansman applied for a job with the Iraq and Afghanistan Veterans of America group. Now he works as membership director for the nonprofit, which hosts job fairs – including the fair former Marine Tom Fenwick attended in Chicago -- and provides other services for 145,000 vets nationwide. He spends his days working with fellow vets to help them find jobs, often in government and tech-related fields.
Related: Looking for work? Weigh in
NBC News contributor Donna Wares is a writer and editor based in Southern California. Follow her on Twitter @donnawares.