If the name Hyundai evokes an image of low-cost econoboxes, you may want to check out the Korean carmaker's nearest showroom. Prepare to be surprised.
At next week's New York Auto Show, Hyundai will spotlight the 2014 Equus, the mid-cycle update of its premium-luxury sedan. The sedan will compete with high-end makes, such as the Mercedes-Benz S-Class and BMW 7-Series.
Although you can buy a basic Hyundai Accent for $15,000, a fully-equipped Equus will nudge you over the $70,000 mark.
Don't expect much of a discount at the dealer. The average Hyundai went out the door with givebacks around $1,420, according to data gathered by TrueCar.com, a lower figure than any other major manufacturer but Honda.
The good news for Hyundai is that it broke its all-time sales record last year, and did it again in January and February. The bad news is that it is losing market share because it can't keep up with the pace of the U.S. automotive recovery.
"We just can't build anymore," Hyundai Motor America CEO John Krafcik said in San Diego, where he was presiding over the first media drive of the new 3-row 2014 Hyundai Santa Fe crossover-utility vehicle. "We're just out of production capacity."
In recent months, Hyundai dealers have had to get by with about half the 60- to 65-days of inventory considered normal in the automotive business.
("A tough problem to have," smirks analyst Joe Phillippi of AutoTrends Consulting.)
This has allowed Hyundai to trim its incentives and allowed dealers to prey on a "scarcity value" to fend off the bargain shoppers of Hyundai's past. The average transaction price – the actual figure the typical customer paid after working in discounts and options – jumped by 5 percent, year-over-year, to $22,549 in February, according to TrueCar.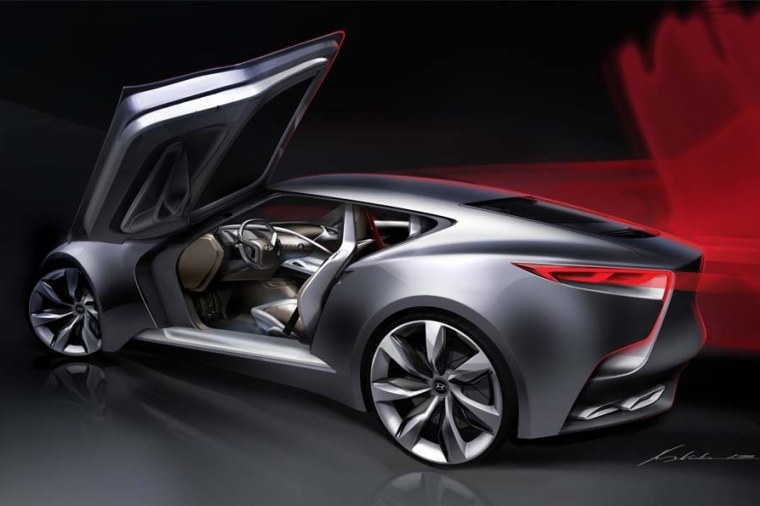 Phillippi and other analysts say they're surprised by Hyundai's success. It's been just four months since the maker – and its Korean sibling Kia -- acknowledged the two brands fudged test results and would have to restate the fuel economy numbers on 13 different models, some by six miles per gallon.
Since then, the Korean makers have settled a lawsuit and agreed to provide substantial reimbursement to the 900,000 owners affected.
Hyundai's transition from a fire sale brand has required a shift in focus that began by targeting once-endemic quality problems and backing that up with an industry-leading, 10-year warranty program. The maker has steadily gained ground in a variety of third-party measures, notably the quality and customer service surveys by J.D. Power and Associates. The current version of the Equus outscored Lexus, the overall top brand in Power's latest Customer Service Index.
That has Hyundai management confident they can continue to expand their presence in the luxury market. The maker will show off what it describes as a "luxury sports coupe concept," the HND-9, at the Seoul Motor Show next week. While the unusual "butterfly doors" are likely a show gimmick, industry observers expect the HND-9 is a clear hint of new products to come.
That gets back to the question of where to build the cars. Hyundai has added a third shift at its Alabama factory Alabama and it has crossovers rolling out of the Kia plant in Georgia.
While Krafcik says there are "no plans, yet," for adding more capacity in the U.S., analysts like Phillippi stress that could change quickly. The Koreans appear to be using the moment as an opportunity to decide whether to expand, and few would be surprised if an announcement didn't come sometime this year.
But Hyundai has learned from watching competitors' mistakes, especially when it comes to overstocking. The goal, Krafcik says, is to follow the strategy of the most successful luxury brands, and "always be one car short of demand."
Related content on TheDetroitBureau.com:

The 10 Least, Most Expensive States for Car Insurance
Japanese Battery Car Owners Switched Off