What used to be a one-day kids' holiday of candy and homemade costumes has morphed into a seasonlong commercial juggernaut that has growing numbers of adults forking over cash to get scared out of their wits.
Haunted houses, once a homespun hobby for dedicated horror fans that netted maybe a few million dollars a year in sales, has mushroomed into a $300 million industry. Today, there are around 2,500 haunted attractions worldwide, most in the United States, said Patrick Konopelski, president and owner of Shocktoberfest in Sinking Spring, Pa., and president of the Haunted Attraction Association.
"It's a legitimate industry now," he said. "Now we're a season."
Indeed, Americans plan to spend nearly $7 billion on Halloween this fall. And about 20 percent of the 158 million consumers who plan to celebrate Halloween say they will visit haunted attractions this year, according to the National Retail Federation's annual Halloween survey.
Chances are they'll be leaving the kiddies behind. In tandem with the rest of Halloween, haunted houses have grown bigger and more elaborate. Hollywood-style production ramps up the fear factor, and attractions are combining haunted houses with more grown-up activities like rock concerts, mud runs, paintball battles — even a strictly adults-only underwear haunted house tour.
"In the beginning, people would joke about spaghetti for brains and grapes for eyeballs," said haunted house producer Steve Kopelman. "Now you have animatronics [and] dramatic advances in technology … so you get the realism you couldn't have until the last decade."
Kopelman estimated that a big haunted attraction can earn $2 million or $3 million a season. Even smaller ones can make upwards of $50,000.
"Haunted houses seem like the holiday brought to life," said Joseph Szemiot, a 37-year-old New Jersey resident who said he has traveled as far as Massachusetts to visit a haunted house. "As Halloween becomes more popular and more commercialized, I guess it paid off for them to make the haunted houses better and better."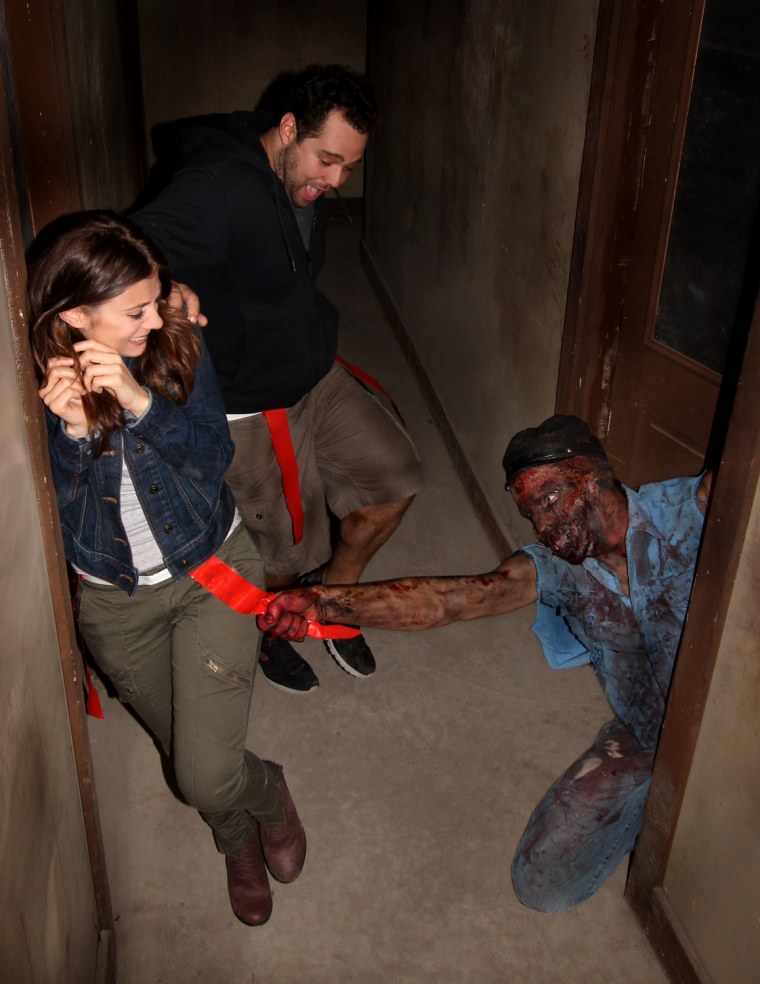 The haunted house is "a completely different animal than it used to be," said Chris Stafford, co-owner of 1331 Entertainment Group, a brand that runs haunted houses in Denver, San Antonio and Phoenix, and just opened a fourth in McAllen, Texas. "It's a form of live entertainment the same way a play is. The production value is high and the entertainment value is high."
That's largely because many movie special effects professionals who lost their jobs to the growing use of computer-generated images have found work at haunted attractions, Kopelman said.
"We create Hollywood-style sets, our makeup crew is all professional makeup artists," said Michael Jubie, who owns Headless Horseman Hayrides & Haunted Houses in Ulster Park, N.Y., with his wife, Nancy. "We have seen a steady increase," he said. "People that enjoy the Halloween season and the fall season will come out for that entertainment …. Here, they're part of the movie."
On the opening night of the Headless Horseman, crowds lined up outside the gates and milled around a cluster of outdoor Halloween-themed gift shops. Visitors posed for pictures in front of the park's signature ghoul, some startled when the animatronics kicked on and the horse reared as its rider brandished his head.
Repeat visitors Gary Call and Joe Deitrich, both 27, were heckling a friend for "screaming like a little girl" last year.
"How's it feel to be 30 and scared?" Deitrich asked.
Konopelski said eliciting that reaction is trickier with an older customer base.
"It's harder and harder to scare mature adults," he pointed out. Tackling this challenge led him to come up with one of the more chilling — not to mention chilly — tweaks to standard haunted-house fare.
Inspired by the Discovery Channel show "Naked and Afraid," Shocktoberfest started selling tickets to an adults-only "Naked and Scared Challenge."
Since launching the website a few weeks ago, "We've been inundated with inquiries" and sold upwards of 100 tickets already, Konopelski said. Visitors keep their shoes on, but strip down to their undies for the roughly 15-minute tour. (Originally, the plan was to let visitors go through the tour naked, but local officials shot that down.)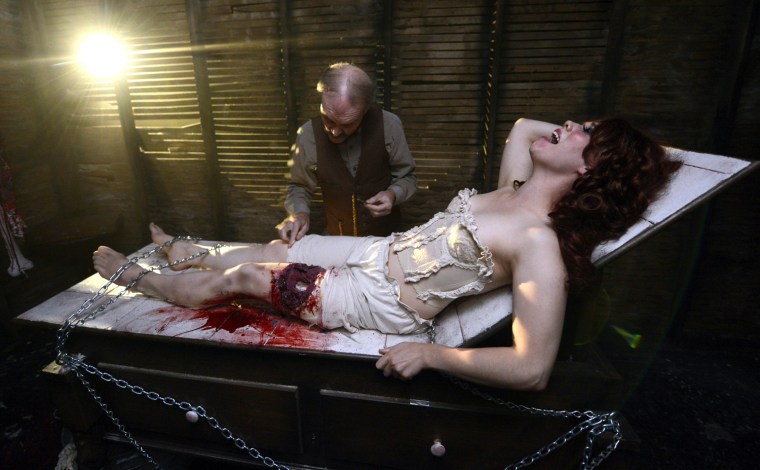 Most haunted houses aren't asking guests to disrobe, but they are going out of their way to add more bells and whistles.
"Within the last three years, they've become aggressive. They've become an extreme sport," said Timothy Haskell, creative director and co-owner of Nightmare, a New York City haunted house. "They're all mirroring our culture in the same exact way. We all want extreme everything."
Today's haunted houses are really more like compounds: Many have multiple sets along with outdoor elements like forests, corn mazes and hayrides. For people who want to break out in a real sweat rather than just a cold one, the opportunities to battle zombies with paintball guns or elude them in obstacle races are proliferating nearly as fast as the mud run fad itself.
Musician and horror moviemaker Rob Zombie is spearheading a mashup of haunted house and rock concert called Great American Nightmare that opens Oct. 10 on the site where the Los Angeles County Fair is held. Lighting and sound alone cost $100,000, Kopelman said.
Haskell estimated he spends between $100,000 and $200,000 every year overhauling his Nightmare attraction. The investment has paid off, especially in an urban setting where space is at a premium.
Adding more gore and ghouls also gives haunted house owners the opportunity to raise ticket prices. "If you're trying to get a higher ticket price, you have to give the general public more," Kopelman said. "Initially, a haunted house that was 10 minutes long was just fine." But visitors today view a haunted house as an evening's entertainment.
"It's a social night out," said Samantha Steinhilber, 23, who came out to the opening night of Headless Horseman with a group including her mom and grandmother. She said she would probably visit another haunted house this fall with friends or family. "I love the whole horror and Halloween type thing," she said.
Industrywide, ticket prices range from around $15 to $40, depending on the market, Kopelman said. Most of the bigger haunted houses now have a higher-priced "fast lane" option that shortens waiting time, and some have rolled out even more expensive VIP packages that offer shorter waits, private tours and other perks.
"It seems like the price has gone up, but they are giving you more for your money," said Szemiot, of New Jersey, who estimated that he spends a few hundred dollars a year on haunted house tickets. "This is what I wait for all year long."