Just in time for the Labor Day "holiday," a new survey reveals that nearly all employed Americans—91 percent—do work-related tasks during their personal time.

And U.S. workers are much more likely to work longer hours during personal time than counter-parts in Australia and Great Britain, according to the Harris Interactive survey sponsored by social business solutions provider Jive Software.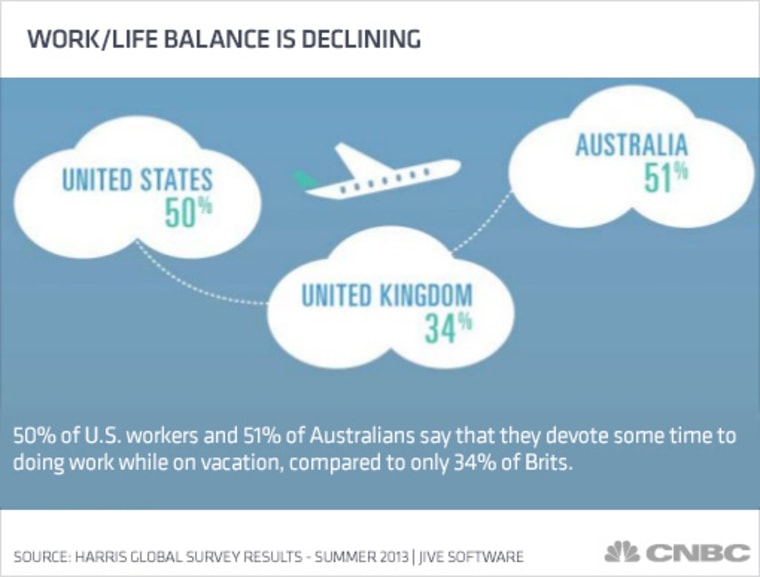 Thirty-seven percent of employed Americans work 10 or more hours per week during their supposed personal time, compared with 27 percent of Australians and 18 percent of British workers, according to the survey of 2,034 workers.
However, around 90 percent of all Aussies and Brits reported doing some work in their personal time, albeit to a lesser degree than U.S. workers.
Half of all American and Aussie workers said they do some work while on vacation, while just 34 percent of British workers do.
About 14 percent of workers in all three countries reported they do not take vacations at all.
Some 63 percent of Americans said they would spend more time with family and friends if they had 10 more hours a week, while 43 percent said they'd use that time to exercise.
(Read more: Hollywood's summer rebound)
Asked if she was surprised by the degree to which Americans take their work home with them, Sydney Sloan, Jive Software's senior director of social strategy, said, "Unfortunately, no. This is a reflection of the culture ... and the availability and access to work with the proliferation of mobile devices, and the just the sheer workload," she added.
Jive's online networks are geared toward helping businesses boost productivity and reduce time-wasting tasks.
"A lot of Americans identify themselves highly with their jobs, and they want to do work, they take pride in the fact that they're working hard," she said. "People in the U.S. definitely take their job very seriously."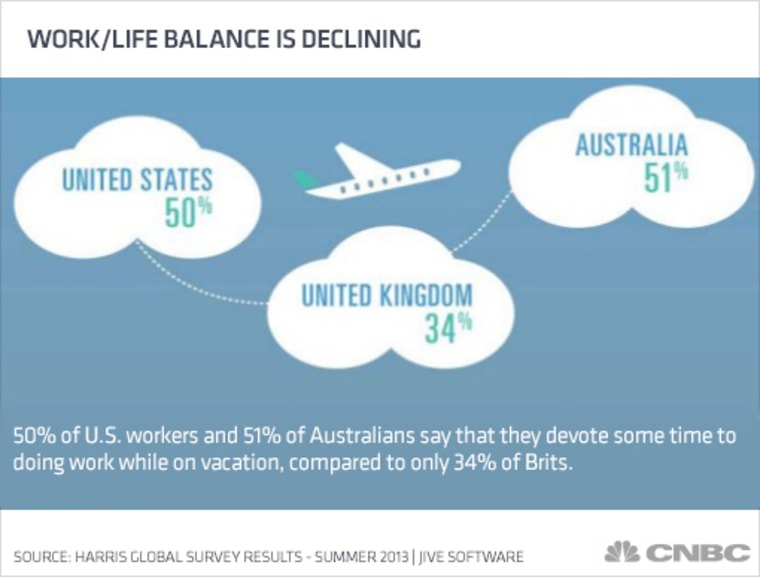 Sloan said she realized that in her own case several years ago when she was working at a company in Canada.
"I'd be sitting in the office at 7:30 at night, and people would say, 'What are you doing here? Just go home!'" she recalled.
Sloan also attributed more American and Australians working on vacation to the European tradition of taking holidays en masse in August, reducing the expectation of getting serious business done during that time.
(Watch: How to plan a "Peek" travel experience)
But, she said, when U.S. workers are on vacation, "People are stressing out, saying, 'Oh, I'm going to miss something, and I'm not going to be able to catch up on work when I get back.' You don't want to come back and have a thousand emails you need to catch up on."
The flip side is that if people work on vacation, or don't even bother taking one, they could be setting themselves for even more stress that can hurt their performance when they're back on the job, Sloan said.
Taking vacations and making sure you're not doing any work when you're on them, makes people "refreshed and recharged and able to bring a clear head to the workplace," she said. "People need to be more disciplined in making sure they do take that time."
(Read more: Cupcake craving at 3 a.m.? Hit the ATM!)
"I'll be going on a camping trip or somewhere and my 'out-of-office' says, 'I'm off-the-grid,' " Sloan said. "People really need to take the time to unplug."
—By CNBC's Dan Mangan. Follow him on Twitter @_DanMangan.