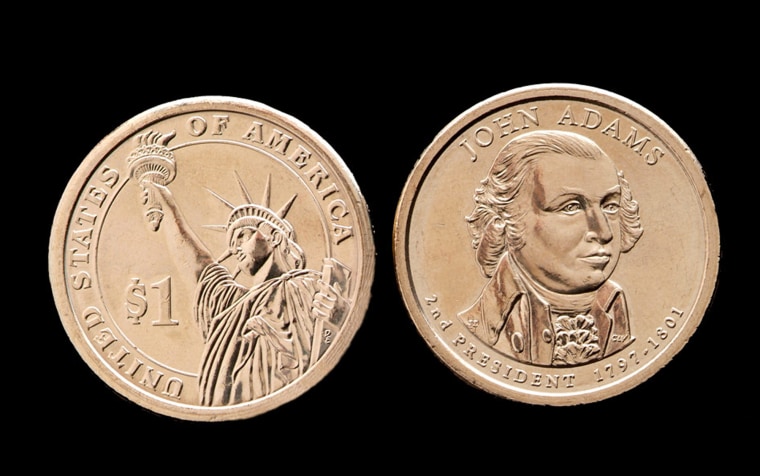 Hey America, want to save $13.8 billion over the next 30 years? Get rid of your dollars.
The greenbacks, that is. Let's use dollar coins instead.
That's the message from a consumer advocacy group and former presidential candidate, Sen. John McCain, who has re-introduced legislation to phase out dollar bills.
Eliminating the dollar bill in favor of the coin would save $13.8 billion over 30 years, says the consumer group Council for Citizens Against Government Waste (CCAGW). At a Capitol Hill briefing on Monday, the group said printing dollar bills may be cheaper than minting coins, but they last only about four years compared with 30 years for a coin.
The savings would nearly triple other recent estimates of the $1 coin's impact, said Aaron Klein, former chief economist for the Senate Banking Committee and Deputy Assistant Secretary of the U.S. Treasury, who conducted CCAGW's analysis on the savings potential.
"The federal government should always be looking for ways to save money, and as the national debt approaches $17 trillion, the implications of Mr. Klein's study amount to much more than pocket change," said Bill Christian, CCAGW's director of government affairs.
The Government Accountability Office, a bipartisan congressional watchdog, has produced five reports in the past 20 years to support the transition to $1 coins. Its last report, in 2011, said the government could save $5.5 billion, a conservative estimate according to advocates.

"It seems to me this one common-sense remedy certainly won't change the equation entirely. But even in this town, $5.5 billion or $13.8 billion is not chump change," said McCain, a Republican of Arizona.
McCain has been joined in his legislative push for the coins by fellow Republican senators Tom Coburn, of Oklahoma and Mike Enzi of Wyoming, as well as Democrats Mark Udall of Colorado and Tom Harkin of Iowa.
But they will have a hard sell. Even though most other countries, such as Canada, Britain and Japan, have replaced smaller currency denominations with coins, Americans love their greenbacks and have never warmed to dollar coins.
Maybe it's because many of us are in the habit of chucking coins in a jar or a piggy-bank. Maybe we don't like their bulkiness in the pocket, or perhaps that vending machine won't accept them. The reasons may not always be clear, but we just don't like them.
It began with the original gold dollar in circulation from 1849 to 1889, which was tiny, making it difficult to grasp and easy to lose, a serious problem when a dollar was almost a day's wage.
So the Mint made them bigger, but many people didn't like the idea of heavy coins filling up their purses or making holes in their pants pockets. Then there was the Susan B. Anthony dollar, which was introduced in 1979. It was often confused with the quarter, because it was roughly the same color, size, and design.
That coin was never popular and was quickly discontinued in 1981, but resurrected in 1999 when Treasury reserves were low. It still never caught on. Neither did the later Sacagawea dollar coin, which was used mostly as change in vending machines, most often in transit systems and post offices.
This dislike of coins by Americans contrasts with currencies of most other developed countries, where denominations of similar value exist only in coin. These coins have largely succeeded because of a removal of their corresponding paper issues. But the U.S. government has taken no action to remove the one-dollar bill, due to intensive lobbying.