384 Delfern Dr, Los Angeles, CA
For sale: $75 million
California architect Wallace Neff was the 1930s "architect to the stars" and is best known for designing "Pickfair," the grand estate of silver screen stars Mary Pickford and Douglas Fairbanks. Neff's other homes have been owned by Madonna, Diane Keaton and Jennifer Aniston.
By 1970, Neff was nearing the end of his career when he accepted a commission from Henry Singleton, the co-founder of technology company Teledyne, to design a sprawling colonial home on more than 7 acres in Beverly Glen.
Even then, more than seven acres — with nearly five acres of flat land — was a big deal, as many of the sprawling estates at the time were constructed in the 1930s or earlier. Today, that kind of lot is a bit unbelievable, and a reason why the estate has such a substantial price tag.
"In that area of Hollywood the land goes for about $10 million an acre, so that alone has a lot of value," explained listing agent Joyce Essex of Coldwell Banker Previews International. "You truly cannot find that kind of land in that location in L.A."
The house itself is quite significant, and according to Essex, one of Neff's best designs.
"The floor plan he did is one of the best; all of the rooms flow properly," she said. "Everything is very spacious and well done."
Measuring 15,520 square feet, the 10-bedroom home opens to a grand entry with hand-painted wallpaper. The living spaces on the first floor are generously sized, and many lead to substantial patios and the grounds.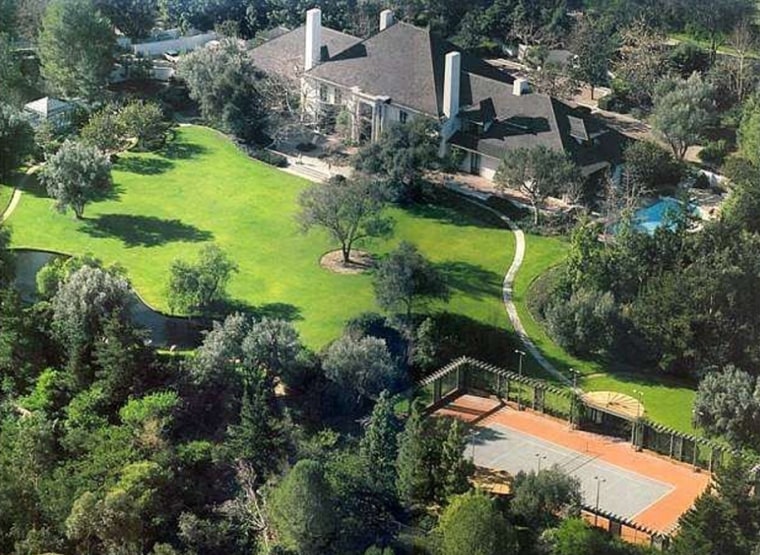 With a tennis court, private pond, winding trails and a greenhouse the lot is truly park-like.
"You drive through the gates to this property that's totally private," Essex said. "It's like having your own little world in the middle of L.A."
To put the $75 million price tag in perspective, consider the home's mortgage payment. Assuming a 20 percent down payment on a 30-year mortgage, the monthly loan amount is calculated to be just shy of $268,000, which is more than the current median U.S. home value.
See more photos of the home on Zillow Blog.
Related stories:
Erika Riggs, a real estate writer for Zillow Blog, covers celebrity real estate, unusual properties and home design trends. Read more of her work here.