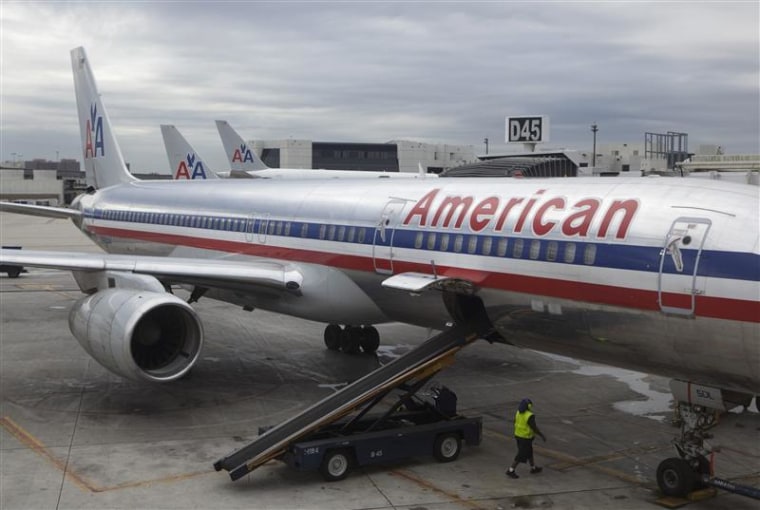 US Airways said Friday it has agreed deals with three unions at American Airlines, raising expectations that the two carriers will soon join forces as a single airline.
US Airways said in a regulatory filing that it has sealed agreements with the Transport Workers Union, the Association of Professional Flight Attendants and the Allied Pilots Association. The three unions represent nearly 55,000 American Airlines employees.
"Today's news does not mean we have agreed to merge with American Airlines," W. Douglas Parker, chairman and chief executive officer of US Airways, wrote in a letter to employees.
"It only means we have reached agreements with these three unions on what their collective bargaining agreements would look like after a merger, and that they would like to work with us to make a merger a reality."
Parker went on to talk up a potential merger with American.
"After studying American Airlines' current state and their future plans, we have concluded that a merger with American, while they are undergoing their bankruptcy restructuring, represents a unique opportunity that we should not ignore," he said.
"These beliefs are shared by the three American labor unions and we are delighted to have their support. Like us, they recognize the potential of a merger to improve the current and future careers of both airlines' employees."
Reports have circulated that US Airways is in talks with creditors for American Airlines to take over the airline once it emerges from bankruptcy -- a deal that would reduce the number of major big national airlines to just three.
American's parent company AMR filed for bankruptcy protection in November and recently received permission to extend the filing deadline for its reorganization plan until Sept. 28 and said it plans to ask for its labor union contracts to be voided.
The airline industry has been going through a period of consolidation, with the most recent merger clinched between United Airlines and Continental Airlines, who joined forces in 2010. Delta Air Lines reached a deal to combine with Northwest Airlines in 2008.
US Airways CEO Parker has made no secret of his desire to join with American, but American's executives have said they want to emerge from bankruptcy as a stand-alone airline.
Shares of US Airways were lower in trading Friday.