Three decades ago today, the stock market suffered its most bruising drop in history. Although experts say the current long-running bull market doesn't display the same kind of risk factors present in 1987 — or, for that matter, in 2008 — these two events still loom large in the minds of investors.
"I don't think we have the set of conditions and the leverage and the potential forced selling that we had at those particular times," said Mitchell Goldberg, president of ClientFirst Strategy.
On October 19, 1987, a confluence of economic and geopolitical shocks combined with Wall Street's faith in trading technology that turned out to have unforeseen limitations caused the Dow Jones Industrial Average to fall 508 points, or more than 22 percent, over the course of a single trading day. In percentage terms, this was and still is the biggest one-day drop by percentage, although the 777 points the Average shed on September 29, 2008 was the largest drop in points during a single trading session.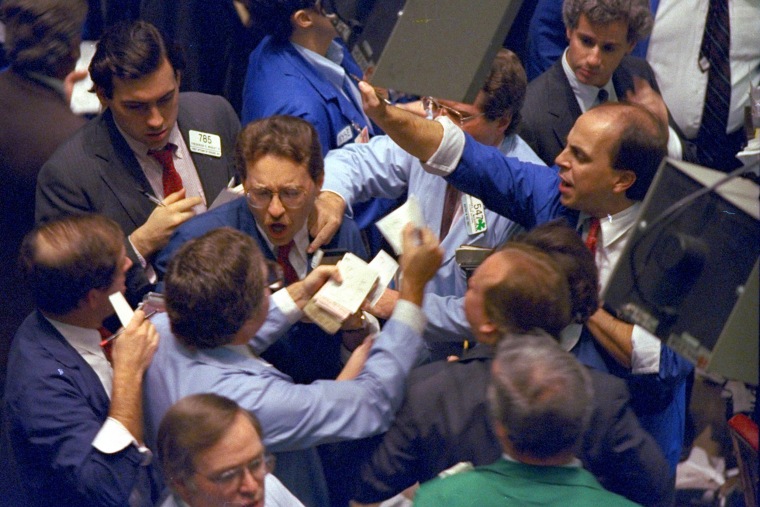 Since these events, the market has rebounded spectacularly, with the Dow closing above 23,000 for the first time ever on October 18 — but wariness is an enduring trait of investors today, even though experts say a cataclysmic market shock is unlikely.
"What I'm seeing from my clients is people are very aware that markets are great and thinking, 'This can't continue.' Investor sentiment is definitely on the side of preparing for downturn," Dana Levit, owner and principal of Paragon Financial Advisors, told NBC News. "I think people are less willing to ride the highs out. There's certainly a psychological phenomenon."
Millennials are holding back
Earlier this month, "father of behavioral economics" Richard Thaler was awarded the Nobel Prize in economics for his analysis showing that people fear losses more than they look forward to gains. This irrational tendency that could help explain why millennial investors in particular, who came of age during the Great Recession but have since seen stocks rebound beyond all expectations, still see the glass as half-full.
Related: Hey Millennials, Invest Already!
According to a recent survey by Ally Invest, 70 percent of millennials are scared for their financial future, and that could be keeping them on the sidelines, even though some of them might not even have been born yet in 1987.
"Clearly there was a formative thing that happened during the Great Recession where many of these millennials saw their parents lose a lot," said Diane Morais, president of consumer and commercial banking products at Ally Bank.
On top of that, today's young adults entered the workforce with student loans and without the wage gains their parents enjoyed; that, combined with a rising real estate market, has left many feeling that they're on unstable financial footing. According to a survey from Bankrate.com, 30 percent of millennials think cash is the best investment, an opinion that could lead them to lose out on vital gains for financial security in retirement.
"Even with the stunning rise of the market over the past year, there's not yet been a rising feeling on the part of individual investors, or those still on the sidelines, that they are wealthy," said Mark Hamrick, senior economic analyst at Bankrate.
Although the tools and technology available to even casual investors has improved to a degree unimaginable back in 1987, these advancements aren't a panacea, Goldberg said.
"Millennials have more tools than ever at their disposal because all investors have that today, but it doesn't actually make people better at investing, nor does it make people more confident investors," he said.
Most Americans don't even have stocks
Others say it's not just millennials having qualms: A Bankrate survey conducted last year found that a little over half (54 percent) of Americans don't have any investments at all, and Levit said her older clients tend to express the greatest amount of skepticism in today's bull market.
"I think it's a combination of age and where they are in life, and having lived through these two major events," she said.
"I think more Americans are distrustful of financial markets," Hamrick told NBC News. "Part of that is because of things such as the flash crash, the barrage of news about technology incursions or hacks," he said, adding that politicians across the ideological spectrum see vilifying Wall Street as an easy way to gain political points.
He said changes, like trading curbs, implemented after Black Monday make it unlikely that this particular type of market crash could occur over the course of a single day, but added that unintended consequences of technological innovations in trading still exist, pointing to 2010's "flash crash" as one example.
"The regulators and the market structures are always behind the technology. There's always a failure to anticipate the next problem," Hamrick said.