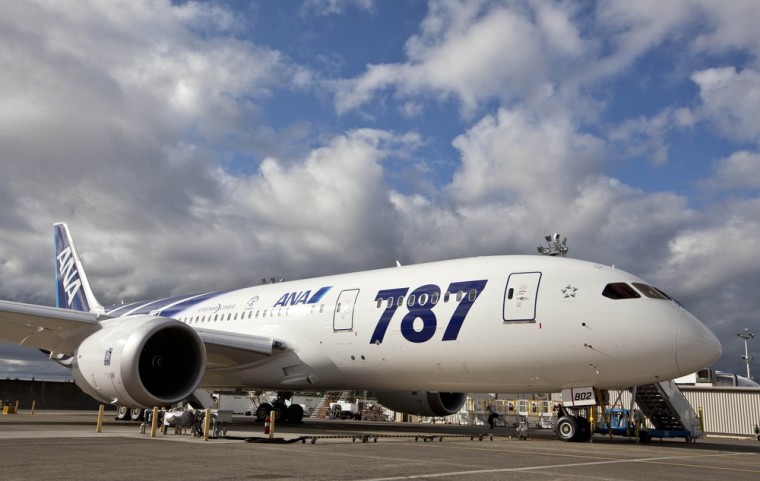 Boeing officially delivered its first 787 jet to All Nippon Airways on Sunday, more than three years after the airplane maker originally promised to get the new model to its Japanese customer.
"It's been just one problem after another," said Scott Hamilton, a longtime aerospace analyst with Leeham Co. "It's been the Murphy's law of airplanes."
The delays, caused by design and manufacturing snafus related to the company's decision to outsource large chunks of work to others, have been a huge and costly headache for Boeing.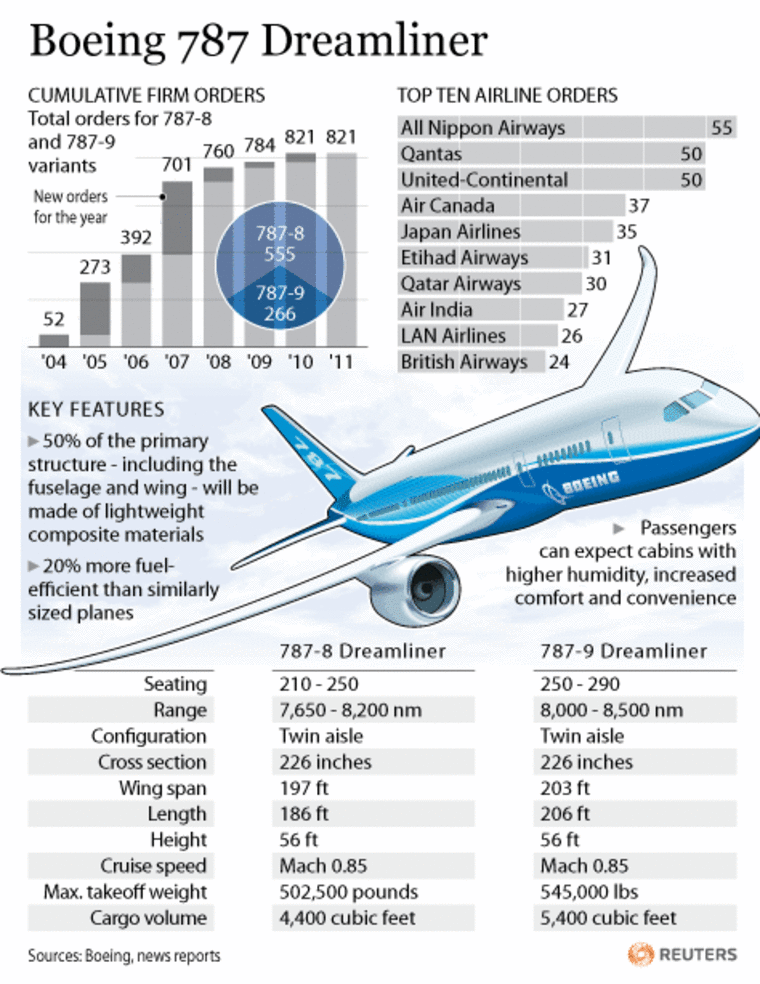 Mike Boyd, an aerospace analyst with Boyd Group International, said the problems not only delayed the 787 but also tied up engineers who otherwise could have been working to modernize other airplane models to better compete against archrival Airbus and other up-and-comers.
Still, in the long run, many expect the airplane to pay off for Boeing.
"It's still going to be several years before Boeing works its way through the effects of this, but when they do it's going to be a good airplane," Hamilton said.
The airplane, which relies largely on lightweight composite materials instead of aluminum, promises to use less fuel and require less maintenance than comparable planes. The twin-engine airplane will seat 200 to 300 passengers, depending on configuration, and boasts new comforts such as a more humid cabin.
"It's a superb airplane," Boyd said.
The fuel and maintenance savings should be attractive to cash-strapped airlines trying to control costs despite economic uncertainty and big fluctuations in fuel costs. The company currently has 821 orders from 56 customers, including United Airlines, British Airways and Air India.
That should keep Boeing production lines rolling for years. Boeing has not said how long it will take to work through all the orders, but it has said that it hopes to be churning out 10 planes a month by the end of 2013.
The delivery Sunday is scheduled to be followed by celebrations Monday before the airplane flies away Tuesday to enter commercial service. The delivery ceremonies will be held at the company's sprawling manufacturing facility in Everett, Wash., north of Seattle.
ANA said it plans to use the first plane for a few special flights in late October before beginning regular commercial service Nov. 1. It is slated to fly both domestic and international routes.
The 787 program, sometimes dubbed the Dreamliner, was launched in 2004, and the first plane originally was scheduled to be delivered in mid-2008. For the 787 more than any previous model, Boeing relied heavily on other companies to design and manufacture the airplane, as well as share part of the big financial burden. That  made sense in theory, but in reality some of the outsourcing turned out to be costly and often disappointing, analysts said.
The delays may have been a big benefit for rival Airbus, which is developing a rival A350 model that Boyd thinks has a lot of promise. The long-range airplane, which is slated to seat more than 400 passengers depending on configuration, also promises lower operating costs than its current competitors.
"It has given Airbus a chance to get out from behind the 8-ball," Boyd said.
Even after it delivers the first 787, Boeing still faces challenges related to the model.
For one,  Boeing is battling the National Labor Relations Board over its decision to build a second 787 production line in South Carolina in addition to the production facility it has in Everett. In a case that has attracted a lot of attention on Capitol Hill, the NLRB has accused Boeing of violating labor law by saying it was adding the production line there because of recent union strikes in Washington state.
Boeing is undoubtedly hoping the 787 delivery goes better than efforts to deliver the first 747-8 Freighter to Cargolux last week. In a highly unusual move, the airplane company refused to take delivery of the new plane as scheduled after the two sides were unable to work out last-minute contractual issues.