Trump is supposed to be good for business and one of those businesses is the prison business.
Shares in the two largest private prison stocks jumped sharply the morning after Donald J. Trump was elected president. The Corrections Corporation of America surged by 60 percent before falling back to a 34 percent jump and GEO Group Inc. was up by 18 percent.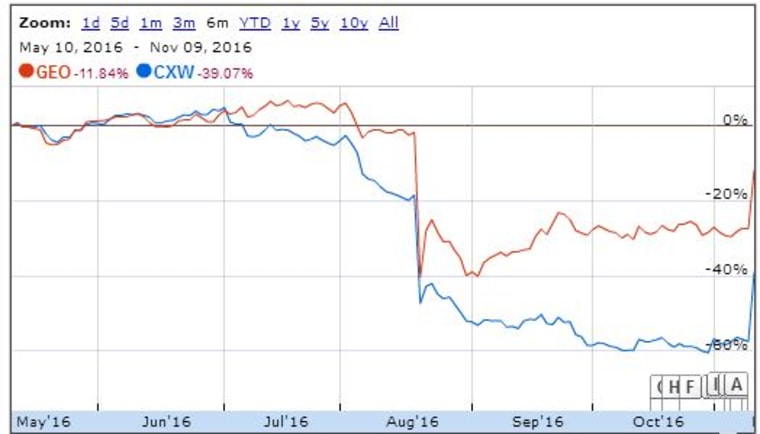 Following new investigative reports, including one on questionable deaths in immigrant-only prisons, the two companies had seen their stock prices fall after the Department of Justice in August said it would phase out the use of the facilities. Hillary Clinton also said all private prisons should be shut down
For his part, president-elect Donald J. Trump has called for increased deportation of undocumented immigrants. Implementing that plan would heighten prison demand by ICE (Immigration and Customs Enforcement), analysts said.
"Private prisons would likely be a clear winner under Trump, as his administration will likely rescind the DOJ's contract phase-out and ICE capacity to house detainees will come under further stress," analysts at Height Securities LLC wrote in a note this morning, "further necessitating a sizable contract detention population."