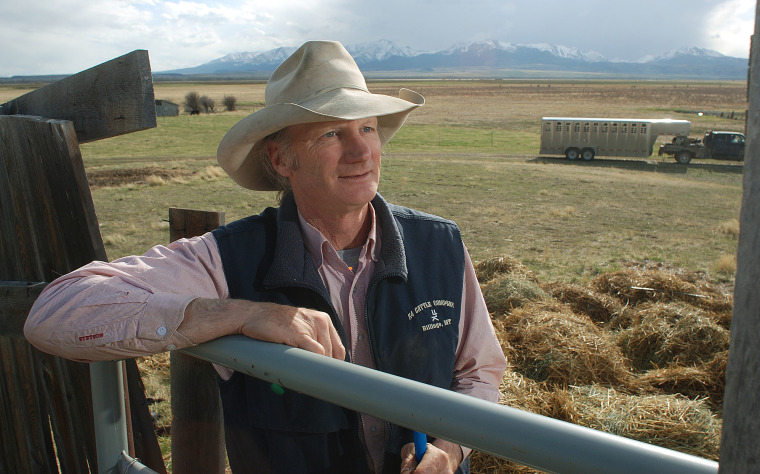 In central Texas, where catastrophic drought has turned green pastures brown and pushed some cattlemen to the brink of ruin, rancher Don Casey was forced to sell half his herd.
Yet Casey does not sound too stressed.
"I'm making less because I've got half as many cows. But I'm also 69 years old. And with less cows to worry about, we're packing the pickup and we're headed down to the Texas coast for 10 days and I'm fishing," Casey said. "And those cows can go take care of themselves."
Casey's attitude is typical of cattle ranchers, a resilient breed of farmers accustomed to hard times.
And there is a reason cattle ranchers are not overly stressed these days, despite the enduring drought and a wave of bad publicity over "pink slime," "meat glue" and a case of mad cow disease.
Beef prices are soaring, and helping ranchers turn a potential disaster into a solid business or even a bonanza.
"Calves have gone from $500 to $1,000 (per animal)," Casey said. "The prices are higher than they've ever been. That's a good summary - the highest ever. The health of the beef industry is about the price of the cattle, it's that simple. If prices are up, things are wonderful."
Cattle prices in the first quarter were up 20 percent over year-earlier levels, according to the Agriculture Department, as strong overseas demand has more than offset a steady decline in U.S. consumption.
The beef business "remains in good shape," said Matt Roberts, an agricultural economist with Ohio State University. The unappetizing headlines of recent weeks have been bulldozed by the age-old laws of supply and demand, he said.
Over the past five years, as cattle feed prices have soared and Americans have trimmed their appetite for beef, cattle ranchers have strategically reduced their herd sizes. Surviving ranchers - mainly in regions where rain has been plentiful - are thriving because the  supply of cattle is down while overseas demand for U.S. beef is surging.   
"Those two forces together have led to high (cattle) prices," Roberts said. 
Of course, that means consumers are forking over more cash for steaks and burgers. In March, the average retail price for choice-grade round steak was $4.81 per pound, up 13 percent from two years ago, and ground beef hit a record $3.02 per pound, up 35 percent, according to the USDA.
While backyard grillers may be cringing, cattlemen who have gone against the grain and grown their herds are grinning.
"We've managed to get our cow numbers up," said Bill Donald, who runs Cayuse Livestock in Melville, Mont., a lush world away from Don Casey's parched pastures. He spoke to msnbc.com by cell phone from a cattle shed while counting his heifer herd. "Things are good."
But Donald is probably feeling like he's dodged some big bullets as well.
In recent weeks, America's cowpokes and meat moguls have had to swallow some raw news.
There was the revelation that some food processors use "meat glue" – a protein powder that makes beef slabs sticky so they can be shaped into larger portions. While the "glue" is mainly produced through bacterial fermentation, the material is FDA approved and must be labeled so chefs can cook out the bacteria.
Then there was the hubbub erupted over "pink slime" – the nasty nickname for lean, finely textured beef, or LFTB in industry jargon. The material has been used in ground beef for two decades since meatpackers figured out how to take slaughterhouse trimmings, spin them in a centrifuge and treat the resulting product with ammonium hydroxide gas to kill bacteria.
When details of the process got heavy publicity, there was an outcry that pushed some major grocers, including giant Kroger Co., to stop buying meat with LFTB.  Ground beef sales temporarily plummeted to their slowest pace in 10 years. The main producer, Beef Products Inc., was forced to shut three of its four plants.
And then in late April, a California dairy cow was diagnosed with "mad cow" disease, or bovine spongiform encephalopathy. BSE can be transmitted to people who eat beef carrying brain or nerve tissue from an infected animal. The sick cow never entered the food chain. Yet it turned stomachs in the meat industry: When the first American BSE case surfaced in 2003, U.S. beef exports fell by $3 billion and took eight years to recover.
After the April 24 "mad cow" discovery, cattle futures posted their biggest drop in seven years, but prices bounced back within 48 hours. Top importers of American beef (Japan, Canada, Mexico and South Korea) immediately said they would not change their beef-buying policies.
The world's hunger for American meat - spurred in some cases by natural calamities and diseases - has ratcheted U.S. beef export values from $631 million in 2004 to $3.8 billion in 2010 and more than $5 billion in 2011.
Those planetary economic forces are felt by ranchers like Donald in Montana, who said: "We're really optimistic." 
There is good reason. Prices for feeder steers, animals placed in feedlots and fattened before slaughter, are expected to hit $1.60 a pound this year, up from $1.09 just two years ago, according to the USDA.
"That's almost 50 percent higher," said USDA senior economist Richard Stillman. "Wouldn't you be optimistic? 
"The difference is whether you have grass or don't," Stillman added. "If you have grass, and you didn't have to get rid of your cows, you're probably happy as a clam. It's the guys in Texas and Oklahoma who are not doing as well."