Most of the time, Woodward Avenue is just another busy urban thoroughfare, but this weekend Detroit's main drag will be transformed into Memory Lane.  Saturday brings the return of the Woodward Dream Cruise, an annual celebration of America's love affair with the automobile — with an emphasis on the classic hot rods and muscle cars that helped put the Motor City on the map.
Organizers and local officials estimate 1 million or more people will line a 17-mile stretch of the eight-lane boulevard to catch a glimpse of up to 60,000 Pontiac GTOs, Ford Mustangs, Chevrolet Corvettes and countless other classic cruisers as they parade up and down Woodward Avenue. 
What started out almost by accident has become an event that routinely draws thousands of visitors from as far away as Europe and even New Zealand — some even shipping their cars in for the Dream Cruise.
Ed Thielenhouse decided to drive 600 miles from Antigo, Wis., in a rare restored and heavily modified 1939 Graham. "I'm a gearhead, and I've been hearing about the Woodward Dream Cruise and wanted to check it out," he said.
Actually, Thielenhouse arrived three days early. The official Woodward Dream Cruise doesn't begin until Saturday morning, but every year the event seems to start earlier. By the beginning of August there were plenty of classic automobiles looping around the Woodward circuit at all hours of the day and night, with plenty of folks setting up lawn chairs along the curb to watch the action and bask in their own memories.
Steve Lutren was there Wendesday at lunch-time. "I'm retired, so every day is Saturday,"  laughed Lutren, who gave his age as "past 60." 
"I've been cruising Woodward since I was 14 years old, when this was all drive-ins and diners up here," he said while looking under the hood of a 1969 Pontiac TransAm parked in a gas station lot filled with muscle cars. "I used to be up here three, four nights a week.  It was something you did all the time."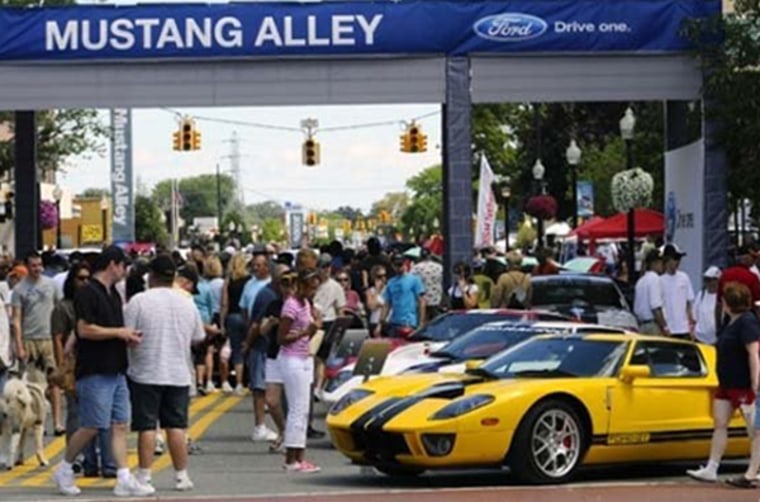 While cruising might have been immortalized by the Southern California-based George Lucas film "American Graffiti," Woodward was a major center of the ritual, and the experience was encouraged by the hometown automakers. Indeed, it wasn't uncommon to see GM, Ford or Chrysler engineers, even senior executives like the legendary John DeLorean, hitting Woodward with some of their newest products, testing them out against the competition.
But cruising slowly died out in the 1970s, in part due to suburban sprawl and a crackdown by police as well as the high cost of gas following the first of the decade's twin Mideast oil shocks.
And it might have remained little more than a fixture of folklore were it not for a chance experiment by a local muscle car club based in the suburb of Ferndale, just over the notorious 8 Mile Road border from Detroit. In 1985, members thought it might be more fun to actually drive, rather than park, their classics. Other collectors got word and also turned out that August weekend. After that, the event grew every year.
Or rather, it grew until the recent economic downturn took hold. That led some of the big name sponsors, including Detroit's Big Three automakers, to end their sponsorship of hospitality suites and events connected to  the Woodward Dream Cruise. Some cruise regulars seemed to prefer it that way, insisting the grass-roots event was better when it didn't serve as part of corporate marketing efforts.
The event does face an uncertain future. And that's despite the return of many corporate sponsors who will again be staging a big presence on Saturday.
"One thing I notice," said Chicago's George Schuss, as he joined a group of retirees watching the pre-Cruise cruise on Wednesday afternoon. "It's all old guys here.  I don't see any youngsters."
That fits a number of recent studies that show far fewer of today's Gen-Y teens are bothering to get driver's licenses than in decades past — raising questions about whether America's love affair with cars and cruising can continue.
Then 15-year-old Samuel Sudduth, of Ypilanti, Mich., arrived, though the youngster admitted he only came because of his father Don. On a scale of one to 10, Sam is barely a six when it comes to liking cars, lamented his father, who said he himself is off-the scale, "a certified car nut." 
Like most of his classmates, young Sam is more interested in things like cell phones. But after being steered from one classic hot rod to another '60s muscle car, his face lit up and he began to ask questions. 
"I'm hearing a lot of old stories, and it's pretty interesting," Sam said, suggesting he just might want to come back with his father on Saturday.
More money and business news: