At Domino's stores, "pizza" is going away but "pizza theater" is set to debut.
As part of a four-year-long branding makeover, Domino's will drop the word "pizza" from signage at its U.S. stores, leaving only the red-and-blue, slanted domino tiles -- or, at some locations, the tile and the only word "Domino's" -- as the company seeks to grab the kind of single-glance recognition that McDonald's enjoys with its golden arches or Nike has with its swoosh, Domino's announced Tuesday. 
Meanwhile, by adding seating space to all new and some existing stores, including spots to watch the tossing and twirling of dough -- dubbed "pizza theater" by the chain --  the company aims to boost to its growing ranks of "pick-up" customers, which now account for about 30 percent of sales, said Chris Brandon, a company spokesman. 
"Back in the day, most people just knew Domino's by their local phone number. Many consumers never even knew where their Domino's store was located," Brandon said. "With the increase of pick-up orders, we're just trying to create a more welcoming atmosphere." 
A "comfortable lobby," a "step platform for children to see the action," and "chalk boards to allow customers to express their creativity or to leave feedback," will help infuse the new look, the company said in a news release. As a test of those tweaks, almost 12 "concept stores" already have been built this year in Las Vegas, Nev., Gulfport, Miss., and other cities. Selected Domino's stores also will offer "grab and go" fare such as milk and cookies, salads and mini dessert parfaits.
Yet despite its shortened name, freshened logo and warmer interiors, Brandon insisted that Domino's is "not changing our business model and not shifting toward dine-in."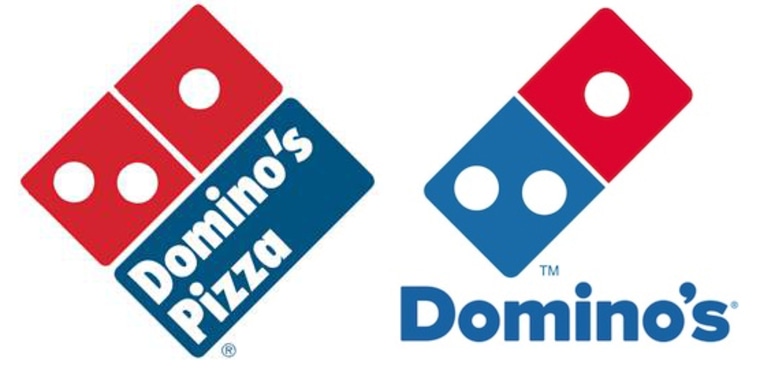 "If people want to sit down and sneak in a couple of Parmesan bread bites or sneak in a bite or two of their pizza, they'll have room to do that," Brandon said. "If somebody really does want to sit there and eat their pizza, they'll have more breathing room to but it's not a means towards dine-in."
The recent rise in pick-up orders has been driven equally, Brandon said, by the company's continuing "Midweek Pick-Me-Up" deal (on Mondays, Tuesdays and Wednesdays, drop-in customers can buy a large, three-topping pie for $7.99) as well as by the cellular devices in many consumers' pockets. 
"These days, from Domino's, people can order from their mobile phones or online. So most of the time, people have already made their pizza order when they arrive," Brandon said. "But we still deliver a lot of pizza (about 70 percent of sales). That hasn't gone away by any means." 
More money and business news: