The Dow plunged more than 1,000 points just before the final bell clanged Thursday. It represented a full market correction, defined as a 10 percent drop from its 52-week high, the first time it had done so since 2016.
The S&P 500 also dropped 3.7 percent to a new low for the week.
After a record run-up, stock markets have been newly volatile following a stronger-than-expected January jobs report. Some investors saw the fastest rate of wage increases in recent times as a signal that the Fed might hike interest rates higher and sought to lock in gains, leading to the sell-off.
"It's really about people thinking the Fed is either behind the curve or actually has to be more aggressive," Stephanie Link, global asset management managing director at TIAA, told CNBC. "That fear, that unknown, is really what's driving a lot of the anxiety."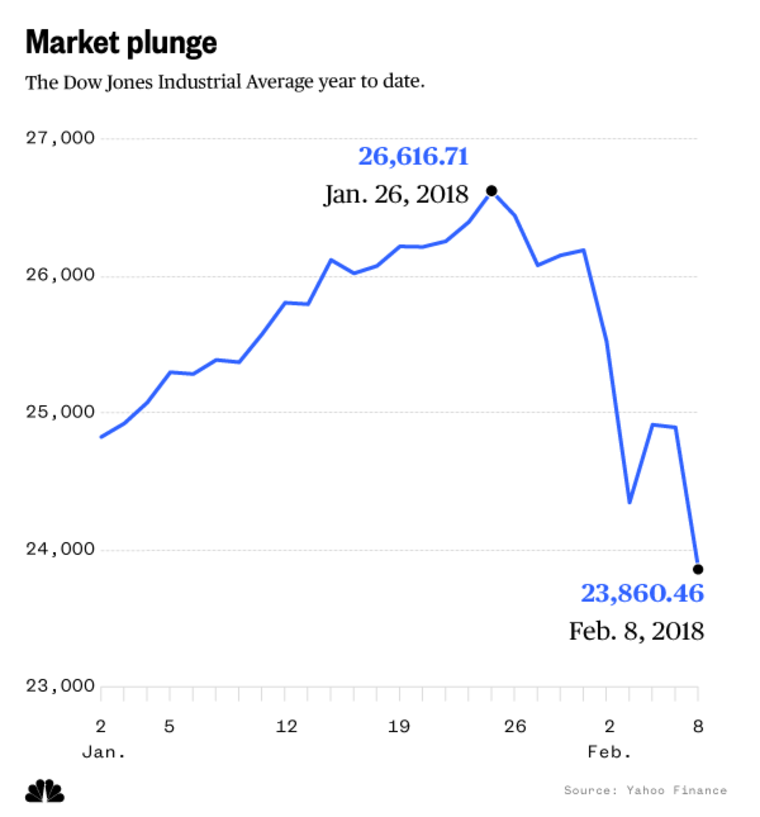 By closing at 23,860 points, the Dow Jones industrial average was set back to its level on Nov. 17, 2017, and officially corrected. The index peaked at 26,616 points just two weeks ago.
On average, the stock market corrects about once a year, according to research from Deutsche Bank. The last time the market corrected was two years ago, in February 2016. By many measures, stocks have been overvalued and due for a come-down for some time.
And the ride isn't over.
"With the market closing at the low end of the day's range, expect more gyrations in the days and weeks to come," Greg McBride, chief financial analyst for Bankrate.com, said in an email.
In the big picture, the dip isn't unusual. If you had put $100 in the market at its peak, you would still have $90. What is unusual is that there hasn't been a correction in the stock market since 2016. Corrections along the way when things get overheated help prevent a big crash later.
"When the market declines sharply, everyone naturally wonders 'What's wrong?' Nothing is wrong economically," McBride said. "The economy is doing better now than it has any time in the past decade. This is just some healthy, and overdue, volatility to wring out any excess."
Experts cautioned against running to hit the "sell" button.
"Markets move in both directions, full stop. For investors, particularly those unnerved by seeing such sharp declines, it's never been more important to stay committed to long-term goals," Mike Loewengart, VP, Investment Strategy at E*TRADE, wrote in an email."