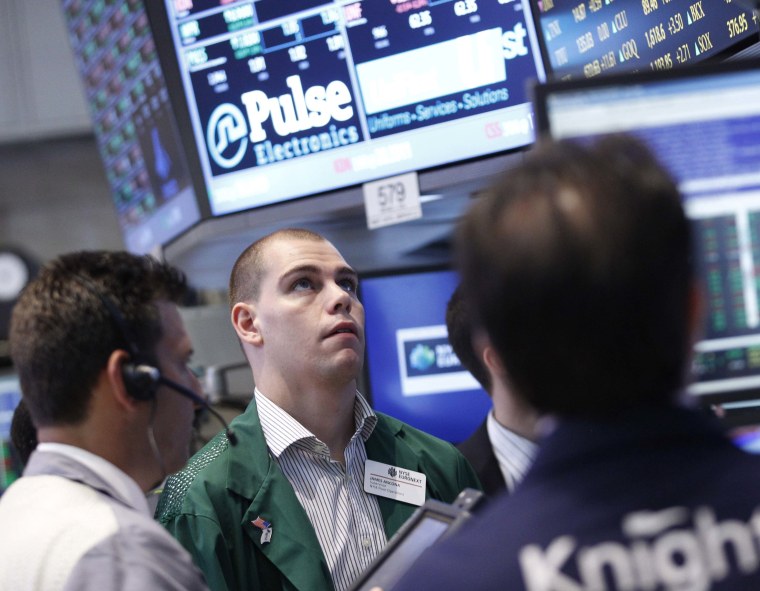 Updated at 4:05 p.m. ET: Stocks rallied Friday on growing hopes of further stimulus from the Federal Reserve and the European Central Bank, as economic growth slowed in the second quarter.
The Dow Jones industrial average closed the day up 188 points, having moved above 13,000 for the first time in over two months. It was the Dow's fifth triple-digit move in the past six days.
In economic news, gross domestic product growth slowed to a 1.5 percent annual rate in the second quarter as consumers spent at their most sluggish pace in a year. While economists expected worse, it was weak enough to keep hope alive for an additional round of Fed stimulus.
The Federal Reserve meets next week, and the market is looking for signs of additional monetary stimulus. The ECB also meets, with expectations for action overseas also rising after comments Thursday from ECB President Mario Draghi.
"There continues to be excitement over potential change in policy, both from the ECB and the FOMC. That's the only reason the market's up," said Ken Polcari, managing director at ICAP Equities in New York.
Merck gave the biggest boost to the Dow after the drugmaker reported better-than-expected quarterly earnings, with strong sales growth of its vaccines and treatments for diabetes and HIV.
On Thursday, stocks leapt nearly 2 percent and erasing much of the losses for the week as ECB chief Mario Draghi said he would do whatever it takes to save the euro. Adding fuel to the fire, the French daily Le Monde reported on Friday morning that euro- zone governments and the ECB are preparing to take action to bring down borrowing costs for Spain and Italy.
Uri Landesman, president of Platinum Partners in New York, described the market as "getting frothy," adding that "the bulls are trying their last gasp because Draghi says he is going to buy some bonds.
"The problem is way too deep for central banks to dig us out of, and that is going to become evident both in the news and the market over the next couple of months," Landesman said. "I expect a really rough rest of the summer."
Facebook Inc shares tumbled to an all-time low a day after the social media company reported a drastic slowdown in revenue growth on Thursday and failed to offer financial forecasts that quelled fears about its ability to boost advertising growth.
In contrast, Amazon shares rose after it reported improved profit margins on Thursday after the bell.
Optimism over further stimulus measures has helped offset a mixed U.S. corporate earnings season, with many companies beating profit forecasts, but often missing revenue projections and warning about sluggish global growth.
Through Friday morning, of the 290 in the S&P 500 that have reported second-quarter earnings, about two-thirds have beaten analysts' expectations, according to Thomson Reuters data.
Starbucks Corp cut its outlook for the current quarter, citing global economic weakness and a recent slowdown in visits to its coffee shops in the United States, its biggest market for sales and profits.
Reuters contributed to this report.