The withdrawal of the Republican health care bill was blamed for sharp drops Monday morning in a number of leading U.S. economic indicators, including the dollar's drop to nearly a two-month low.
The inability to overhaul the U.S. health care system, a major campaign promise of President Donald Trump and his allies, marked a significant setback for the president in a Congress controlled by his own party.
Coming so early in Trump's term, the blow has heightened worries about the chances to enact measures to boost the economy, such as tax reforms — a major priority of the president's — and big spending packages.
Mick Mulvaney, director of the White House Office of Management and Budget, acknowledged that there were questions about the Trump administration's grip on the levers of power, saying Sunday on NBC News' "Meet the Press": "We haven't been able to change Washington in the first 65 days."
"Is the Republican Party capable of governing?" he asked. "I know the man in the White House is capable of governing. I saw it this week."
Jeffrey Miller, co-founder of New Arc Investments of Chicago, said most of the economic news last week actually was positive, but it was "irrelevant."
"Markets were focused on the Obamacare repeal decision," Miller wrote to investors.
The dollar hit 110.420 yen in Asian markets Monday morning — its weakest since Nov. 22 — before recovering slightly to 110.470 yen, which was still down by 0.8 percent from Friday.
The euro was 0.45 percent higher, at $1.0847, following a rise to $1.0849, its strongest since early December.
The dollar's slide in turn sent gold to nearly a one-month high, rising by 0.8 percent, to $1,254.01 per ounce.
"There isn't much going for the dollar right now, and the market will be bracing for its further decline," Shin Kadota, a senior strategist at Barclays in Tokyo, told Reuters.
The Nikkei 225 finished 1.4 percent lower at 18,985.59 on Monday while South Korea's Kospi closed 0.6 percent lower at 2,155.66. Hong Kong's Hang Seng declined 0.7 percent to 24,180.10 while the Shanghai Composite Index was flat at 3,268.96. Australia's S&P/ASX 200 fell 0.1 percent to 5,746.70. Stocks in Singapore and other Southeast Asian countries were lower.
"Beyond the impact on health care, the vote had been seen as a test to the self-proclaimed deal-maker and the new administration's abilities to also deliver other promises, including tax and infrastructure policies," Jingyi Pan, a market strategist at IG in Singapore, told The Associated Press.
Jeffrey Saut, chief investment officer for Raymond James Financial Services, said the failure of the measure won't cause irreparable damage to the bull market, but he warned investors that stocks are in a danger zone — one that's big enough to wipe out a chunk of gains from the so-called "Trump Rally."
Saut told CNBC on Sunday that he believes stocks will come under pressure Monday as investors take the setback as a sign that serious cracks are developing in Trump's business-friendly agenda.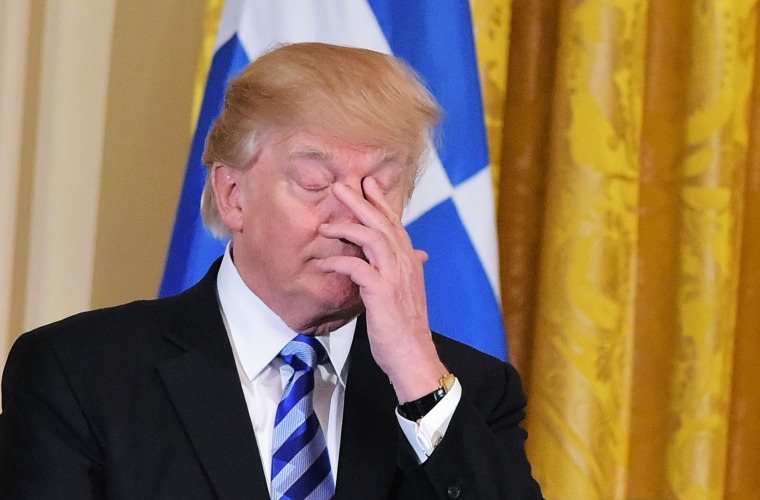 The dollar index against a basket of major currencies was down by 0.3 percent, at 99.299, after going as low as 99.292, its lowest since Feb. 2.
The index had risen to a 14-year high, near 104.00, early in January, when expectations for a significant stimulus under Trump were at their peak.
In a sign of stress for Wall Street stocks, U.S. equity index futures fell to a six-week low.
Traders said the market was divided on what the failure of Trump's health care bill meant for the outlook for tax cuts and infrastructure spending.
"There is a widespread perception that failure to pass the health care bill somehow derails the rest of the Trump agenda," said Tom Porcelli, chief U.S. economist at RBC Capital Markets.
"We think linking this particularly difficult legislative undertaking with the rest of the Trump is flawed," he said. "It actually presents a scenario where tax reform can potentially be accelerated."