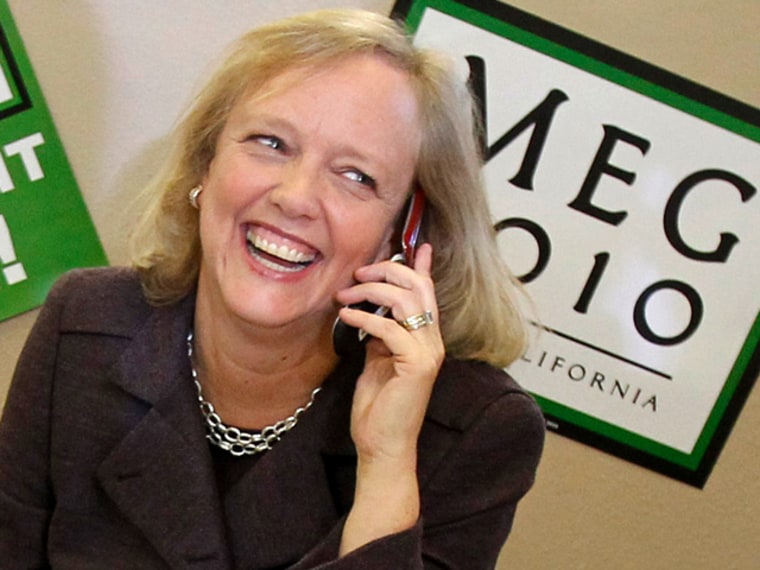 Hewlett-Packard's board of directors is considering hiring former eBay chief executive Meg Whitman to take over the company's top job from current leader Leo Apotheker, news reports said Wednesday.
The Wall Street Journal reported that it's not certain the change will take place. Its story quoted several sources close to the situation.
CNBC said the board is meeting Wednesday to consider the change to elevate Whitman, who sits on HP's board. HP company representatives and board members have not commented on the reports.
Shares of HP jumped 7 percent to close at about $24 as shareholders expressed approval of the reports.
Whitman, 55, was CEO of eBay from 1998 to 2008 and then ran for governor of California  in California, winning the Republican primary but losing to Jerry Brown in the general election.  She spent $178 million of her own money on the campaign.
She has a personal net worth estimated at $1.3 billion, according to the latest edition of the Forbes 400 published Wednesday.
Reuters, which also matched the report, noted that if Apotheker is let go he would be the third CEO in a row to be ousted by the board of the tech giant.
Mark Hurd was ousted last year after a scandal involving expense reports and a female contractor.  Carly Fiorina eventually was dismissed after investors blamed her for betting on a fading PC industry by buying Compaq.
Analysts say the odds may have been stacked against Apotheker from the beginning. Venture capitalist Ray Lane, who this year assumed chairmanship of an often-lambasted but powerful board, has argued that previous management underinvested in areas including software and services.
"He was doomed from the beginning," said Ticonderoga Securities analyst Brian White. "The die was cast for whoever stepped into that position."
Last month, HP announced a new strategic shift, virtually abandoning the consumer market by killing off its line of mobile devices including the TouchPad and saying it may spin off its massive PC division.
(Note: This blog post has been updated from an earlier version.)