4500 Thompson Road, Sedona, Arizona
For sale: $1.25 million
At the very back of a canyon, surrounded by national forest, an artist created a natural retreat complete with a rooftop garden and indoor koi pond.
"When you walk in the home, there's this verdant garden area, and right below there's a koi pond," said listing agent Jolynn Greenfield of Russ Lyon Sotheby's International Realty, who co-lists the property with Elisa Andreis. "That's where he (the owner) raises baby koi."
Huge timbers, enormous river stones and flagstone make up the construction of the Sedona, Ariz., home.
"These big river rock supports hold up the home as well as these massive tree trunks," described Greenfield. "There's one you can't put your arms around — it's that big."
Stained concrete floors and an open floor plan add to the natural effect. A central staircase leads upstairs, which is a true loft with rooms that look over the lower level. The only enclosed room is the master suite.
A limestone aquarium, huge floor-to-ceiling windows and handcrafted details round out the rest of the interior.
"Every nook and cranny is a piece of art," Andreis said.
The whimsical details continue on the roof, which is a sod garden, complete with a hot tub and iron-frame bed perfect for sleeping under the stairs.
And of course, this is all on a property in a back of canyon, surrounding by national forest.
"You're in this pristine location that most people don't know exist," Greenfield said.
A monthly payment on the home would be $4,485, assuming a 20 percent down payment on a 30-year mortgage, according to current mortgage rates.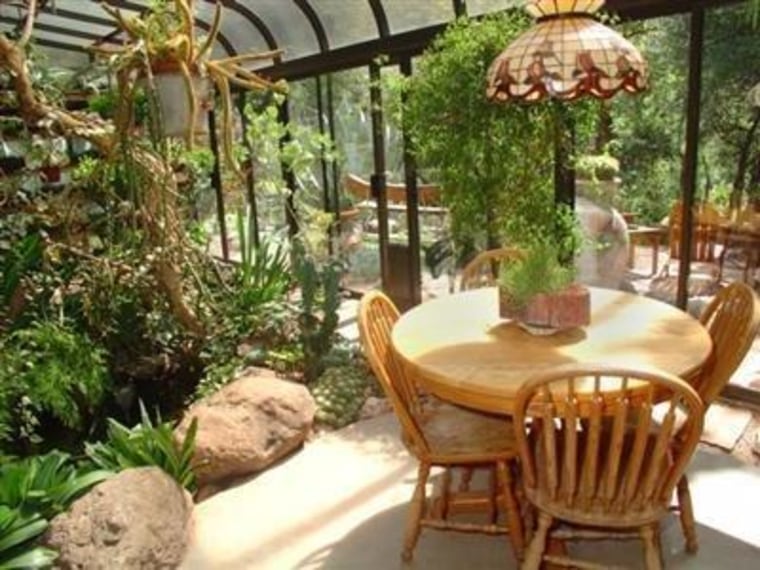 See more photos of the home on the Zillow blog.
Related: