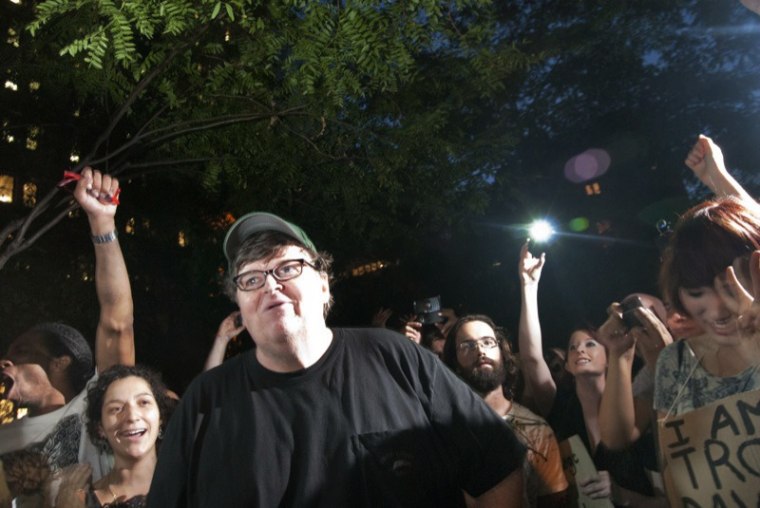 Anti-capitalist film director Michael Moore has drawn fire in recent days for standing with the Occupy Wall Street protesters while failing to acknowledge that he is part of the "1 percent," not the 99 percent.
Now the director of "Capitalism: A Love Story" and other documentaries has come clean and admitted that he is indeed among the nation's wealthiest citizens, but without providing details of just how rich he is.
In a post titled "Life Among the 1%" on his blog "Open Mike," Moore recalls how he made his first millions when he sold the distribution rights to his 1989 breakthrough hit "Roger & Me."
At the time of his $3 million windfall, Moore says he was just getting by on unemployment payments of $98 a week.
So what did he do with his newfound wealth? Moore says he "proudly" paid nearly $1 million in taxes, used $1 million to establish a charitable foundation and spent the other $1 million on a new car, payments on a New York City apartment and more donations, including helping to rebuild a church that had been burned down in his hometown of Flint, Mich.
"What remained went into a simple, low-interest savings account," Moore said. "I made the decision that I would never buy a share of stock" – a resolution he said this week that he has kept to this day.
Of course Moore went on to become among the most successful documentary filmmakers in Hollywood. While "Roger & Me" made $6 million in box office receipts, later movies made far more, capped by his 2004 film "Fahrenheit 9/11" excoriating the Bush administration's response to terrorism, which grossed over $222 million, according to IMDB.com.
That would certainly put him among the top 1 percent of earners (the current threshold is about $350,000 a year), although Moore said his income varies quite a bit from year to year, saying that some years "I don't have a job … and so I make a lot less.".
Moore does not mention how many more homes and cars he has bought in the past 22 years, but he does say he feels "very blessed" to have done as well as he has.
And he has not mellowed in his opposition to the capitalist system, saying it "exploits the vast majority so that the few at the top can enrich themselves more."
Here is more of Moore, from his CNBC interview outside the New York Stock Exchange this week: