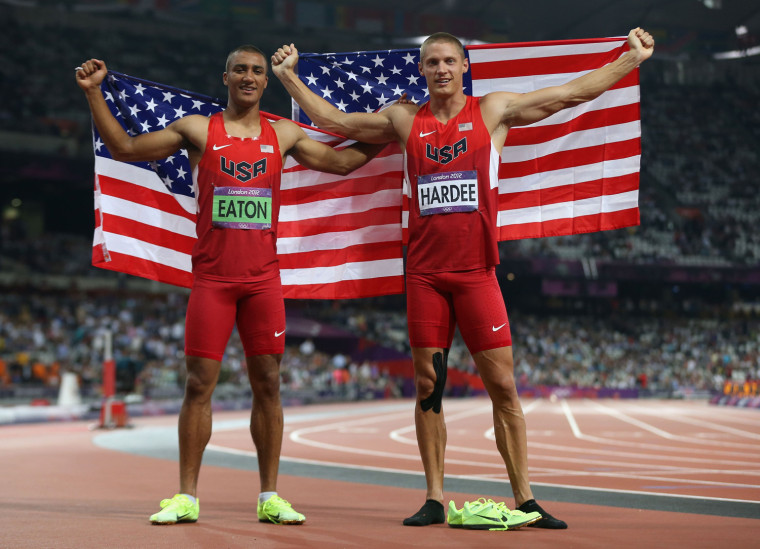 As the Olympics wind down, marketing experts are awarding a gold medal in ambush marketing to Nike, which scored with bold commercials, smart PR moves and its distinctive, ubiquitous neon-yellow Volt shoes.
Nike, which always manages a high Olympic profile despite its non-sponsor status, outwitted big-money Olympic backers such as Visa, McDonald's and adidas - which reportedly paid $155 million for its official London 2012 sponsorship - with its nervy campaign, according to marketing experts.
"The shoes were one of the first things I noticed during the Games," said Leslie Smolan, co-founder of Carbone Smolan Agency, a design and branding firm in New York. She just returned from London. "I thought Nike's approach was absolutely brilliant. Nike managed to integrate themselves into the games -- the best way to show your product, not just talk about it."
Indeed, London Games organizers considered legal action against Nike before dumping the idea, according to The Associated Press. The IOC, ever patrolling to block non-Olympic advertisers from crashing the lavish marketing party of official Games sponsors, banned athletes from tweeting about their personal sponsors. But the logo police couldn't thwart Nike-bedecked competitors from donning those incandescent kicks: Olympians can wear whatever shoes they feel offer them a crack at the podium. 
"Nike cleverly leveraged the combination of their recognizable trade dress and logo to get Olympic-sized brand identification without an Olympic-sized budget," said Adam Hanft, CEO of New York-based Hanft Projects, a communications and marketing consultancy. "It's exactly the kind of guerrilla product insertion that makes marketers smile and the (International Olympic Committee) nuts."
Needless to say, Nike was unapologetic about its shoe campaign.
"Over 400 athletes are wearing the Volt Nike footwear at the Games," said Nike spokesman Brian Strong. "The majority of those are in track and field but also in boxing and fencing."
As of Friday 41 athletes had medaled wearing Volt shoes, including 43 percent of track and field medalists, Nike said.
And the company didn't need its signature swoosh to strut its brand to the world. The Volt is scientifically designed to be a pupil-popping consumer magnet.  
"Of all the colors of the rainbow, the human eye and visual system is most sensitive to the yellow/green zone," Strong said. "The power of this visual signal is capitalized on when the background is highly contrasting, which the London Olympic track is -- reddish.  The human eye has relatively low sensitivity to red vs. much higher sensitivity to Volt color."
Cool hues aside, does Nike agree with the many advertising experts who believe the shoe was strategically picked by Nike to rev its "ambush marketing?" 
Strong's direct response that question: "We'll always look to provide our athletes with the best in design and innovation on the world's biggest stages. Volt is a strong, dynamic color and it has certainly become a visible signature of ours during the summer of competition."
Nike's promotion of the shoes skirts on the edge of Rule 40 of the Olympic charter, which "limits athletes competing in the Olympic Games from appearing in advertising during and shortly before the Olympic Games." The rule is intended to "prevent ambush marketing which might otherwise utilise athletes to create an association with the Games."
But Rule 40 does not affect what athletes can wear, said Jennifer Escalas, associate professor in the Owen Graduate School of Management at Vanderbilt University. 
"It just says that if the equipment manufacturer is not an official sponsor, then the athletes cannot 'promote' the product outside of using the product during competition," she said. "The track and field athletes wearing the bright yellow Nike shoes cannot tweet about them or blog about them or post pictures of the shoes on Instagram."
Early in the games, Nike scored a public relations coup after Egyptian athletes were discovered parading in counterfeit Nike warm-up outfits because they couldn't afford authentic gear. Rather than complain about the piracy, Nike offered free gear for the team.
Nike also flirted with Rule 40 in its "Find Your Greatness" TV ad featuring rugby players, marathoners, cyclists, swimmers and wrestlers competing in London, Ohio; London, Norway; and East London, South Africa. There are no overt Olympic mentions and no images of London, England. 
"The television commercial skirts very close to impinging on the connections in the minds of consumers between the official London sponsors and the positive thoughts and feelings consumers have about the Olympics,"  Escalas said. "I could see the official sponsors being justifiably upset about these ads."
To which Nike's Strong responds: "The Nike 'Find Your Greatness' spots feature everyday athletes from multiple locations called London around the world, to illustrate that greatness can be found by anyone, anywhere. We think that is a powerful message at a time when the world is focused on London, UK." 
And he sticks the landing. 
"I love it," said Alex Campbell, co-founder Vibes, a Chicago mobile marketing and technology company, "because they weren't actually an Olympic sponsor -- but but they came off as one." 
More money and business news: