Manufacturing CEOs got a Trump fist bump this morning, but the same can't be said for their stock prices.
Shares of the manufacturers whose CEOs met with President Donald J. Trump this morning traded mostly lower afterward. Of the 22 publicly traded companies, 16 were down and 6 were up in intraday trading.
U.S. Steel led the plunge, falling more than 8 percent in daily trading, followed by Nucor, another steel manufacturer, down over 3 percent. Construction equipment giant Caterpillar joined them, down nearly 3 percent.
Related: Execs Return to White House to Give Trump Their U.S. Job Ideas
The construction sector may have been reacting more to a new report that Trump's trillion-dollar infrastructure stimulus spending plans will be pushed off until next year.
Unnamed Republican sources told Axios that the Trump team may delay implementing the infrastructure boost campaign promise as the agenda on Capitol Hill is just too jammed right now. Copper prices fell as well on the news.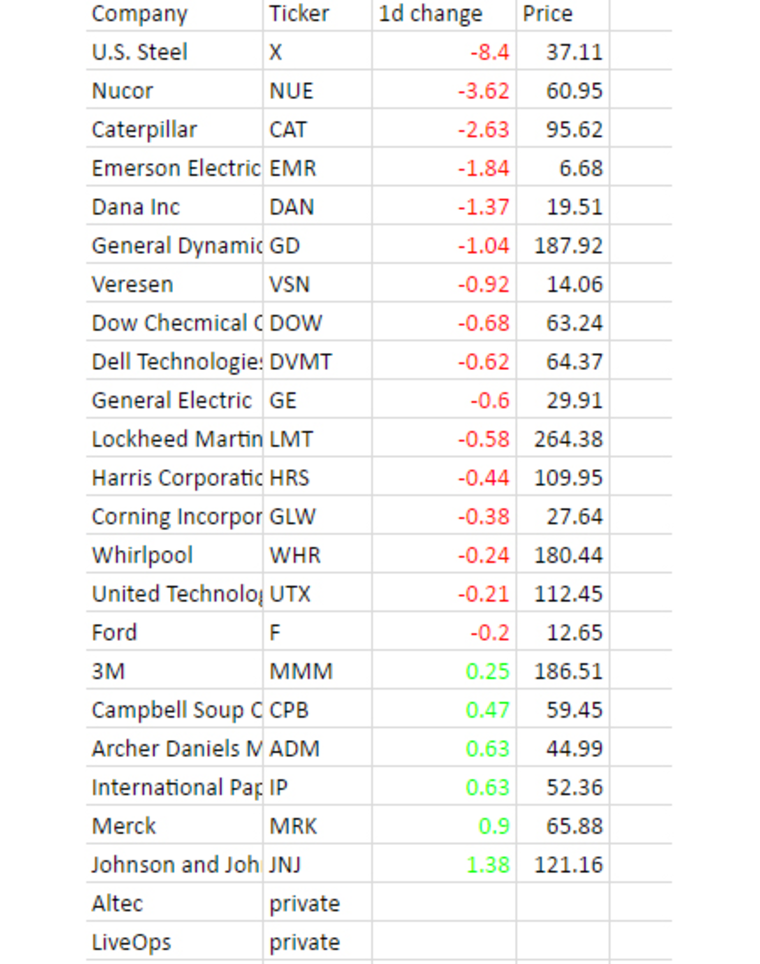 Overall though the companies' shares largely performed consistently with the overall market and the smaller dings didn't have anything to do with meeting Trump, said Mizuho Americas analyst Steven Ricchiuto.
"I don't think Trump is doing anything negative for their earnings," he told NBC News.
And while some of these companies are seeing changes in their valuation, the overall market is on a 10-day streak, with the DOW hitting record highs 10 days in a row.
This isn't the first time Trump has met with a group of manufacturing executives and it may show the Trump effect on stock prices may be fading.
It's the law of diminishing returns: the first time you squeeze an orange a lot of juice comes out. Not so much after that.