Oil prices rose on Monday to their highest in nearly a month, with benchmark Brent crude trading more than 10 percent above the start of August, as speculation intensified about potential producer action to support prices in an oversupplied market.
Brent crude oil futures rose to a high for the month of $47.67 a barrel on Monday before dipping back to $47.10 per barrel in early morning European trading, up 13 cents from their last settlement, and 11.3 percent above the last close in July.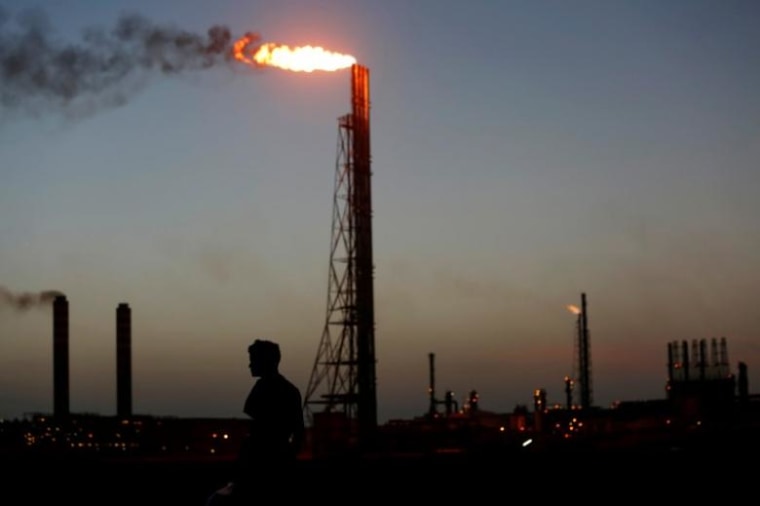 U.S. West Texas Intermediate crude futures rose to a high of $45.15 a barrel before dipping to $44.63 a barrel, still up 14 cents from their last close. WTI has gained more than 7 percent in August.
On Monday, Russian Energy Minister Alexander Novak bolstered hopes that oil producing nations could take action to stabilize prices, telling a Saudi newspaper that his country was consulting with Saudi Arabia and other producers to achieve market stability.
Still, analysts were skeptical that the market could maintain its strength, particularly as the excess of supply that has dogged producers for the past two years showed little sign of quickly abating.
"In our view a renewed price correction cannot be ruled out if market participants start focusing on the supply side again, for the latest drilling activity figures in the U.S. cast doubts that the oversupply is really being eroded," Commerzbank analyst Carsten Fritsch said in a note.
Baker Hughes data released on Friday showed the number of rigs operating in the U.S. rose by 15 last week to 396.
While far from the over 1,600 in operation in 2014 before the price rout, it has steadily risen from a low of just 316 in late May as U.S. producers adjusted to lower prices.
Doubts also abounded over the chances of OPEC putting aside a market share battle in order to prop up prices. Iran is edging out Russia in a fight to supply crude oil to Poland, while its crude exports to South Korea jumped nearly four fold in July from the previous year.
"The (OPEC) meeting is unlikely to yield anything because OPEC are caught in a squeeze," David Hufton of oil brokers PVM wrote on Monday. "On the supply side it is their own increase in production that is prolonging the price depression but if they freeze or restrain production to lift prices they will stimulate competing non-OPEC supply and lose market share."
On the demand side, the world's three biggest economies - the United States, China and Japan - all published downbeat economic data between Friday and Monday.
The countries are also among three of the world's five biggest crude consumers and traders said slower economic growth in those countries could start weighing on crude markets.