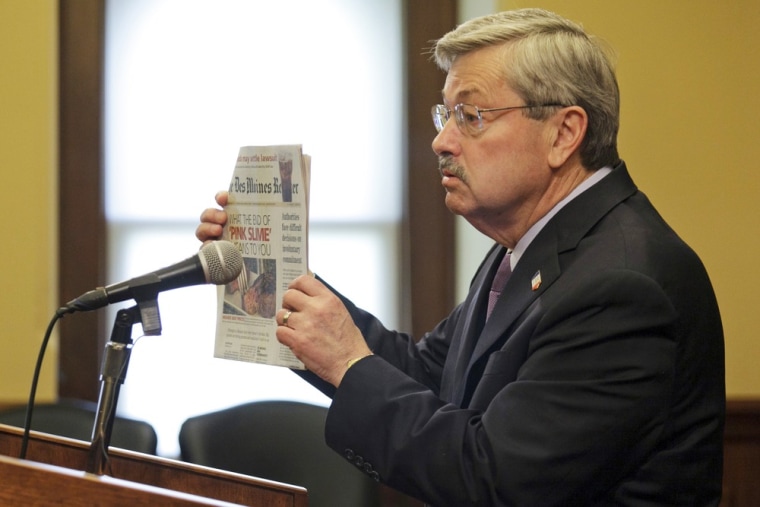 Top elected officials in key beef-producing states Thursday toured the sole remaining plant in the country where "lean, finely textured beef" — otherwise known as "pink slime" — is manufactured. They were there to show support for the much-maligned filler and the jobs they say its production creates. 
Crisis management experts say it will take more than a tour and a few burgers to rehabilitate the product's image. Turning around the negative perception will take an all-hands-on-deck effort including social media, traditional advertising and endorsements from bold-face names in health and food safety. Oh, and a new nickname other than "pink slime." That's job No. 1.
The Beef Products Inc., processing plant in South Sioux City, Neb., is ground zero for fears about the meat scraps treated with ammonium hydroxide and added to other ground beef. Meat industry supporters including Govs. Terry Branstad of Iowa and Rick Perry of Texas planned to tour the plant Thursday and sample the product.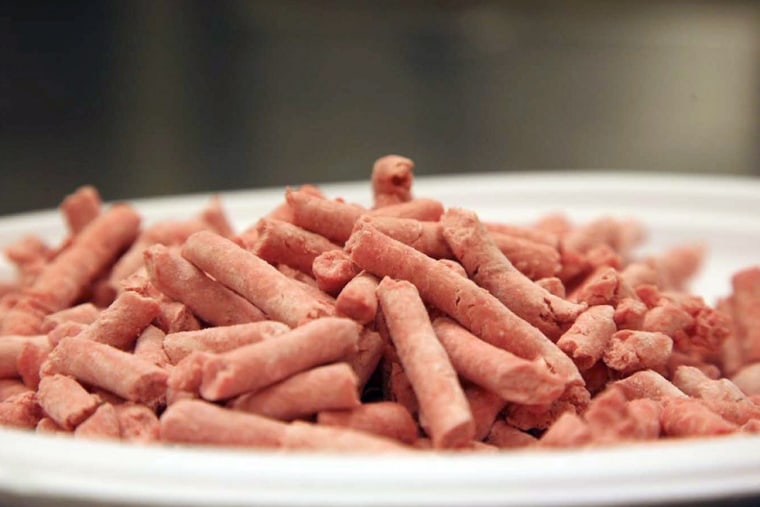 "It's the perception problem. They have this moniker now and they can't seem to get the slime off of them," said Marcia Horowitz, senior executive vice president at Rubenstein & Associates. Ideally, a new name would be both "accurate and non-scary," she said, although she would shy away from using the word "beef." Consumers might view using this word to describe a filler as misleading and stick to calling it pink slime.
For the industry, scrubbing all traces of the phrase "pink slime" from their communication is crucial, said Mike Johansson, owner of marketing consulting firm Fixitology and a lecturer in the communications department at the Rochester Institute of Technology. Referencing the nickname without actually using it is the first step to shifting customer perception, he said.
The term was coined by a scientist at the U.S. Department of Agriculture in what he thought was an internal e-mail. Consumer groups picked up on the phrase, which ultimately led to a public outcry over its use.  
One aspect of the textured beef that seems to elicit a particularly strong "ick" factor is the use of ammonium hydroxide in the production process. Beef Products should minimize its use of those words, too, Johansson said. "If there's any mention of the word ammonium, you start thinking of household floor cleaner. It's human nature."
Horowitz said the political charm offensive is a good start for the industry's rehab efforts but only a first step. "If you get enough credible, high-level people maybe you can start a campaign," she said. "People in the industry, academics, former FDA officials. … I think you will slowly perhaps get a viral campaign out there that will get it back into the good graces of the consuming public."
Both Horowitz and Johansson speculated that the beef industry might make a play for consumers' heartstrings.
"Focus on jobs," Horowitz said. The Associated Press reported that some 650 Beef Products employees found themselves out of work when the company shut down its other facilities. Since meat containing the filler is cheaper, Horowitz said a focus on affordability could also be a good strategy.
"Nostalgia is popular right now," Johansson said. "Get back to the nostalgia of beef and how American it is."
Cargill already has warned that eliminating use of the filler will lead to higher hamburger prices, just in time for the summer grilling season.
Johansson said a risky move with a potentially high payoff would be for Beef Products to let ordinary consumers "tour" their plant  via YouTube and invite feedback on social media sites, with real-time responses from a company employee to allay concerns. Americans tend to be squeamish about how our food is made, but now that the curtain has been pulled back on this particular practice, greater transparency might be the better option, he said.
"Think about the alternative. Right now you've got people thinking the absolute worst." 
Our Facebook friends have a lot to say on the topic. Join the conversation.