An exceptionally large blue diamond sold Wednesday for 48.6 million Swiss francs ($48.5 million) — a new record price for any jewel at auction, Sotheby's said, culminating two Geneva auctions in which a private Hong Kong collector on both times bought a rare colored diamond to honor someone named Josephine.
The 12.03-carat 'Blue Moon' diamond, set in a ring, was said to be among the largest known fancy vivid blue diamonds and was the showpiece gem at the Sotheby's jewelry auction. A packed room broke into applause after the hammer came down at a price of 43.2 million Swiss francs, excluding fees — within the pre-auction estimate range of about 34 to 54 million francs.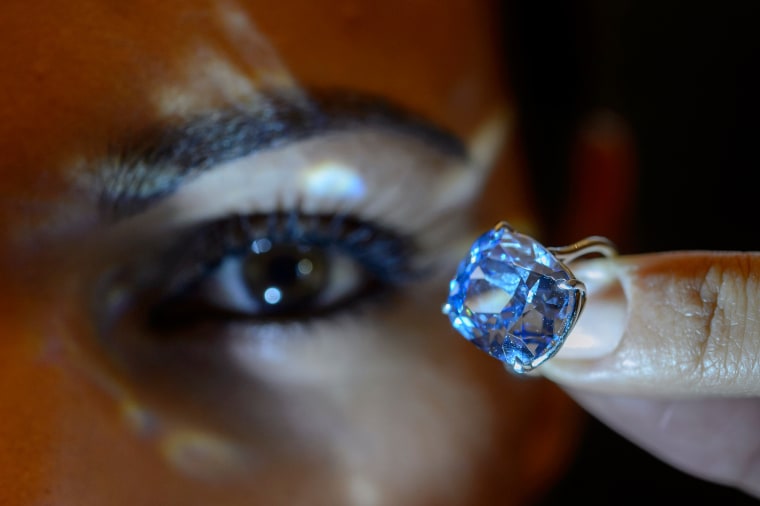 The Blue Moon — so-called in reference to its rarity, playing off the expression "once in a blue moon" — topped the previous record of $46.2 million set five years ago by the Graff Pink, Sotheby's said. The diamond also set a new record of more than $4 million per carat, capping the daylong high-end jewelry sale that reaped roughly $140 million.
On its Twitter account, Sotheby's said the jewel was purchased by a Hong Kong private collector and was promptly renamed 'The Blue Moon of Josephine' — a similar name to one given to a pink diamond ring that sold for $28.5 million at Christie's in Geneva a day earlier: 'Sweet Josephine.' That too was bought by a Hong Kong collector who was not publicly identified.
"Tonight we set a new world record, a new auction record for any diamond, any jewel, any gemstone, with the sale of the Blue Moon Diamond," said auctioneer David Bennett. He specified the price as $48,468,158. "For me, the blue moon was always the blue diamond of my career. I have never seen a more beautiful stone. The shape, the color, the purity — it's a magical stone."
The polished blue gem was cut from a 29.6-carat diamond discovered last year in South Africa's Cullinan mine, which also yielded the 530-carat Star of Africa blue diamond that is part of the British crown jewels, and the Smithsonian Institution's "Blue Heart" discovered in 1908.
Sotheby's says experts took five months for an "intense study" of the original Blue Moon diamond, and a master cutter took another three months to craft, cut and polish the stone. The auction house said in a video that the Cullinan mine was the "only reliable source in the world for blue diamonds," and only a tiny percentage of those found in it contain even a trace of blue.
Blue diamonds are formed when boron is mixed with carbon when the gem is created.