Stocks dived at the close on Tuesday, erasing a huge rally — and any hope that the worst of the Wall Street turmoil was over.
The market soared in early trading as investors shook off fears of a slowing Chinese economy and a further plunge in Asian stocks. The Dow Jones industrial average climbed as much as 442 points, or 1.9 percent.
But the gains slowly faded in the afternoon, and a last-minute sell-off left the Dow down 204. That came after a turbulent Monday, when the Dow plunged almost 1,100 points in the morning and closed down more than 500.
And analysts caution that the markets may not calm down anytime soon.
Get live stock quotes from CNBC
Investors are watching China closely because it's a major engine of the world economy and a huge market for American products. Kamel Mellahi, a professor at the Warwick Business School, warned that the Chinese economy will be on a "bumpy road" for some time.
"What we are seeing now is a dress rehearsal," he said.
The Dow and the Standard & Poor's 500 index, which closed down 1.3 percent Tuesday, are already on track for the their worst monthly losses since February 2009, during the Great Recession. The Nasdaq, which finished down 0.4 percent, is poised for its steepest monthly fall since November 2008.
Terry Sandven, chief equity strategist at U.S. Bank Wealth Management in Minneapolis, attributed the early rally on Tuesday to bargain-hunting, and he warned that there is still a "wall of uncertainty" about global economic growth.
Earlier Tuesday, China's central bank cut interest rates for the fifth time in nine months in an effort to speed slowing growth, and its top economic official tried to dispel fears that the Chinese currency, the yuan, might lose more value.
Premier Li Keqiang, the country's top economic official, said there was no basis for further declines in the yuan, also known as the renminbi. China surprised investors by devaluing the currency on Aug. 11.
China's central bank announced the rate cut after Chinese stocks slumped 8 percent on Tuesday. That was on top of an 8.5 percent drop on Monday.
Xavier Smith, investment director at Centre Asset Management, said that the rally will only be sustainable when data show a healthier Chinese economy. For now, he said, the rate cut is "pretty meaningless."
So brace yourself for more swings in the market, experts say.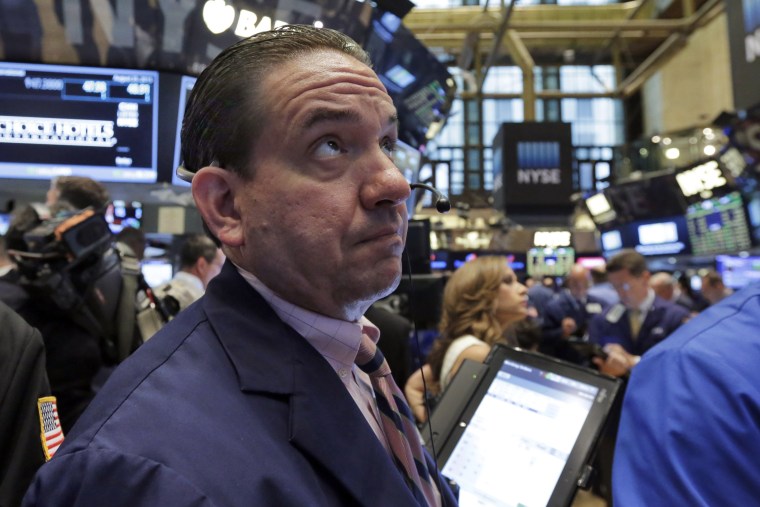 Billionaire investor Wilbur Ross said the stock market correction — defined as a 10 percent decline from a recent high — is near its end, but not there yet.
"I don't think it's going to have a very serious downward direction from here," he told CNBC's "Squawk Box." "But I think there will be lots and lots of volatility around whatever is the midpoint."
So far individual investors seem to be shrugging off the panic. And some who tried to profit a little on the market timing have gotten stung.
In St. Louis, Shannon Miller refused to check her 401(k) plan Monday, just to stop herself from having a knee-jerk reaction to the stock plunge.
"I did, however, lose a few hundred of my `Monopoly money' trying to play the stocks short-term for, say, vacation or a roof repair," said Miller, a digital content manager. "But I'm 27 and have a while to right the ship."
Carolyn Gaver, a 67-year-old from Clifton, New Jersey, said she plans to phone her broker to check on her portfolio. But she said her investments are more conservative now, since she's older, "so hopefully it's not too bad."
The biggest impact will be on how long she continues to work as a paralegal.
"Do I work another year? Another two years, if I can?" she said. "Do I just have faith? In the past, (the market has) come back and balanced pretty well. I have to hope for that."