The Dow touched a record intraday high on Thursday afternoon as strong results from department store chains and a surge in oil prices buoyed investor sentiment about economic growth.
Oil prices jumped 5 percent on comments from the Saudi oil minister about possible action to stabilize prices and the International Energy Agency's forecast that crude markets would rebalance in the next few months.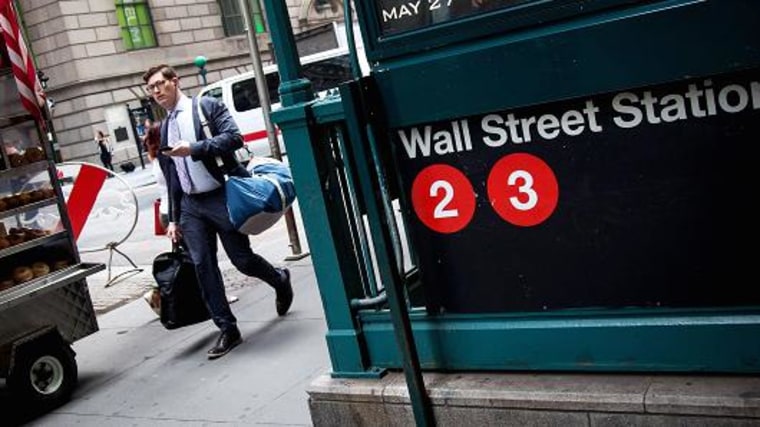 The S&P energy index jumped 1.68 percent, making it the top gainer among the 10 major sectors of the benchmark, led by gains in Exxon and Chevron.
Strong earnings from Macy's and Kohl's kicked off the two-day department store chains' earnings on an optimistic note.
Macy's shares soared as much as 18 percent, marking the best day for the department store operator in nearly eight years, after it reported a smaller-than-expected drop in quarterly comparable-store sales and said it would close 100 stores.
Kohl's shares rose 15 percent after its quarterly profit beat estimates.
Nordstrom rose 6.4 percent in the run-up to the results after market closes, while J.C. Penney, which reports on Friday, was up 8 percent.
Macy's was the top percentage gainer on the S&P 500, followed by Kohl's and Nordstrom.
"It looks like U.S. markets are going to go higher until my daughter graduates, and she's only three years old," said Erik Wytenus, global investment specialist at J.P. Morgan Private Bank in Palm Beach Florida.
While economic data has been solid, people are calling the movement an "unloved rally," Wytenus said.
Better-than-expected second-quarter earnings and a set of strong economic data have helped the S&P 500 to break its record intraday highs 11 times since early July.
Robust data continued on Thursday, with a report showing the number of Americans applying for unemployment benefits fell 266,000 from 269,000 the week earlier, continuing a trend of being below the 300,000 mark for the 75th consecutive week.
At 12:31 p.m. ET, the Dow Jones Industrial Average was up 132.21 points, or 0.71 percent, at 18,627.87.
The S&P 500 was up 11.13 points, or 0.51 percent, at 2,186.62 less than 1 point from its record high.
The Nasdaq Composite was up 25.26 points, or 0.49 percent, at 5,229.85.