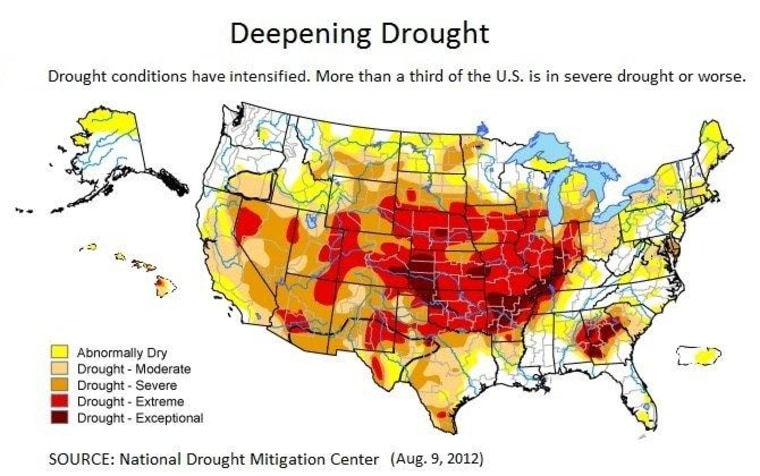 Federal forecasters are predicting record prices for corn and soybeans, raising fears of a new world food crisis as the worst U.S. drought in half a century continues to punish key farm states.
The U.S. Department of Agriculture on Friday said production of U.S. corn and soybeans is expected to be down 17 percent from its forecast last month of nearly 13 billion bushels, and 13 percent lower than last year. It was the second month in a row when the USDA has cut its production estimate.
Corn prices briefly surged to a record on the USDA's forecast, but then retreated because the government said demand for the grain would fall due to its soaring cost.
The USDA's first official assessment of the impact of the drought that has ravaged the nation's Corn Belt is based on samples from parched, scorched fields, which are now expected to produce corn yields 25 percent below normal.
Inventories of soybeans, a key component of livestock feed from India to Indiana, are expected to be the smallest in nine years, the government report said.
The grim report is an abrupt reversal from just two months ago when farmers, making the largest corn plantings in 75 years, expected a record haul. Consumers worldwide were also hopeful that a robust harvest from the biggest agricultural exporter would help end a period of depleted global stockpiles.
Now, however, many fear record-high prices and meager stockpiles will rule commodity markets for at least a year more -- and it may worsen if growing signs of shortages prompt some countries to impose export bans or make panic purchases, as they did during the last dramatic price spike in 2008.
"Several urgent actions must be taken to address the current situation to prevent a potential global food price crisis," said Shenggen Fan, head of an agricultural think tank funded by the World Bank. In addition to avoiding trade restraints, he said countries should throttle back on using grain to make biofuels.
The report could sharpen the emerging debate around the U.S. policy that requires use of 13.2 billion gallons (50 billion liters) of biofuels -- mostly corn ethanol -- this year, equal to 9 percent of fuel for cars and light trucks. While dozens of politicians and livestock lobby groups have called for relief, the policy has staunch Farm Belt support that is unlikely to waver in an election year.
The USDA had somewhat foreshadowed the newly lowered expectations, noting earlier this week that exactly half of the nation's corn crop was rated poor to very poor, up 2 percentage points from the previous week and creeping closer to the peak of 53 percent of 24 years ago. Some 39 percent of soybeans now fall under those two categories, rising 2 percentage points for the second straight week and eclipsing the 1988 benchmark of 37 percent.
The nation's rangeland and pastures are faring even worse, with roughly three-fifths rated to be in poor to very poor shape - the largest area thus affected in 18 years.
Friday's USDA report amplified the troubling picture already painted a day earlier, when the latest weekly U.S. Drought Monitor map showed that the drought conditions in Plains states where production of corn and soybeans is key continue to worsen. That update showed that the expanse still gripped by extreme or exceptional drought - the two worst classifications - rose to 24.14 percent, up nearly 2 percentage points from the previous week.
The Associated Press and Reuters contributed to this report.