Get ready America. Here comes Alibaba.
If you haven't heard about this Internet behemoth from China, you're likely to get an earful now, after the company filed for what eventually could become one of the largest initial public offerings ever, ranking it right up there with Facebook's massive $16 billion IPO in May 2012.
On Tuesday, Alibaba filed for a nominal $1 billion initial public offering, which is considered a placeholder for an ultimate offering that's expected to be much higher.
It's not unusual for highly scrutinized companies to list an artificially low fundraising target when they first file IPO papers. Facebook originally said it would raise $5 billion in its IPO before eventually bringing in more than three times that amount.
John Sculley, former chief executive of Apple, told CNBC recently that the Chinese e-commerce giant is the "hottest thing in high tech right now."
Alibaba operates in the world's largest Internet market — China. With 24,000 employees, more people work for the company than Yahoo and Facebook combined. Based in Hangzhou, but with offices in the U.S., U.K., India, Japan and Korea, Alibaba is China's largest Internet company.
Alibaba.com is part of the Alibaba Group, founded in 1999 by Jack Ma, 49, a former English teacher from Hangzhou, China. Alibaba listed revenue of $5.66 billion and net income of $2.85 billion for the nine months ended Dec. 31 in a filing that ran to more than 330 pages. It also had a sizable cash hoard of $7.88 billion as of the end of last year.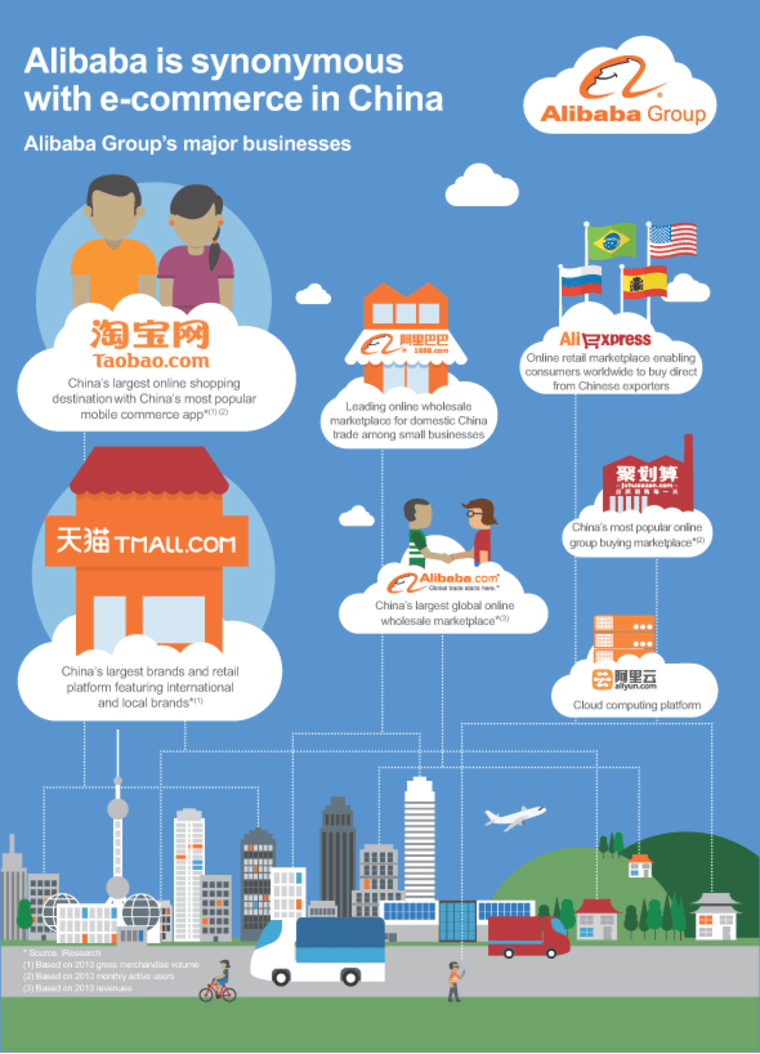 A virtual bazaar of stuff, Alibaba's platforms allow consumers and businesses to buy and sell virtually anything from luxury leather jackets to prefabricated container homes.
"Our mission is to make it easy to do business anywhere," Alibaba said in its IPO filing.
Think of it as a mix of Amazon.com, eBay and Paypal. Customers use Alibaba to shop online, sell unwanted goods and make online payments. Alibaba has two retail sites: Taobao, which features thousands of non-brand name products sold by smaller merchants; and Tmall, which offers brand-name products. The two sites are hugely popular, and collectively account for more than half of all parcel deliveries in China.
"Alibaba has a better business model than Amazon, because Alibaba doesn't have anything invested in inventory," said Bert Dohmen, president of Dohmen Capital Research on "Closing Bell." "So in a recession they can withstand it much better than a company like Amazon."
And if Alibaba already rings a bell for you, that may be because Yahoo owns a 24 percent stake in the company. (That share has boosted Yahoo CEO Marissa Mayer's compensation to a potential $214 million, the New York Times reported.)
Looking ahead, Alibaba's growth strategy includes appealing to consumers — outside China — and familiarizing the globe with its brand, and site offerings.
The U.S. market is directly in its crosshairs (hence the U.S. public offering). But some say that the company will face large obstacles, including branding issues, heavy competition from established companies (such as Amazon and eBay) and cultural barriers.
"It's not a walk in the park to capture the U.S. market. There are the challenges of competition, consumers and the shopping experiences in the U.S. are just different," Moshe Cohen, assistant professor at Columbia Business School, recently told CNBC. "There's also a big cultural difference and then there is branding."
-CNBC.com's Cadie Thompson and Katie Holliday contributed to this report, which also includes information from Reuters.