Investors looking for a safe harbor during current stock market turmoil may be able to quench their thirst for profits in the fine wine market — as long as they are willing to sit tight for a decade or so, according to the creators of a new analytical tool devoted to collectible vino.
The opportunity in wine, according to the creators of AuctionForecast.com (requires registration), is created by China's economic troubles, which have been instrumental in driving global stock markets downward in recent months.
"Because the Chinese stock market crash has effectively brought down prices in the fine wine market, the near future may be an excellent opportunity for interested investors to get into the fine wine market to reap rich rewards over the long run," writes Sisi Liang, risk consultant with BCG Platinion and co-creator of AuctionForecast.com.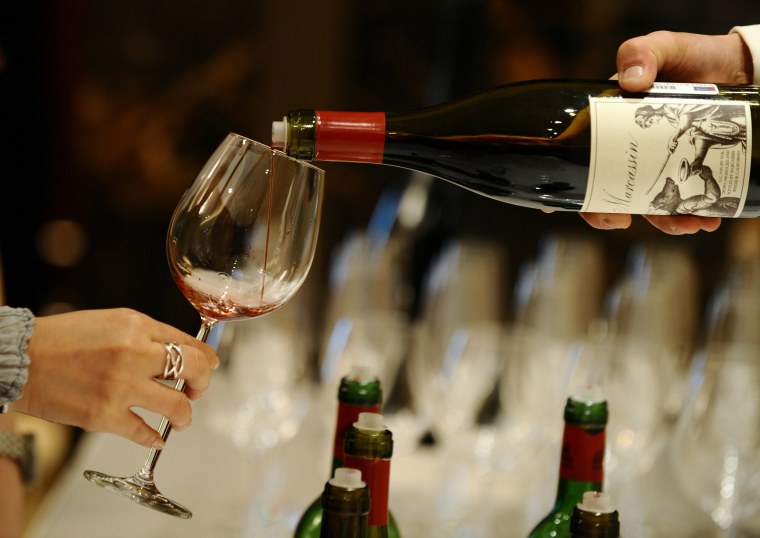 But many long-term players in wine investment are skeptical, saying buying now is only for speculators with a well-developed palate for risk.
"Wine has not been a good investment — except for the time period 2007-2010 — and that was a bubble," Karl Storchmann, economics professor at New York University and the managing editor of the Journal of Wine Economics, told NBC News.
Liang, who created AuctionForecast.com with physicist Joseph L. Breeden, counters that investors willing to wait years for a healthy return can use the tool's "Vincast Index," which incorporates more than 1 million global auction results, calculates the life cycle and quality of each vintage and takes into account external factors such as market conditions, to gain a market edge.
Liang sees high-end collectible French wines such as Bordeaux and Burgundy — which she says have averaged 50 percent or more in returns over 10 years, as long as they weren't purchased at a peak price — as presenting a particularly good opportunity. She and Breeden say Chinese investors have been heavily influencing prices of investment-grade wines for years, but appear to have largely bailed out of the market in recent months amid China's stock market turbulence.
Tommy Keeling, a market analyst for the British agency International Wine and Spirit Research, told NBC News that while overall wine consumption in China had been increasing sharply — growing 69.3 percent from 2009 to 2013 — demand for high-end wines began sagging in 2013. But the biggest reason for the drop-off, he said, was a government anti-corruption drive that cut down on "banqueting and gifting" by wealthy Chinese.
"It is the main factor that has caused us to revise our forecasts for high-end wines," said Keeling, noting that previous projections for 25 percent growth in demand by 2018 have been changed to forecast further declines lasting at least until 2017.
But Liang said auction data used to create a Bordeaux index shows how prices have been driven by the recent boom-bust in the Shanghai Composite Index, which dropped about 37 percent since mid-June.
The Bordeaux index spiked at the beginning of January, following a 47 percent increase in the stock market over the previous six months, but then began rapidly decreasing, even as the Chinese stock market continued to climb.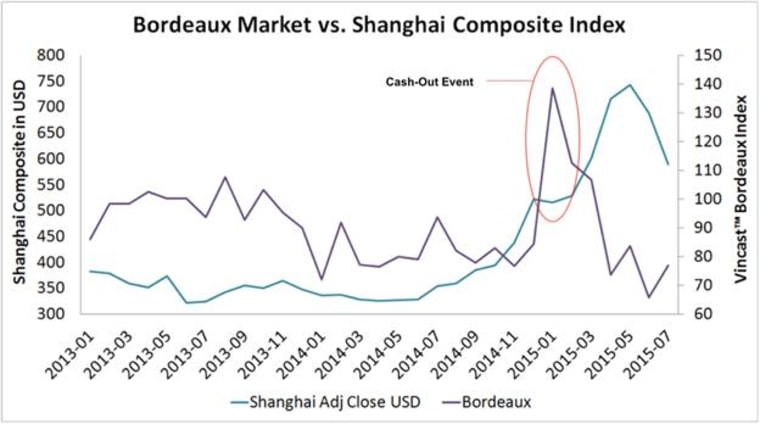 Liang believes the sharp rise and fall of the wine market preceded that of the stock market "largely because the more sophisticated group of Chinese investors pulled their money from the stock market and put it into the wine market before the stock market crashed."
Once the stock market rout began, Liang wrote in a blog post, "The Bordeaux index stayed relatively low as no more inflow was available from the Chinese market."
Liang said that a similar correlation between the Shanghai index and the price of Château Lafite Rothschild estate wine — one of the priciest vintages in the world — also was observed from 2010-2012, during the so-called Lafite Bubble. During that period, rises and falls of the Shanghai Composite closely mirrored price fluctuations of Lafite, which increased to almost $4,000 per bottle in early 2011, then dropped to about half that in January 2012.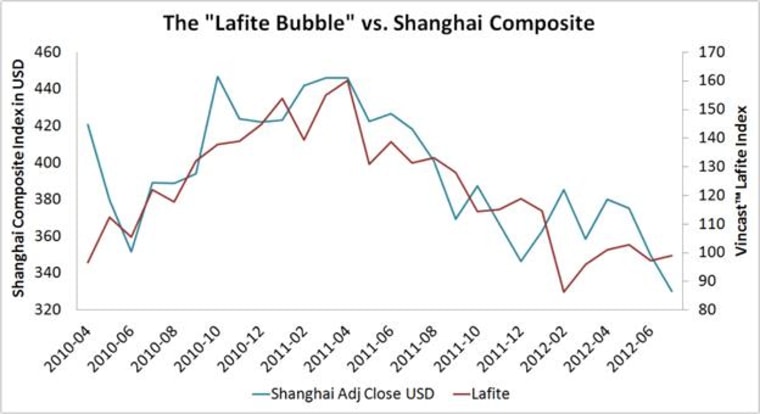 Liang and Breeden said they cannot predict when the Chinese market will hit bottom, but they advise that the buy-and-hold strategy will yield its historic average of 50 percent over 10 years — regardless of the market recovery. And the returns could be even higher if the Chinese economy strengthens over the next few years, Liang said.
But other wine experts urge caution for those considering dabbling in the sophisticated market.
In an article in December, Storchmann, the NYU professor and wine journalist, said most wines are not "investment grade," i.e. low risk, and will incur storage and other costs with time. He also pointed out that while stocks will yield dividends — at least in typical market conditions — wine "only offers capital appreciation."
French Wine Regions Champagne, Burgundy Win World Heritage Status
At best, he said, wine can provide investors with "a sort of hedge, or way to diversify a portfolio of assets and provide some protection during market downturns," he said.
Many others in the industry echo his cautious approach.
"There's a little bit of a mathematical fallacy, treating wine as a stock," said Marc Lazar, who heads the St. Louis-based wine consultancy Cellar Advisors and Domaine Wine Storage.
He added that the prices of some wines other than Bordeaux are still quite high.
"I think we have a while to go before wine prices soften," Lazar told NBC News, adding that he also is advising Bordeaux collectors to wait on the sidelines for now.
But Thomas Matthews, executive editor for Wine Spectator, said it's possible that, in the current climate, "a very savvy buyer could find undervalued wines in those upcoming Hong Kong auctions.
"Prices of wines at auction do tend to mirror movements in the broader stock markets. Many auction houses have scheduled sales in Hong Kong this September, and I am sure they are concerned that the recent declines in stocks, both in China and globally, may dampen enthusiasm among key buyers and depress prices." He added that the "slump" would likely be limited to a handful of fine vintages.
The experts all note that even if the returns on an investment in fine wine don't turn out to be stellar, another type of appreciation could come into play: You always have the option of drinking your delicious liquid asset.