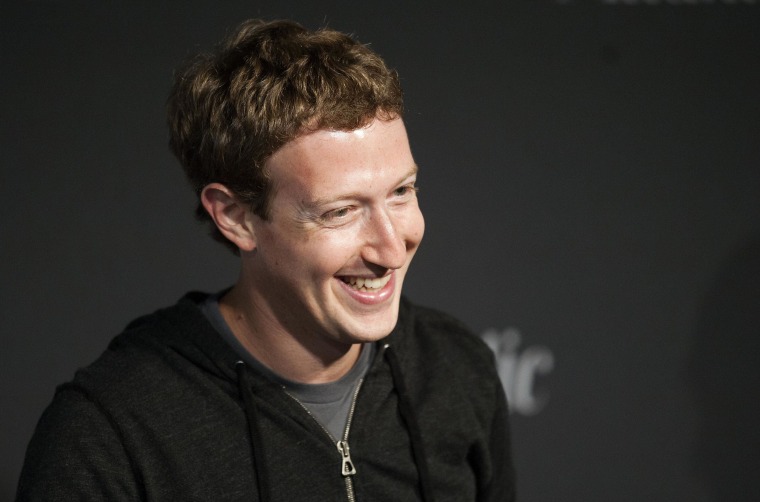 Not a bad day at the office for Mark Zuckerberg. He just made $3 billion.
With Facebook's stock rising 16 percent to an all-time high over $61 on Thursday, the social networking company's founder and CEO's wealth also shot up -- by more than $3 billion to $29.7 billion, according to Wealth-X.
That's up from a net worth of $20 billion that he hit at Facebook's IPO in May 2012. And his net worth has nearly tripled since those dark days of Facebook's post-IPO depression last year, when Zuckerberg was down to his last $10 billion.
Sure there are plenty of people who are richer than Zuckerberg, including the Google guys who are both worth more than $30 billion. And Bill Gates and Larry Ellison are still the overlords of tech wealth, with $75 billion and $42 billion respectively, according to Bloomberg's Billionaires Index.
But Zuckerberg may be the richest 29-year-old American ever—even adjusted for inflation.
We don't know exactly what Gates was worth in 1984, when he was 29. But in March of 1986, when Microsoft went public, Gates' shares had a public value of around $234 million. Not bad for a 30-year-old. But in today's dollars, that would be around $500 million—not even enough to make the Forbes list.
As for the Google guys, they weren't official billionaires until 2004. Larry Page and Sergey Brin debuted on the Forbes list that year with $1 billion each. By that time, both Page and Brin were 30. Of course, after the Google IPO that same year, they soared well past $1 billion each.
As for Ellison, the first reports of his net worth started appearing in the late 1980s, when he was in his 40s and his net worth was put at around $400 million to $500 million.