Few automotive brands have done a better job at defying conventional wisdom than Mini.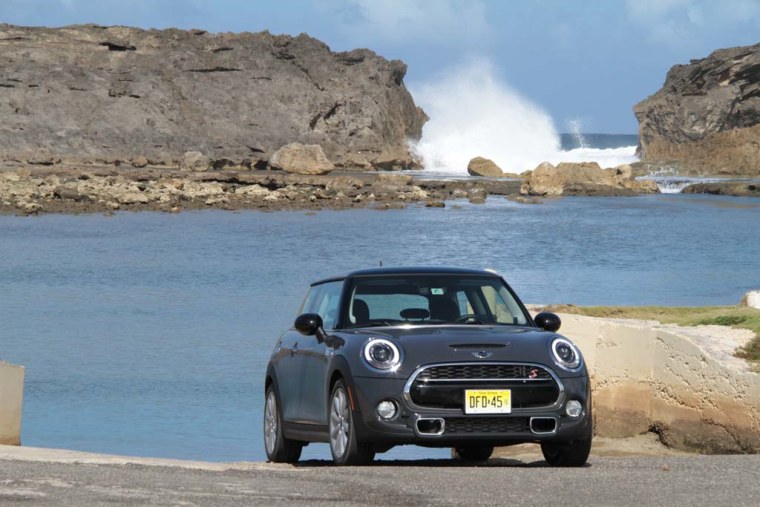 When it first rolled into American showrooms in 2002, the prevailing thought was that small cars wouldn't sell in a market dominated by SUVs and midsize or larger sedans. And not only was Mini planning to market one of the smallest products on the road but it was also trying to shatter the longtime link between size and value, as U.S. motorists are used to paying prices measured by the pound and inch.
Now, Mini hopes to repeat its initial success with an all-new version of the 3-door Mini Cooper Hardtop that accounts for nearly 40 percent of its U.S. sales. But the maker is tweaking the formula ever so slightly. The 2015 Mini Hardtop is growing ever so slightly larger, gaining significantly more luxury features – but still holding its base price down at just below $20,000.
"In 2002, we defined the premium small car market. Now we're redefining it," said Mini's U.S. product planning chief Pat McKenna during an interview in Puerto Rico where automotive reviewers were getting their first chance to drive the new 3-door model.
The 2015 Hardtop is just one of an assortment of new models that the British maker is planning to unleash over the coming years, with McKenna promising there will be at least one new offering each year "for the foreseeable future," eventually adding eight to 10 different models in the U.S. lineup.
The Hardtop is clearly the most critical, however, accounting for 26,954 of the 66,502 vehicles Mini sold in the States in 2013. Total volume was up a modest 2.1 percent, well off the pace of the overall U.S. automotive rival last year. But that's far from uncommon when a brand's key products are approaching the end of their lifecycle. And Mini officials are confident that with a new Hardtop they can pick up the pace going forward.
At first glance, a casual observer might be forgiven for not recognizing one of the new Mini Hardtop models driving by. Designers decided to play it relatively safe, at least when it came to exterior styling, keeping the same basic visual cues of the older car. That said, there are some more up-to-date details, notably the LED front accent and fog lights and rear tail lamps.
The new Hardtop also grows another 4.5 inches nose-to-tail. That's a significant amount for a vehicle so small to begin with, though it still slots into the minicar category. But the added length is something passengers will clearly appreciate, with more head and legroom and a lot more cargo space.
The interior is where most of the attention went with the 2015 redesign. The new Hardtop's cabin is far more refined and lavishly equipped, while adding some classically Mini quirks like the LED Lighting Ring at the top of the center console that glows in various colors as you adjust cabin temperature, for example, or turn up the volume.
Equally important – though, to some loyalists, quite controversial – Mini finally addressed a series of nagging complaints that routinely drove down its quality and customer satisfaction scores. Most notably, it moved the speedometer from the center of the dash to the more common position visible through the steering wheel.
Significantly, the new hatchback rides on an all-new "architecture" that will serve as the platform for a variety of Mini models yet to come. And in a potentially risky move, that underlying chassis will be shared with an all-new microcar yet to come from Mini's German parent, Munich-based BMW AG.
The two brands also will share an array of new engines including the new turbocharged 3-cylinder and 4-cylinder powertrains debuting on the 2015 Mini Hardtop. Significantly, both engines are more powerful than the ones they replace while yet yielding double-digit improvements in fuel economy.
Going forward, hints McKenna, don't be surprised to see Mini make a concerted push into alternative power, as well. This will almost certainly mean hybrid, plug-in and pure battery-electric models. It also hopes to introduce a U.S. version of its European diesel if it can find a way to meet tougher American emissions standards without a prohibitive price penalty.
"People said they couldn't envision small cars being successful" when Mini first came to market, recalled David Duncan, the maker's U.S. chief. "Now," he said with a satisfied grin, "it's a competitive market."
Indeed, Mini has seen a host of new, downsized offerings target U.S. buyers since its 2002 launch, from the even smaller Smart fortwo, to products like the Ford Fiesta, the Chevrolet Sonic and the Honda Fit, which will match Mini with its own complete update for 2015. One key difference for the Brits is their focus on delivering a more upscale product that stands in sharp contrast to the classic econobox, a stripped-down small car sold almost exclusively on price.
For his part, Duncan says he appreciates the added competition which, if anything, validates the minicar segment and encourages more buyers. Analyst Stephanie Brinley, of IHS Automotive, concurs. The so-called B-Car segment has grown more than four-fold since Mini's debut, to 502,000 in 2013, and the consulting firm anticipates it will hit 718,000 by 2015.
As for Mini, IHS forecasts it will surge to 73,000 this year. That's not quite as quick as some entry-level small cars are growing, said Brinley, but that's no surprise considering Mini delivers "an enthusiast's product, a premium car at a premium price."
More from The Detroit Bureau:
Toyota Halts Sales of Nearly Entire US Line-Up Due to Safety Defect
Obama Gives Big Boost to Natural Gas as Clean Car Alternative