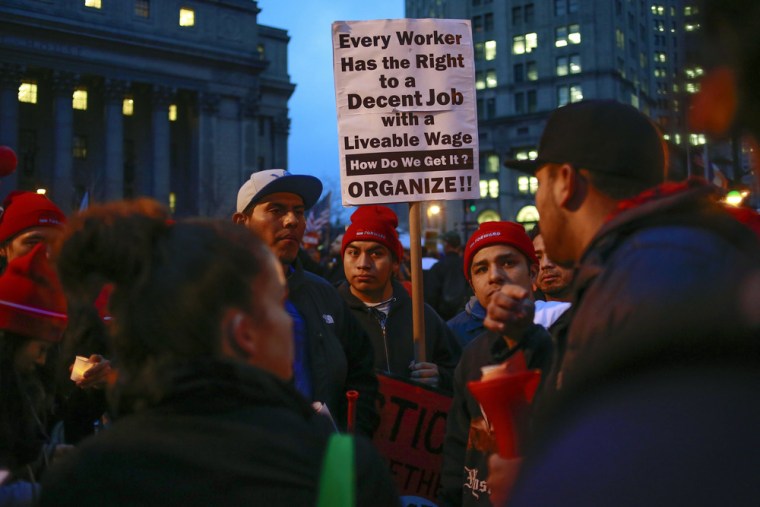 The job market may be gradually improving, but the gains aren't showing up in worker's paychecks.

And the resulting belt-tightening continues to weigh on an economy heavily dependent on consumer spending.
Randolph McKinney, 62, with an undergraduate degree in finance and a master's degree in economics, has been out of work since July. After 38 years as an insurance underwriter, with a salary that peaked at $86,000, he's taken on several interim jobs — for far less money.
"The last job I had was selling insurance making $32,000 a year," the Nashville resident said. "I'm capable of much more. But I can't find a job for more than that. And it's a long way down from 86 to 32."
McKinney said he and his wife don't dine out nearly as often as they used to. They've cut back on charitable giving at church. He's on a bare-bones cellphone plan. Instead of hiring local contractors, McKinney does his own house painting and plumbing and cleans out the gutters.
Multiply that frugal living across the entire U.S. economy — in which consumer spending accounts for roughly 70 percent of growth — and it's not hard to see why the economy is stuck in low gear. While the latest data showed growth perking up to a 3.6 percent annual pace, about half of that growth came from a build-up in inventories — the result of weak demand for those goods.
Five years after the Great Recession, millions of unemployed Americans are gradually getting back to seeing a steady paycheck. The latest data from the government showed the unemployment rate fell faster than expected in November — to 7.0 percent — as employers added 203,000 new jobs last month.
But even as they get back to work, those paychecks have barely budged since the downturn began. The average hourly worker saw earnings rise by 4 cents — to $24.15 an hour.

With millions of qualified, experienced workers like McKinney willing to accept less pay in a tough job market, employers had little motivation to pay more, according to Joel Naroff, chief economist at Naroff Economic Advisors.
"As long as you have 20, 30, 100 people applying for the same job, you don't have to pay up for workers. It's really that simple," he said. "And if somebody leaves, they're probably leaving at a higher wage than you have to pay to replace them."
Wage growth hasn't stalled for the very top earners — senior executives and the highest paid workers in finance — who have seen their compensation soar compared to the typical workers, according to data compiled by the Economic Policy Institute.
According to EPI's analysis, from 1978 to 2011, CEO compensation rose more than 725 percent, while pay for the average worker rose just 5.7 percent. As a result, while a CEO earned roughly 20 times the typical worker in 1965, that gap has exploded in the last 50 years.
Because wages for the highest earners typically include a big chunk of stock-related compensation, their pay gains are much more sensitive to the financial markets. That's why the gap between CEO pay and the typical worker peaked in 2000, narrowing sharply following the bursting of the dot-com bubble, and then began rising again as the markets recovered. With the collapse of the financial markets in 2008, the gap narrowed again and has begun widening again as the stock market hits new highs.
Meanwhile, the average worker has seen little or no increase in pay since the Great Recession left 10 percent of the workforce without a steady job.
"The very weak labor market puts huge downward pressure on wage growth," said Heidi Shierholz, an economist at EPI. "Employers don't have to pay big wage increases to get and keep the workers when workers don't have a lot of other options."

Wages for those at the very bottom of the income ladder have been falling, in real terms, for the past 45 years. Despite periodic increases, the current federal minimum wage — adjusted for inflation — has about the same buying power as it did in the 1950s.
That's prompted calls for a rise in the wage to $15 an hour, which employers argue will price some minimum wage jobs out of existence. Low-wage employers also argue that raising their costs will put them at a competitive disadvantage, which is why it's unlikely any single employer will move first.
To have an impact on the overall economy, any minimum wage increase has to be applied to employers, according to Naroff.
"If Wal-Mart is the only one that does it then Target and Kmart get a competitive edge," he said. "You need to have Kmart and Wal-Mart and every other 'mart' that's out there paying the same wage. That turns into a wider increase in wages, which turns into a wider increase in demand."
So far, Congress appears to have little interest in legislating wages. Much of the government response to the Great Recession has come from the Federal Reserve, which undertook a historic effort starting in 2008 to pump up the economy with massive injections of money. Now, some $3 trillion later, the housing and stock markets are moving higher again.
In better times, that so-called "wealth effect" might have helped spur consumer spending as households see the benefits of those rising markets in their retirement savings or home equity. But because so many of those households saw their homes repossessed or savings accounts wiped out, the impact of the wealth effect has been muted.

Meanwhile, wealthy households tend to spend a smaller portion of their overall income than those at the bottom of the income ladder living paycheck to paycheck.
That means that less of the overall growth in national income is flowing back into the economy in the form of demand.
"What we are doing by redistributing our income is lowering our potential economic growth," Naroff said. "As more and more income gets concentrated in upper income households ... society's propensity to consume is lowered."
Without an increase in spending, employers are unlikely to pick up the pace of hiring, let alone the pace of wage growth.
Still, the jobless rate has been falling steadily — if frustratingly slowly — since peaking at 10 percent in the depth of the Great Recession. The Federal Reserve has said it's ready to ease back on its massive money pumping program as that rate falls to 6.5 percent.
Some economists believe the labor market won't tighten — and wages will begin rising — until the jobless rate falls below that threshold. But if it continues falling, employers will find they have to pay higher wages to attract and keep the workers they need to stay in business.

That's what happened in the late 1990s, when the jobless rate fell to 3.8 percent in the opening month of the New Millennium, sparking the last prolonged period of rising wages.
"When you increase aggregate demand you can generate unemployment rates that are low enough to increase wages across the board," said Shierholz.
But even after the jobless rate falls to a level that tightens the supply of labor, it may take a while before workers feel confident enough to look for a better paying job.

"People are scared to move," said McKinney, the unemployed insurance underwriter. "They've been through several years of a bad economy, and there's a lot of fear out there."