General Motors will partner with AT&T to offer embedded 4G Internet access in "most" of the vehicles it sells in the U.S. and Canada starting next year, the maker announced during a mobile communications conference in Spain on Monday.
An early leader in so-called "connected car" services with its OnStarsystem, GM sees a number of advantages in tapping into AT&T's 4G LTE wireless service, promising it will expand the range of infotainment options motorists will have while also providing the potential to use the broadband service to improve vehicle safety.
Among other things, passengers will be able to tap into a WiFi hot spot that can handle up to eight different cellphones, table and laptop computers and other devices.
"In addition to allowing consumers to bring in and connect to personal mobile devices, the vehicle will also act as its own mobile device, enabling embedded vehicle capabilities," said Mary Chan, president, Global Connected Consumer, General Motors.
"Turning this vision into a reality starts with enabling fast, reliable and responsive connectivity within the vehicle," she added. "Through this built-in 4G LTE connection we have the opportunity to reinvent the mobile experience inside a vehicle."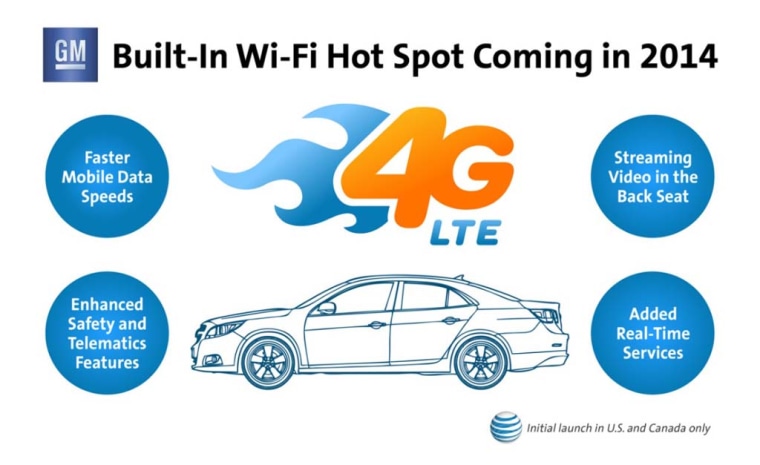 GM is by no means the only maker that has that goal in mind. Audi has been offering broadband capabilities on several models, such as the A7 and A8 sedans, in recent years and uses that to merge Google images into its real-time navigation system, as well as to offer in-vehicle WiFi hotspots. BMW is also adding 4G capability, as is the Chrysler Group, the latter teaming up with Sprint to enhance its Uconnect infotainment system on vehicles such as the Ram 1500 pickup and SRT Viper sports car.
The Detroit Bureau: Despite Recent Price Spike, DoE Expects Gas to Level Off, Even Decline
According to GM's Chan, adopting 4G LTE will yield data speeds as much as 10 times faster than older 3G wireless technology. The challenge for AT&T will be to expand its own network coverage to ensure that motorists actually have access to the service.
The most recent Initial Quality Survey, or IQS, by J.D. Power and Associates found that infotainment-related glitches are now the number one source of complaints from new car buyers, surpassing traditional issues like wind noise or powertrain problems. On the other hand, other studies have illustrated that consumers can be swayed by manufacturers who offer the best in-car technologies.
According to GM, the partnership with AT&T will allow the maker to begin offering or enhance existing features such as streaming audio, on-demand video, voice-to-text messaging and more.
It also will permit the maker to enhance the suite of safety and security features offered by the OnStar system, which was a pioneer in what then was known as telematics when it debuted in 1995.
OnStar had previously partnered with Verizon which had been serving GM vehicles through the much slower 2G network –so the switch in service providers is a major coup for AT&T.
"Introducing 4G LTE into GM vehicles is a game-changing opportunity," said Ralph de la Vega, president and CEO of AT&T Mobility."We're working closely with GM to grow the connected car base, and provide unique and relevant services that will improve the connected experience inside automobiles for both drivers and passengers."
The Detroit Bureau: Ford Looking to Novel Way to Get Back into Compact Pickup Market
With smartphones rapidly replacing conventional cellphone technology, communications industry experts say broadband is rapidly becoming the norm for consumers wherever that are. But the auto industry and automotive regulators see opportunities to use such technology for more than just keeping drivers in touch and their passengers entertained.
One active field of development aims to connect individual cars and a fixed highway infrastructure. This would improve the ability to stay on top of changing road conditions, for example, alerting motorists when there are accidents or weather-related issues. Such systems could warn oncoming traffic if a vehicle runs a red light.
Connected car technology is now undergoing extensive testing, including a major program in the Detroit suburb of Ann Arbor, Michigan. One question is how vehicles will communicate with one another. The Federal Communications Commission this month rejected an auto industry request to preserve an open spectrum of radio space solely for connected car systems, instead assigning some of it for such things as home and office WiFi.
The Detroit Bureau: Over 250,000 Vehicles Damages, Destroyed By Sandy
GM sees even more options for the new alliance with AT&T. Having a high-speed, two-way line of communications with virtually every 2015 model and beyond could simplify vehicle maintenance, especially when it comes to the software-based control systems that are now found on every modern automobile.
"We will literally start downloading maintenance and updates on equipment (in) vehicles that we used to have to bring in," GM CEO Dan Akerson said during a conference call with company employees last year.
While today's announcement focuses on vehicles that will be sold in the U.S. and Canada, the world's second-largest automaker says it will look to offer similar services in other parts of the world, such as in Europe through its Opel and Vauxhall brands.