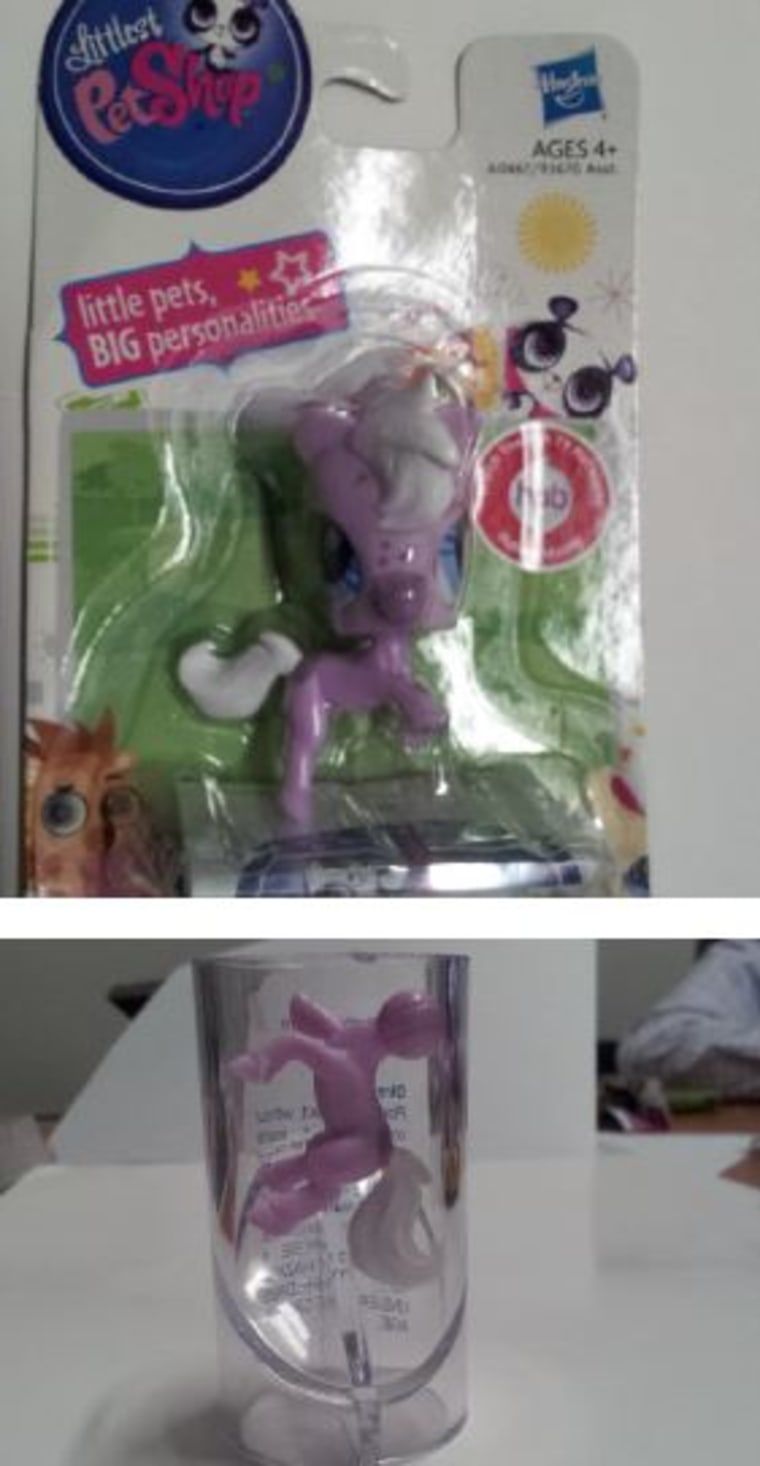 Risks of choking, deafening or lead poisoning earned these toys slots on a "dangerous toys of the year" list.
"Be vigilant this holiday," said the Public Interest Research Group (PIRG) in its "Trouble in Toyland" report. "There is no comprehensive list of potentially hazardous toys. Examine toys carefully for potential dangers before you make a purchase."
The complete list follows:
Toys containing small parts
Princess Wand made by Greenbrier International, sold at Dollar Store for $1

Toys containing small parts with label violations
Bead Kit made by Greenbrier International, sold at Dollar Store for $1
Littlest Pet Shop - #2744 Horse made by Hasbro, sold at Kmart for $3.99
Littlest Pet Shop – Candyswirl Dreams Collection #3313 made by Hasbro, sold at Wal-Mart for $4.49
Littlest Pet Shop- Sunil Nevla made by Hasbro, sold at Wal-Mart for $3.99
Littlest Pet Shop-Candyswirl Dreams Collection #3317, sold at Wal-Mart for $4.49
Littlest Pet Shop- Seal and Dolphins made by Hasbro, sold at Kmart for $4.49
Small Ball-Like toys, toy parts, and rounded food toys posing choking hazards
Gobble Gobble Guppies made by Swimways, sold at Kmart for $14.99
Super Play Food Set made by Geoffrey LLC, sold at Toys-R-Us for $19.99

Near-small parts that may pose choking hazards
Fisher-Price Loving Family Outdoor Barbecue, made by Mattel, sold at Kmart for $22.99

Balloons marketed to children under 8
Punch Balloons made by Toy Investments, Inc, sold at Toys-R-Us for $.98

"As an industry that creates magical products for children, we hold ourselves to the highest possible standard of care," said the Toy Industration Association in response to the PIRG report. "We educate all toy stakeholders – especially manufacturers and retailers – about these strict U.S. toy safety laws and the mandatory steps necessary to demonstrate compliance with them. If a toy fails to meet these tough national standards, we want that product out of the stream of commerce."
The good news is that after reaching an all-time high of 231 recalls in 2007, largely attributable to an influx of lead-painted toys from China, toy recalls have fallen in recent years. Some of the reduction is attributable to the passage of the Consumer Product Safety Improvement Act of 2008, which, among other new restrictions required toy makers and importers to have batches of their products undergo third party safety testing. In 2013 there were 31 toy recalls.
And toy safety has come a long way since 2007, when the New York Times ran a photo of what was then the Consumer Product Safety Commission's (CPSC) only full-time toy tester at its laboratory in Maryland. The tester was shown subjecting a toy to a "drop test" in the swing area behind the door in a one-room lab.
The CPSC says now it has a new, larger lab with numerous workstations where "you'll usually see a bunch of people scurrying around," said spokesman Alex Filip.
Still, some toys slip through the cracks.
Many of the toys on the list published annually by PIRG were called out because they fit into a special "choke tube." At 2.25 inches long and 1.25 inches wide, the plastic cylinder simulates the size of a 3-year-old's throat. Young kids put everything in their mouths, so if it fits in the tube, it could get stuck in a child's throat. That could lead to choking, the most common cause of toy-related deaths.
Toys that fit at least partially into the tube included a Princess Wand that sells for a buck. It's got a small heart on it PIRG says comes off easily and fits into the choke tube. The same problem affected the round head of a toy seal in the "Littlest Pet Shop - Candyswirl Dreams Collection" which could detach from the toy's tail.
Another source of concern were toys that didn't carry small parts warnings, required on toys for children between 4 and 6. And some toys both failed a small ball test and also were designed to look like food, which could further encourage children to put it in their mouth.
And we still haven't gotten the lead out completely. PIRG testers found a Captain America Soft Shield with 2900 parts per million (ppm) of lead, 29 times the legal standard. Toxins persist as well, with a Ninja Turtles Pencil Case with 150,000 ppm of one of six banned phthalates and excessive levels of cadmium.
Even if they're not sticking it in their mouth, children's ears could be at risk as well. The group found a Chat & Count Smart Phone that produced 85 decibels of sound when activated, 20 more than the allowable limit.
Consumers can report any unsafe toys or toy-related injuries to the CPSC via saferproduct.gov or by calling 1-800-638-2772.

Contact Ben Popken at ben.popken@nbcuni.com, @bpopken, or benpopkenwrites.com.