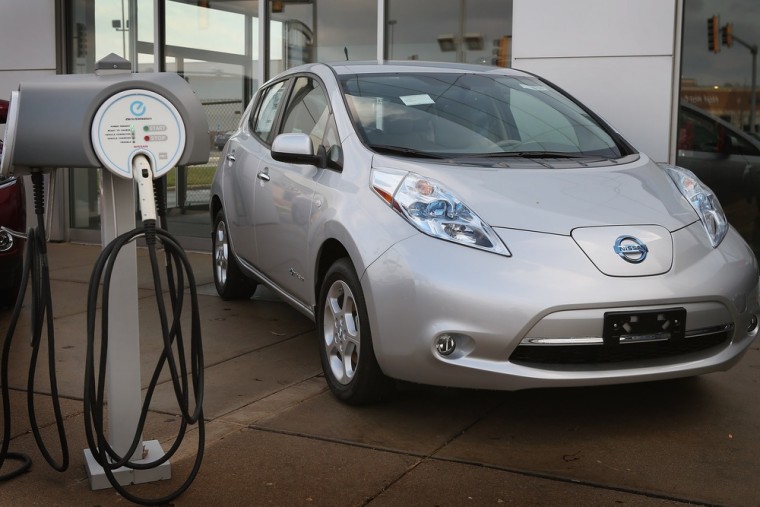 Nissan will drop the price on a new version of its Leaf battery-electric vehicle by 18 percent, or about $6,000, the maker announced during a North American International Auto Show news conference. 
The Nissan Leaf S trim level will now start at $28,800, according to executive Carlos Munoz, who noted that with the $7,500 federal tax credit on qualified electric vehicles and various state incentives added in, buyers in some parts of the country will now be able to purchase a Leaf for as little as $18,000.
"We are confident this will represent a tipping point," in terms of driving up demand for the Leaf, the first mainstream battery-electric vehicle from a major manufacturer in nearly two decades, said Munoz.
Nissan launched the Leaf late in 2010 to strong headlines but weak consumer demand. On a global basis, the maker has so far sold about 50,000, but while its goal was to boost worldwide demand, Nissan achieved only a 22 percent increase in sales last year, "which was a disappointment for us," said the maker's CEO Carlos Ghosn.
The decision to drop the price on the Leaf – other versions are also seeing a small price cut – comes as Nissan launches production of the battery car on a new assembly line in Smyrna, Tenn. Until now, the car and its 24-kilowatt-hour lithium-ion battery pack have been produced in Japan.
That's meant a significant penalty for Nissan because of the currently lopsided dollar-yen exchange rate.  Ghosn noted the maker's original business plan for the Leaf anticipated an exchange rate of 100 yen to the dollar but that has dipped to as little as 80.
Ghosn said the maker realized the price of the original Leaf models was a problem after listening to "a lot of feedback from customers."
Moving the vehicle to the U.S. helps trim production costs but Nissan has taken other steps to improve production efficiencies and lower component costs – especially for the battery pack, the single-costliest part of an electric vehicle like Leaf.
But there are other issues to address, he noted, including the lack of a readily accessible charging network.  Analysts also cite limited range, with the Leaf getting between 80 and 100 miles, routinely, per charge.
Nissan is by no means the only maker that has recognized the problems with pricing on battery-based vehicles. Chevrolet has been discounting its Chevrolet Volt in recent months, a move that helped it triple sales last year – though demand still reached only about half of the 45,000 total it had forecast for the plug-in hybrid in the U.S. market for 2012.
Like Ghosn, General Motors President Mark Reuss told TheDetroitBureau.com there are a number of ways to boost demand. Sales of the Volt picked up momentum after California regulators approved the use of the vehicle in the state's coveted HOV lanes with just one person onboard.
"We're going to watch and see what happens" as Nissan launches production of the lower-price Leaf S model, Reuss said. "It will have an effect, no question about it," said the GM executive, though he would not commit to a similar strategy for the Chevy Volt. 
More from The Detroit Bureau