The queen of Southern comfort food has officially been thrown off her throne, after 11 companies have ended partnerships with or taken a break from Paula Deen amid the controversy surrounding her. The latest, and perhaps most shocking, is Ballantine Books, publisher of her upcoming cookbook, "Paula Deen's New Testament: 250 Favorite Recipes, All Lightened Up."
In a brief statement Friday afternoon, Ballantine announced it was canceling its multibook deal with Deen, including publication of her upcoming cookbook, which was scheduled for release in October 2013. The news comes as a surprise, as the book was pushed to No. 1 on Amazon after a surge of pre-orders from fans.
Walgreens said it was phasing out Deen's products and J.C. Penney, which gave no formal statement, confirmed to NBC News Friday that it would no longer carry Deen-branded merchandise. Sears Holdings announced Friday morning that it would "phase out all products tied to the [Paula Deen] brand. Our members' needs will be given first priority as we work to continue to provide quality cookware in our stores and online."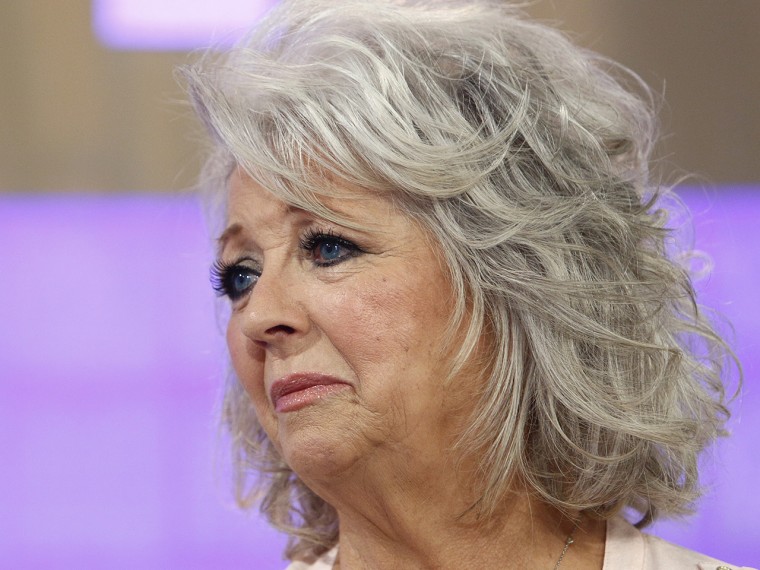 The Food Network, Smithfield Foods, Caesars Entertainment, Novo Nordisk, Wal-Mart, Target and Home Depot, all of which comprised the majority of her empire, also terminated their partnerships with Deen, who appeared in her first live interview on TODAY Wednesday to discuss the scandal over her use of racial slurs.
QVC's CEO Mike George wrote a blog post Thursday evening saying that, "For now, we have decided to take a pause. Paula won't be appearing on any upcoming broadcasts and we will phase out her product assortment on our online sales channels over the next few months."
He left the door open for QVC to have a relationship with Deen in the future, going on to say that while customers "may wonder if this is a 'forever' decision," the company believes "people deserve second chances."
Diabetes drug maker Novo Nordisk and Target also distanced themselves from Deen on Thursday.
"Novo Nordisk and Paula Deen have mutually agreed to suspend our patient education activities for now, while she takes time to focus her attention where it is needed,'' the company said in a statement. "Novo Nordisk would like to acknowledge Paula's involvement in our 'Diabetes in a New Light' campaign, where she has helped make many people aware of type 2 diabetes and the lifestyle changes needed to control this serious disease."
Deen, who has Type 2 diabetes, had been a spokesperson for Novo Nordisk's diabetes drug Victoza.
Target announced that it is ending its relationship with Deen entirely.
"We have made a decision to phase out the Paula Deen merchandise in our stores as well as on Target.com,'' the company said in a statement. "Once the merchandise is sold out, we will not be replenishing inventory."
Wal-Mart and Home Depot announced on Wednesday that they were severing ties with her.
"We are ending our relationship with Paula Deen Enterprises and we will not place new orders beyond those already committed," Wal-Mart spokesperson Danit Marquardt said on Wednesday. "We will work with suppliers to address existing inventories and agreements."
Wal-Mart, the world's largest retailer, has carried a variety of Paula Deen-branded products including cookware and health and wellness products for several years.
Wednesday evening, a spokesperson for Home Depot confirmed to NBC News that the company will stop carrying Paula Deen-branded items under their kitchen and cookware category.
Ryan Ruggiero and Scott Stump contributed reporting to this story.