One in five Americans isn't socking away any money, with lower-income households especially struggling to save, according to a new Bankrate.com survey.
Bankrate found that 20 percent of more than 500 working Americans surveyed said they aren't saving any money for retirement, emergencies or other financial goals, and another 21 percent said they save 5 percent or less.
There was some good news in the survey, as well: The results showed that 16 percent of respondents, and 23 percent of young adults under 28, are saving more than 15 percent of their income.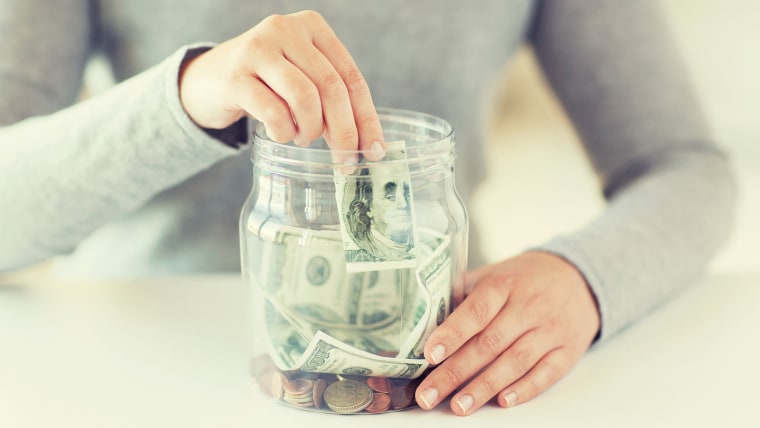 Bankrate also found that higher income correlates to higher debt, which Bankrate.com senior economic analyst Mark Hamrick said is to be expected, to a certain extent: People who earn more are more likely to have credit extended to them by lenders, and some of those debts might be due to student loans that give college graduates enhanced earning power.
"We know there's something like $1.4 trillion student loan debt, and there is a price to be paid there," Hamrick said.
But there also is the question of whether Americans, willing to take on more debt as the economy and consumer confidence improve, are reaching a tipping point.
A recent Ameriprise Financial survey of Americans with at least $100,000 in investable assets found that more than 60 percent of respondents in their 30s and 40s said they worry about their current debt load.
"We're living in an environment where interest rates are expected to continue to rise for the foreseeable future. That means borrowing costs are going to be rising," Hamrick said. "There are many Americans who would benefit from the advice to live beneath their means," he said.
"I think that's a really important message to people, no matter what your income is," said Marcy Keckler, vice president of financial advice strategy at Ameriprise Financial.
Aside from debt, the other primary culprit Americans say keeping them from saving is stagnant income. "A big reason why so few Americans save for an adequate retirement is too-low pay," said Josh Bivens, research director at the Economic Policy Institute, pointing out that median wages for most workers have barely budged. "Those are totally linked."
Nearly one-third of respondents — a record high — said they would spend this year's tax refund on necessities like gas and groceries.
Bankrate's findings confirm this: Nearly 40 percent of people earning under $30,000 a year don't save any of that income, and nearly two-thirds are saving 5 percent or less.
Poor pay is primarily to blame: 37 percent of those earning less than $30,000 said their job wasn't good enough, more than double the 16 percent of the total respondent pool who said they didn't earn enough to save any more.
Ameriprise found similar results among the younger investors it surveyed: Roughly one-quarter of respondents in their 30s said their biggest financial hurdle was earning less money than they expected.
Some experts worry that recent changes to the IRS withholding tables, which have resulted in slightly higher paychecks for workers, could go unnoticed but then leave people without as much of an expected refund when tax time rolls around next year.
Related: What to look for in your new paycheck
"It's incredibly important for people to be wise with any added funds coming into their paychecks [and] not just bump up their lifestyle," Hamrick said.
"I worry about 2019 — lots of people not getting refunds or even owing money. I think that is a potential problem," Bivens said, and a Bankrate survey from last year illustrates why this could be a problem: Nearly one-third of respondents — a record high — said they would spend their refund on necessities like gas and groceries.
"I'm a little worried that the IRS is being encouraged to be really aggressive… to make the tax cuts seem really impactful for political reasons," Bivens said.