Living longer is a wonderful thing — but it brings along with it the issue of caring for our aging parents.
According to the Pew Research Center, just 15 percent of Americans with a parent age 65 or older say their parent needs help. But when that parent gets to be 75 or older, that number jumps to 33 percent. And many parents are living a lot longer than that. The fastest growing age group in the country is 85+.
According to MetLife research, nearly 10 million Americans who are over 50 themselves are providing care for aging parents. The proportion of adult children providing personal care and/or financial assistance to a parent has more than tripled over the past 15 years. Currently, one-quarter of adult children, mainly baby boomers, provide these types of care to a parent. A disproportionate number of those caregivers are women.
And the cost of this care is staggering. The dollar value of the informal care that family and friends provide for older Americans totals an estimated $522 billion a year — more than total Medicaid spending. The cost impact of caregiving on the individual female caregiver in terms of lost wages and Social Security benefits equals $324,044.
In this three-part series, NBC News will discuss where parents can be accommodated as they age, how to get them the help they need, and how to pay for their care.
Where Should Mom and Dad Live?
Surveys of Baby Boomers make it clear that the vast majority of us would prefer to grow old (or at least older) exactly where we are rather than moving to a place specifically designed to help move through the stages of aging. A 2016 report from the American College says that 83 percent of seniors want to stay in their own homes.
Related: Who Will End up With All Your Parents' Stuff? If It's You, You'd Better Make a Plan
We call this "aging in place." Typically, it involves either staying in your current home or in your current location. You generally start out independent but bring in help in the form of caregivers (family or paid) if you need it. And you may have to modify your current home to make it possible. A 2014 report from Harvard's Joint Center for Housing Studies says that there are five features a home must have to make it suitable for aging:
A no-step entry
Single floor living
Extra-wide doorways and halls (doorways should be 36 inches, halls 42 inches for wheelchair access)
Accessible electrical switches and controls
Lever-style doors and faucet-handles.
Just 1 percent of the housing stock in the US has all five. The costs range from a few hundred for faucet handles to several thousand to widen doorways or retrofit a bathroom (a walk-in shower is about $5,000, a walk-in tub can cost twice that much) to six figures if you need to build a master bed and bath on the first floor.
If you decide not to stay but to move, downsizing should be a consideration. There's no other one move that will make such a big difference in your retirement fortunes (if you're looking for proof of this, run through the helpful calculator developed by the folks at the Financial Security Project at Boston College — it's at squaredaway.bc.edu/move-or-stay-put.)
Any money that you manage to pocket from a sale of a bigger/more expensive home into smaller/less expensive one gets added to your retirement coffers. That immediately increases the amount of money that you have to live on year to year. For example, if you come out $150,000 ahead, you're looking at an extra $6,000 every year for retirement (assuming you're withdrawing at a 4 percent rate). And that doesn't count the thousands you're not spending on the care for the bigger lawn or the higher property taxes. Finally, the older you get, the tougher it is to move at all. Go while you have the energy to do it.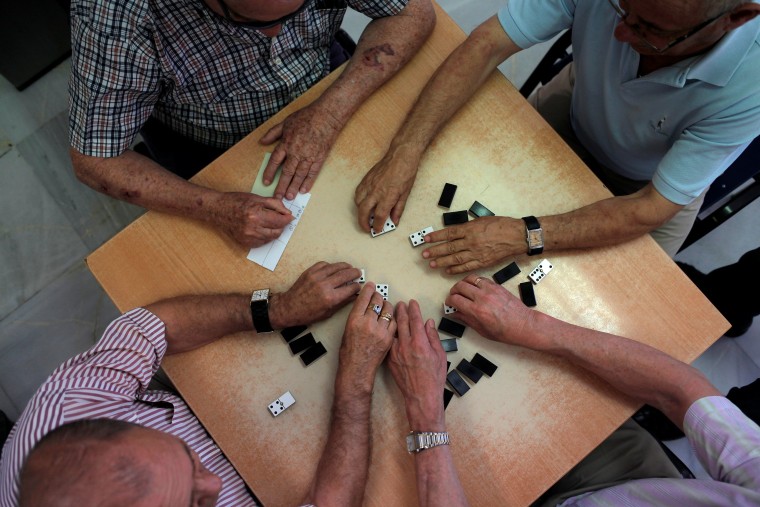 Another alternative is what's called continuing care communities. Adults typically move in while they're still able to live independently. They live on their own, but can also take advantage of on-premises meals, social events, medical care.
Depending on the price, it can seem more like you're living at a country club (or adult sleepaway camp) than anything else. As you get older or need additional care, you generally move into a part of the facility set up for assisted living. Here you may no longer have a full kitchen, take meals in the dining room — or have them delivered. And eventually, if need be, you may move to another part of the facility where skilled nursing care is available round the clock.
Related: Meet the Baby Boomers Who Are Living Like Millennials
Typically, it requires a deposit (or buy-in) of between $100,000 and $1 million to enter a CCRC. The number varies widely with housing prices in the area, but the average is about $250,000. This is essentially collateral against your future care requirements. Then there will be monthly fees of $3,000 to $5,000 and up. But note: You're not, typically, buying a home. Instead, you're buying the right to live in the community.
Because this is a big financial move, make sure you tour a lot of communities, look at financial statements and carefully read the contract. Have your lawyer read it, too. If it sounds like overkill, it's not. Unfortunately, CCRCs aren't regulated in many states (unlike nursing homes).