The overseer of a U.S. fund to compensate victims of Bernard Madoff's Ponzi scheme says he has received roughly 51,700 claims seeking to recoup more than $40 billion, both totals far higher than expected.
Richard Breeden, a special master appointed by the U.S. Department of Justice to oversee the $4.05 billion Madoff Victim Fund, said on Tuesday it appeared at least twice as many investors as previous thought lost money in Madoff's fraud.
He said he expects to deem a "substantial" number of claims ineligible, duplicative or inflated, and that it was too soon to provide a timetable for distributions. Claimants came from 119 countries as disparate as Kazakhstan, Madagascar and Vietnam.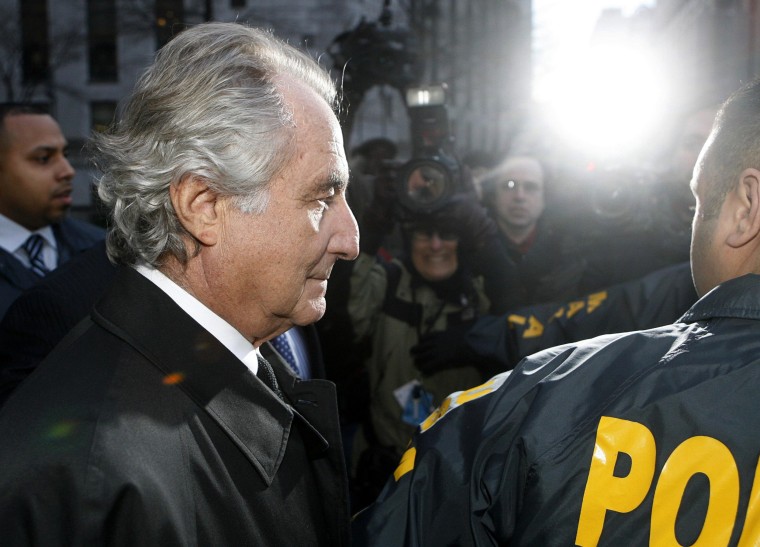 "The volume was surprisingly large," Breeden, a former chairman of the Securities and Exchange Commission, said in a phone interview with Reuters. "The fact we have victims in 119 countries makes this a very unique process. I can't think of any situation where there has been such a widespread distribution of a fraud."
Breeden is allowing "indirect" investors who had accounts at so-called "feeder funds," hedge funds, banks and other entities that sent their money to Madoff to try to recoup their losses. In contrast, Irving Picard, a court-appointed bankruptcy trustee winding down Bernard L. Madoff Investment Securities LLC, has allowed only direct investors to recover.
Picard has recouped $9.8 billion, roughly 56 percent of the $17.5 billion in principal he said was lost by those who submitted claims, and distributed nearly $6 billion. The trustee said he accepted 2,518 of the 16,519 claims he received.
Breeden said he received more than 43,500 claims ahead of an April 30 deadline from people who did not file claims in the bankruptcy case, and more than 36,000 from people who said they have recouped none of their losses. He said the United States accounted for 58 percent of claimed losses and 38 percent of claimants, with Germany, Italy and France providing the next most claimants. About 78 percent of claimants reported losses of $500,000 or less.
Madoff, 76, was arrested in December 2008, pleaded guilty three months later, and is now serving a 150-year prison term.
- Reuters