More than one in five Americans have more credit card debt than they do emergency funds, a new survey shows.
According to Bankrate.com, 58 percent of people today say they have an emergency fund or savings account balance larger than their credit card debt, with 21 percent reporting the reverse.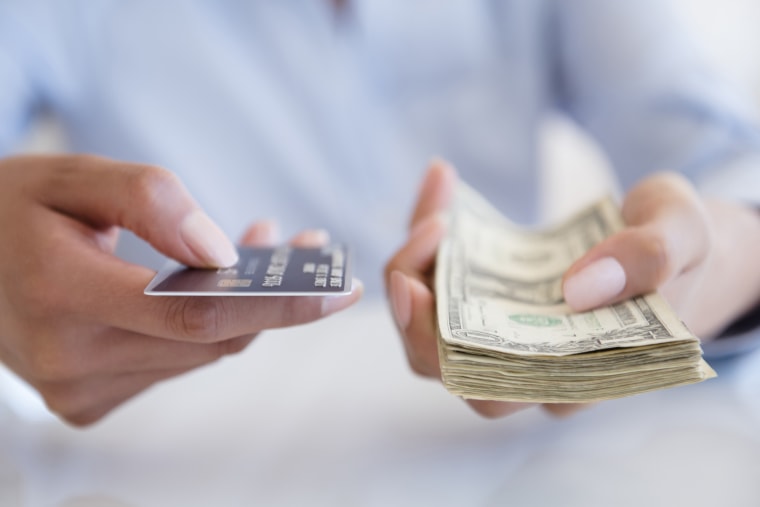 These results indicate that although Americans overall are faring better as the economy improves, there are still populations struggling to achieve financial security, said Greg McBride, Bankrate's chief financial analyst.
"The best news is the improvement that we're seeing," he said. "People are moving the needle a bit when it comes to right-sizing the equation."
Not surprisingly, Bankrate found that higher-income and better-educated Americans were more likely to have more savings than debt; among age groups, those under 30 were narrowly ahead of other age brackets. Women were seven percentage points more likely to be "underwater" on their debt than men, and nearly one-quarter of respondents with incomes of $30,000 or less reported no debt — but no savings, either.
Millennials are taking the lead
McBride said it was especially encouraging that young adults are making efforts to build up their savings. While 53 percent of respondents overall said growing their savings was a higher priority than paying down debt, 63 percent of respondents under 30 said the same.
"As we've seen in other polls, millennials do have a savings discipline that really reveals itself," McBride said. "More so than any other generation, they placed a higher priority on boosting savings."
Jill Gonzalez, senior analyst at WalletHub.com, suggested this could be due to incremental improvements in savings account yields, particularly at millennial-attracting online banks. "I think that might be more of a motivator for them to be saving," she said.
Of course, Gonzalez also pointed out that the flip side of slightly higher interest means much higher servicing costs for America's already growing credit card balance, which now stands at a collective one-trillion-plus.
"We really hit a record last year," she said. "Because of the environment now, that's a little more problematic than it would've been a few years ago." Americans just scraping by making minimum payments will have to pay more each time the Federal Reserve raises rates, since issuers generally pass those increases straight through to customers.
Related: What Fed rate hikes mean for you in 2018
Although charge-off rates are still low, Gonzalez said WalletHub has been monitoring a small but worrisome uptick in payment delinquencies, indicating that more Americans could be sailing into financially unsustainable waters.
"There's going to be a tipping point, and that would probably happen soon because of the rising interest rates," she said. "The debt is only rising."