The bidding war for the dirtiest hotel in America is about to come to an end with the winning offer expected to be around $180 million.
The 600-room Hotel Carter, just off New York's Times Square on West 43rd Street, was a three-time "winner" of TripAdvisor's dirtiest hotel in America survey.
Recent guests said the problems are far from fixed. "The location's great, but there's no hot water in the shower, " one guest exiting the hotel told CNBC on Tuesday afternoon. Her room rate? Just over $200 for the night, she said.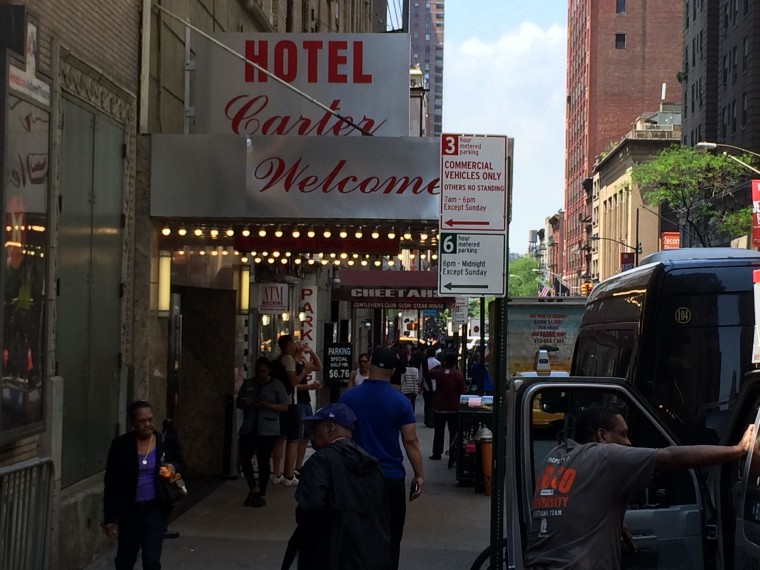 "It's the dirtiest, and best located hotel in New York City," Lawrence Wolfe, who has been handling the sale for the seller, said Tuesday. "It was under-managed and neglected."
Although TripAdvisor scrapped the annual dirty list in 2012, some of the recent TripAdvisor reviews echo that same old sentiment: "Absolutely vile! Unsafe, nasty and falling down!" Yet it has its fans: "Amazing location with an exceptionally affordable price tag!"
First opened in the 1930s as the Hotel Dixie, the Carter recently has been tied up as the estate of the former owner is settled. In recent years it has been in the news for code violations as well as a homicide.
Now with the travel market rebounding and hotel construction unable to keep up with demand, even the Hotel Carter drew 25 bids from suitors, according to Wolfe, who is the senior managing director and partner at Eastdil Secured, a real estate banking company and wholly owned subsidiary of Wells Fargo.
"It is a seller's market," said Keith Pattiz, a partner at McDermott Will & Emery, who was on a hotel finance panel with Wolf on Tuesday at the New York University Hospitality Industry Investment Conference.
The sale, expected in the $180 million range, will be followed by a full-gut renovation that will cost $100 million to $125 million, Wolfe said.
A street-level adult entertainment club that pays $1 million a year in rent will remain in the building, Wolfe said.