Italian Americans in Seattle just lost their long ethnic hold on this day, Columbus Day, "our holiday," as some call it, but that defeat also seems to reflect a larger, cultural upheaval — the vast vanishing of numerous "old country" urban nooks, America's Little Italys.
The Seattle City Council's fresh re-dubbing of today, in that city at least, as Indigenous Peoples' Day coincides with the shrinking of Little Italys in New York, Baltimore and other big towns — and the full disappearance of those ethnic neighborhoods in places like Los Angeles.
"There's probably about three vibrant Little Italys left in this country," said Marco Li Mandri, chief executive of the Little Italy Association of San Diego.
"San Diego's Little Italy is on steroids," Li Mandri said of his hometown enclave. "The North End in Boston is a great, great Italian neighborhood. And I really like the one in Providence, Rhode Island."
But don't look for more many more revivals across America that mirror the massive rebirth in San Diego. "I only see it happening in Boston," Li Mandri said. "I think it's too late to turn around New York City. And in Chicago, I don't think it's probable."
Today, New York's Little Italy covers only about three blocks of restaurants and cafes.
The reasons for the neighborhoods' declines are varied — from soaring real estate prices to lingering residue from the Great Recession to ever-evolving American demographics. But Li Mandri asserts that misguided marketing efforts by chamber-of-commerce types in some cities have also hurt.
"If you go through many Little Italys in the country, there's a promotion of Goombahs, and Tony Soprano (from TV's 'The Sopranos'), and 'The Godfather,' and I always thought it was a total disservice to Italian Americans," Li Mandri said.
In Lower Manhattan — arguably the saddest Little Italy tale going — it's all about money.
"The mother of all Little Italys," as Li Mandri calls it, once spanned more than 50 square blocks. It was the first American neighborhood for some of the estimated 4 million Italians who emigrated here between 1890 and 1920, a teeming hub of tiny homes and shops.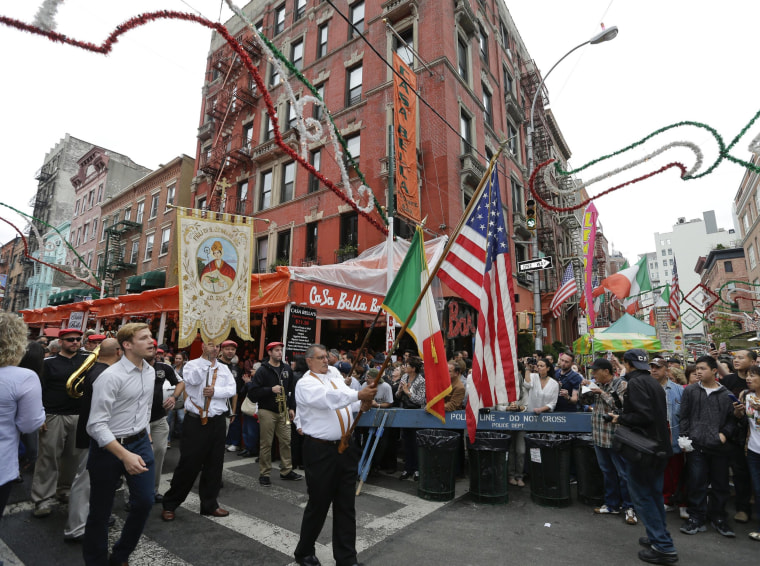 Today, that same Little Italy covers only about three blocks of restaurants and cafes, near Mulberry Street, locals say. The big shrink began in the 1960s, when Chinese immigrants flooded into the Big Apple, said Lou Di Palo, owner of Di Palo's, a fifth-generation, Italian specialty food store on the fringe of that remaining neighborhood.
"The apartments were being filled by the new wave of immigrants, which were Asians. And Chinatown, which was very small, started to get larger and started to encroach on what was Little Italy. Little by little, Italian markets and shops started to close. Today, this area is becoming gentrified, more expensive to live in," Di Palo said.
"Although I was sad to see my community get smaller, I understood it and I accepted it. I didn't focus on the changing community. I focused in on the traditions," he added.
For Di Palo, that meant returning his shop to old family ways, a true Italian-eating experience, standing behind the counter and carving blocks of Parmesan and hunks of prosciutto for patrons.
"Little Italy, today, is just the spirit of the Italian immigrants," he said.
In Baltimore, near the city's waterfront, Little Italy is dwindling in size as old, Italian-family restaurants shutter — at least seven in recent years. At a remaining restaurant in that area, Germano's Trattoria, general manager Donald Kennedy blames some of those closures on family issues among the owners and on a recession that seems to still be denting local fine-dining habits.
"Since the neighborhood's heyday, it's significantly less than it used to be," Kennedy said. "There's a lot of good will and warm memories in the city for this area.
"And there's a lot in the city going on, more every day, which is great for the city. But people have a limited amount of time, and there is a finite number of people in the city. All of that figures into everyone's experience here with (declining) foot traffic," Kennedy said.
San Diego's Little Italy has been rebuilt by design — and partly by the force of Li Mandri's single-minded drive. He was born there. It's personal.
In the 1990s, a once-thriving Italian-American neighborhood in the northwest corner of downtown San Diego was a "blighted community," Li Mandri said.
Then, residents got organized. Li Mandri pulled together business and property owners to form the Little Italy Association. They applied for grants to improve the area. They prioritized attracting quality development and market-rate housing, and they again celebrated that community's long link to the water and the tuna industry.
In the last 10 years, 3,000 market-rate apartments and condos have been built there, as well as a 10,000-square-foot piazza. The population in the 48-square-block area increased over that span from 2,000 to about 8,000 residents, Li Mandri said.
This weekend, they held their 20th annual Festa, luring more than 100,000 people to a neighborhood party — the largest Italian American celebration in the country, Li Mandri said.
The vision was to create an open-air, residential hub that paid homage to a historic haven of immigrants.
"If you go to Europe, it's all about the public spaces, the piazzas. But we lost that in Southern California after World War II," Li Mandri said.
"So we've gone back and vacated streets, and built public spaces into the fabric of our community. There's no doubt, public spaces have made the difference of our Little Italy versus all of the other Little Italys."