Millennials are growing up, settling down and looking to buy a house — for the extra room and the investment opportunity.
Millennials were the largest group of home buyers (34 percent) for the fourth consecutive year, according to NAR's 2017 Home Buyer and Seller Generational Trends study. By comparison, baby boomers were 30 percent of buyers.
"That myth that millennials don't want to own things is not true," said Jeremy Wacksman, chief marketing officer at the Zillow Group. "Millennials are not just starting to buy homes; they're powering the housing market."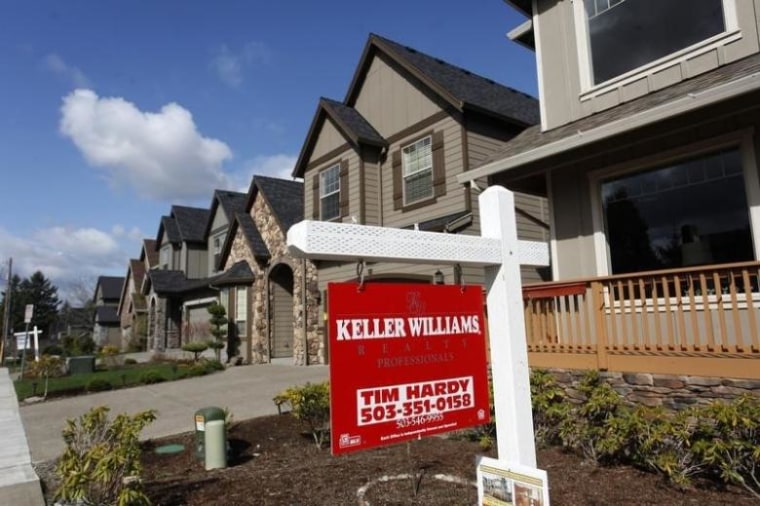 After five years of living together in a one-bedroom apartment, Jamil Saeed and Felicity Greenpalm are ready to take the next step and buy a house in Seattle.
Saeed, a 29 year old marketing consultant, and Greenpalm, 31, who works for Nordstrom, are thinking about starting a family and that means they need more space.
"We want a yard and a place where we can have all of our friends and family over," Saeed told NBC News. "I feel like if we don't do something soon, we're going to get priced out of the market. Salaries aren't increasing quickly enough to keep up with the pace that home prices are growing. It's kind of now or never for us."
"Millennials have been fairly slow to get into the market, but we are seeing an uptick in millennial buyers this year — which is a good sign, because as home values rise, we want a wider number of people to participate in this housing recovery," said Lawrence Yun, chief economist at the National Association of Realtors (NAR). "There's a pent-up demand and as the economy continues to improve, we expect to see more people in their early thirties, adults who are still living with their parents — clearly not their idea of the American dream — begin to look for their own housing units."
Related: Millennials Are Finding it Hard to Transition Into Adulthood
Research done by the National Association of Homebuilders found that more than 90 percent of millennials say they eventually want to buy a house.
"Home ownership is very much at the center of what they want to do in their lives," said Rose Quint, NAHB's assistant vice president for survey research. "They see the challenges, but home ownership is still front and center one of their major goals."
The Millennial Buyer
Most millennials are first-time buyers. In many parts of the country, they're dealing with a hot housing market where home prices are soaring and supply is limited. And even though they are typically two-income families, home prices are outpacing wage growth.
Millennials are focused on being able to afford their purchase. They want a property that is well within their budget, real estate experts told NBC News.
Jacob Berg, a 33 year old bookkeeper, and Bianca Rose, a 27 year old insurance agent, recently bought a home in Valencia, California. It took them a year to find the right place: a small house (900 sq. ft.) with two bedrooms, two bathrooms and a two-car garage. They paid $430,000 for it — a price that was well within their comfort zone.
"We didn't take into consideration having good jobs," Berg said. "Unforeseen things can go wrong. If we had to go get a minimum-wage job, we would still be able to afford to make our house payments."
Related: Famously Frugal: How Many Millennials Will Stash Their Tax Refund
Berg and Rose see their new house as a step up from living in an apartment, as well as a long-term investment. They hope to rent it out some day and move to a bigger place.
The couple's real estate agent, Cyndi Lesinski at John Hart Real Estate, told NBC News her millennial buyers are more focused on the monthly cost than the selling price.
"They have a budget and they want to stay within it," she said. "They want to know what their monthly payment is going to be and are they comfortable with that?"
Lesinski spends a little more time with her millennial clients to make sure they understand the process. But she said these buyers are more financially savvy than most people realize. They understand their money and what makes sense for them, she said.
Last month, the Zillow Group, which operates Zillow.com and Trulia.com, added RealEstate.com to its portfolio. The new site is designed for first-time buyers who are struggling with affordability. Zillow's research found that more than half of all first-time buyers are millennials.
Along with the asking price, RealEstate.com shows the "All-In Monthly Price" that makes it easy to compare the monthly cost of buying that property with the monthly rent you're paying. The results also show many of the costs first-time buyers may not think about when they start their search: estimated property taxes, home owner association fees, homeowners insurance, private mortgage insurance, utilities and closing costs.
What Millennials Want in Their New Home
Millennials are late bloomers. They've delayed marriage and children and buying a house. So when they do buy, they want a bigger home. Sometimes, they skip that starter home and look for a house that they plan to live in forever.
When they're ready to buy, millennials are very much like the generations that preceded them — most want to buy a house in the suburbs.
"When they're younger and renting, the central city is where they want to be. But when it's time to buy the home, they want to go to the suburbs," said NAHB's Quint. "They're interested in park areas and that typically suburban neighborhood."
Millennials want big homes: 2,375 sq. ft. on average, according to the latest NAHB tracking survey, released in March 2016. By comparison, the average desired home size for all buyers is 2,202 sq. ft. For baby boomers it's 1,879 sq. ft.
Nearly half (48 percent) of the millennials surveyed said they wanted four bedrooms or more. Only 20 percent of boomers and seniors want that many bedrooms. Millennials also want outdoor spaces — a deck, a patio and a front porch — exterior lighting, a shower and tub in the master bath and hardwood floors on the main floor.
How Millennials Shop
Buyers of all ages are starting their home search online. Not surprisingly, millennials and Generation X buyers (born between 1965 and 1980) are the most likely to do this. But about 90 percent of millennials still use a real estate agent, according to industry data — although the traditional relationship has changed a bit.
"They can use the technology to find what's on the market, so our role tends to be different for them," said Vija Williams, a Seattle-area realtor at Keller Williams Worldwide. "They understand the role of a real estate agent, as far as negotiations, contracts and paperwork, but they don't necessarily need us to find the homes. Our role is to facilitate the sale."
Nela Richardson, chief economist at the real estate brokerage website Redfin, sees millennials "aggressively" negotiating commission fees.
"They're significantly more likely than Gen-X and boomer buyers to negotiate with their real estate agents, both on the list side and the buy side," Richardson said. "They're trying to drive down those fees as far as possible to make their buying dollar go further."
Related: Sorry, Fashion Stores! Millennials Would Rather Save for Travel and Retirement
Redfin data shows that 73 percent of millennial sellers try to negotiate with the listing agent for a lower commission, compared to 44 percent of Gen-Xers and 24 percent of boomers. Nearly two thirds (63 percent) of the millennials who tried to get a lower commission rate percent reported being successful.
Millennial buyers are also much more likely to get a commission refund or rebate, contribution toward closing costs, or other form of saving from the buyer-side agent. Fifty nine percent reported receiving some form of savings from their agent.
Where Are Millennials Buying?
Realtor.com analyzed search data from August 2016 to February 2017 and found that the top 10 cities were: (1) Salt Lake City, (2) Miami, (3) Orlando, (4) Seattle, (5) Houston, (6) Los Angeles, (7) Buffalo, New YOrk, (8) Albany, New York, (9) San Francisco, and (10) San Jose.
Herb Weisbaum is The ConsumerMan. Follow him on Facebook and Twitter or visit The ConsumerMan website.